Submitting and Exchanging Data with MIIC
Contact Info
Infectious Disease Epidemiology, Prevention and Control Division
Contact Info
Infectious Disease Epidemiology, Prevention and Control Division
Process for Working on Data Exchange with MIIC
Follow these steps to work with the Minnesota Immunization Information Connection (MIIC) on starting or changing an immunization data exchange.
On this page:
Registration
Queue and Prepare for Onboarding
Onboarding
Ongoing Exchange with Quality Assurance
Resources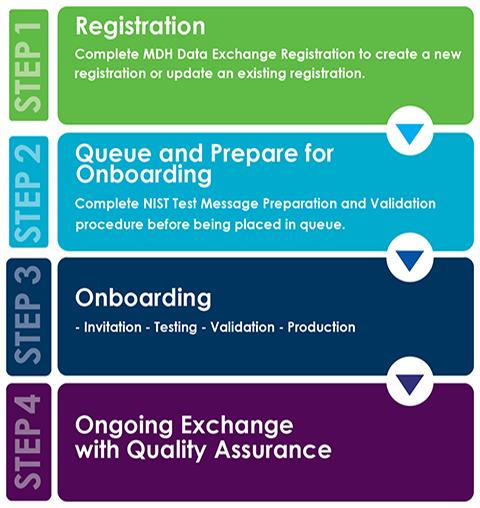 Step 1. Registration
Create a new registration or update an existing registration to exchange data with MDH.
Step 2. Queue and Prepare for Onboarding
Prepare for Onboarding
Queue
MIIC staff will review submitted immunization registrations to ensure all components are complete and accurate. Organizations with complete submissions will be placed in queue until MDH technical staff are ready to begin the onboarding process. Priority status is determined by:
Completion of an immunization registration and supplemental materials.
Desired data submission format and transport protocol (bi-directional exchange in HL7 2.5.1 using SOAP web services is preferred).
Enrollment in the Minnesota Vaccines for Children (MnVFC) program.
Administration of a high volume of immunizations.
Submission of data for multiple organizations.
Organization type (e.g., primary care providers are prioritized over specialty clinics).
How long an organization has been waiting in queue.
Step 3. Onboarding
Organizations will receive an email invitation to onboard. The onboarding stage includes working closely with MN.IT technical staff to establish a project plan and timeline that will outline the steps it takes to set up and test the transport protocol, complete message format testing, and complete message content validation through a quality assurance process.
Step 4. Ongoing Exchange with Quality Assurance
Ongoing data submissions are routinely monitored. Organizations may be asked to address data quality issues that arise.
---
Resources
Last Updated:
03/27/2023