State Oral Health Plan
2030 State Oral Health Plan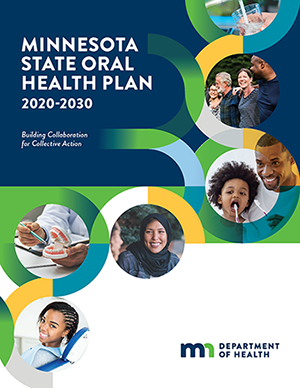 The Minnesota State Oral Health Program collaborated with the Dental Services Advisory Committee and the Minnesota Oral Health Coalition to develop a framework for a new state oral health plan. About 200 people provided input and feedback throughout the process.
The final product is the 2030 Minnesota State Oral Health Plan. This plan outlines key focus areas for dental public health in Minnesota over the next decade.
The plan is a call to action for individuals, communities and organizations to collaborate and implement strategies that will improve the oral health of all Minnesotans.
Read the full 2020-2030 Minnesota State Oral Health Plan.
Focus areas
Oral health infrastructure
Strengthen, stabilize, and sustain Minnesota's oral health infrastructure.
Access to oral health
Increase access to timely, culturally appropriate, geographically suitable, and financially viable dental care.
Health systems integration
Improve integration of medical and dental care systems to provide more holistic care.
Disability, special care needs, and inclusion
Make oral health care accessible, safe, respectful, and timely for all Minnesotans who seek it.
Data
Share oral health data and indicators to inform data-driven strategies and actions.
Next steps
The MDH Oral Health Program will identify experts in priority areas and collaborate in the development and execution of action steps. For more information, contact health.oral@state.mn.us.
State Oral Health Plan 2013 - 2018
View the previous version: the 2013-2018 Minnesota State Oral Health Plan.
The plan was updated in 2018 with revisions to address Olmsted Plan recommendations. See the State Oral Health Plan Olmsted Plan revisions.
Last Updated:
10/04/2022