School-based Dental Sealant Programs
Dental sealants are a thin plastic coating that, when applied properly to the chewing surfaces of molar teeth – not the entire tooth, protect against tooth decay and cavities. A smooth chewing surface helps protect the tooth from decay by making it easier to clean with a toothbrush, and keeping food and germs out. Learn more about dental sealants at CDC: Dental Sealants.
While dental sealants have been available in dental offices for decades, a 2015 MDH survey found third graders in the schools serving mostly higher-income families were 1.5 times more likely to be protected by dental sealants compared with students in schools serving mostly lower-income families.
School sealant programs
One proven strategy for reaching children and adolescents at high risk for oral disease is through school-based programs that build connections with community-based oral health professionals. School-based dental sealant programs provide dental sealants on-site at schools using portable dental equipment.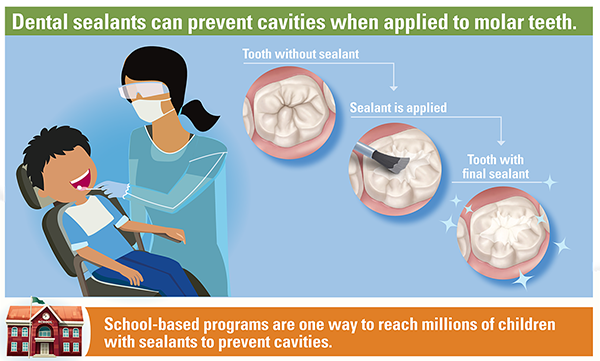 In Minnesota, school-based sealant programs are most often coordinated by dental hygienists who hold a collaborative agreement with a Minnesota licensed dentist.1
These programs are models for improving access to oral health education, prevention and treatment services for children and adolescents who are from families with low incomes or who are at high risk for oral disease. When preventive dental services are provided at school – a place where students spend a large part of their week – barriers to care like transportation and parents needing to take time off of work are reduced.
School sealant programs, a preventive measure recommended by the U.S. Preventive Services Task Force Community Guide, are based on strong evidence of effectiveness in preventing tooth decay among children. School-based programs increase the number of children who receive sealants, resulting in a large reduction in tooth decay among children 5 to 16 years of age.
Get involved
The MDH Oral Health Program has developed SEAL Minnesota, an initiative to coordinate and expand evidence-based school sealant programs across Minnesota. To learn more about becoming part of SEAL Minnesota and building connections with local oral health professionals, contact us at health.oral@state.mn.us
References
1 MN Statutes 150A.10, Subd. 1a Collaborative practice authorization for dental hygienists in community settings.
Last Updated:
10/04/2022