Prescription Drug Price Transparency
Related Sites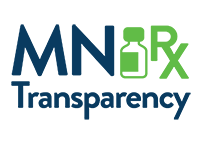 Prescription Drug Price Transparency Additional Resources
Public Use Files on Prescription Drugs from the Minnesota All Payer Claims Database (MN APCD)
Using data from 2012 and 2016, the Minnesota All Payer Claims Database prescription drug public use files present trends in retail pharmacy claims over time, the distribution of spending by payer and patients, price comparison between brand and generic drugs, and more.
Minnesota Commerce Department Pharmacy Benefit Manager Transparency Report
To increase visibility into the pricing practices of pharmacy benefit managers (PBMs), the Minnesota Commerce Department published its first public report on the drug costs, rebates, and share of rebates retained.
Minnesota Attorney General's Advisory Task Force on Lowering Pharmaceutical Drug Prices
Following nearly a year of public study and deliberation, the task force released a report and executive summary examining the prescription drug industry, pricing incentives, causes and contributors to high prices, the impact of drug prices on Minnesotans, as well as offering recommendations for lowering prescription drug prices.
National Academy for State Health Policy
The National Academy for State Health Policy (NASHP) is a nonpartisan forum of policymakers throughout state governments, learning, leading, and implementing innovative solutions to health policy challenges. NASHP tracks state legislation and provides other resources on prescription drug pricing.
Last Updated:
10/03/2022