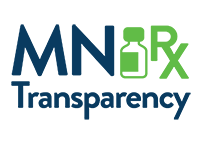 Prescription Drug Price Transparency Announcements
MDH has been developing guidance on how to comply with the Prescription Drug Price Transparency Act ("Act") throughout 2021. In August 2021, MDH released revisions to its draft guidance pertaining to definitions and data elements, following a public meeting and comment period. Later in 2021, MDH expects to release draft guidance for public comment on compliance enforcement and technical data specifications.
MDH will share information related to the Act's implementation and opportunities for public feedback on this page, through GovDelivery bulletins, and via State Register announcements.
Stakeholders interested in receiving announcements on implementation of the act may subscribe to Prescription Drug Price Transparency updates.
Update August 27, 2021 – Revised Form and Manner
MDH has revised its draft reporting guidance sections on the registration, definitions, and data elements.
Frequently Asked Questions for Reporting Entities (PDF)
Update June 21, 2021 – Comment Period Extended
MDH has extended the deadline for public comment on draft reporting guidelines for the Prescription Drug Price Transparency Act to Monday, June 28, 2021.
New Comment Deadline:
Monday, June 28, 2021 at 4:30 p.m. CST
Email written feedback to health.Rx@state.mn.us
Update June 4, 2021 – Meeting Announcement
As noted in the MDH State Register notice from June 1, 2021, MDH will host a public, virtual meeting on Thursday, June 10, 2021, at 1 p.m. Central time to present and request feedback on draft reporting guidelines for the Prescription Drug Price Transparency Act (Minnesota Statutes 62.J.84). MDH will present draft data definitions, required data elements, and the anticipated process for reporting, and take questions from participants.
Following the public meeting on June 10, there will be a two-week window during which MDH welcomes written feedback; MDH will have additional opportunities for stakeholders to provide feedback before the statutory dates of implementation. To submit written, electronic comments following the meeting, please email health.Rx@state.mn.us with your comments by Thursday, June 24, 2021 (Extended to Monday, June 28, 2021).
This meeting will not be recorded. Shortly after the June 10 meeting, MDH will post the draft guidelines together with responses to questions raised at the public meeting.
Meeting:
Thursday, June 10, 2021 at 1 p.m. Central time
Webex Meeting Link
Meeting Number (access code): 187 740 0716
Meeting Password: WzQmQaHN493
Comment Deadline:
Thursday, June 24, 2021 at 4:30 p.m. Central time Extended to Monday, June 28, 2021
Email written feedback to health.Rx@state.mn.us