Health Economics Program
Annual Work
Special Projects
Email Subscription
Health Economics Program
The Health Economics Program (HEP) conducts empirical, objective research and applied policy analysis to monitor changes in the health care marketplace; to understand factors influencing health care cost, quality and access; and to provide technical assistance in the development of state health care policy.
We maintain a range of Data Resources for analysis, and publish reports, papers, issue briefs, presentations and more in our Publications library.
Check out HEP's 2020 Minnesota Health Care Spending infographic (PDF) of key findings from our most recent Health Care Spending Report.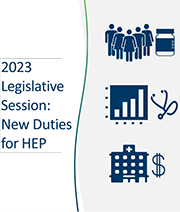 Learn more about HEP's new work following the 2023 legislative session by viewing the 2023 HEP Legislative Fact Sheet (PDF).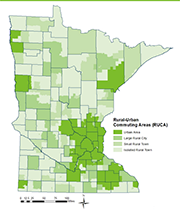 Dive into HEP's Health-Related Quality of Life (PDF) examining the number of unhealthy days taken by Minnesotans.
Recent Publications
In this final report to the Minnesota Legislature, nine recommendations are shared to set MDH on a path toward further enhancing the data infrastructure required for data driven health policy making and generating applied research findings to improve access and cost of health care in Minnesota. (September 2023)
This Data Short Take provides information on the average number of unhealthy days Minnesotans reported from 2013 to 2021. Including both physically and mentally unhealth days, this short take summarizes changes in health-related quality of life, and highlights select populations in Minnesota that report more unhealthy days. (April 2023)
This collection of presentation slides on rural health care in Minnesota – a chartbook – was developed in partnership between MDH's Health Economics Program and the Office of Rural Health and Primary Care. The chartbook provides information on the structure of the health care system in rural Minnesota, the health care workforce, changes in the availability of health care services, how people in rural Minnesota experience and use health care services, and the financing of health care. (November 2022)
Rural Health Care in Minnesota: Data Highlights (chartbook) (PDF)
An appendix of Data Sources (PDF) is also available.
Due to the Minnesota hospital construction moratorium, MDH is required to issue a finding on whether the proposed 144-bed mental health hospital in Saint Paul is in the public interest. MDH is issuing a summary of conclusions from this review and will release a more detailed report in the coming weeks. The summary provides conclusions and supporting information based on relevant issues faced by MDH in evaluating the proposal. (November 2022)
We want to hear from you!
Share your user experience with a short survey:
Last Updated:
10/02/2023