Prescription Drug Price Transparency
Related Sites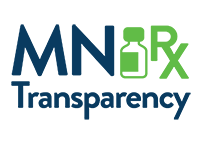 Prescription Drug Price Transparency
To increase transparency into the pricing of prescription drugs, the Minnesota Legislature passed the Minnesota Prescription Drug Price Transparency Act in 2020, which requires MDH to develop a system for collecting and reporting data from drug manufacturers on high and quickly increasing prescription drug prices (Minnesota Statutes 62J.84 as amended by MN 2023 Session Law Chapter 70, Article 2, Sections 8-21, 43).
MDH will publicly post information from manufacturers on this website and produce an annual report to the legislature. The goals of these efforts are to:
Promote transparency in pharmaceutical pricing in Minnesota.
Enhance the understanding of pharmaceutical spending trends.
Assist the state and other payers in the management of pharmaceutical costs.
Please refer to this page to monitor progress, access resources, ask questions and sign up for our email updates for news and notifications.
System for pharmaceutical manufacturers to submit data.
Questions and answers about Minnesota's Prescription Drug Price Transparency Act.
Related resources from other agencies.
Last Updated:
08/09/2023