Comprehensive Cancer Control
Related Sites
Comprehensive Cancer Control Program
The Comprehensive Cancer Control (CCC) Program is a Centers for Disease Control and Prevention (CDC) funded initiative to strengthen efforts across Minnesota to decrease the negative impact of cancer.
Our team works with other organizations and individuals to plan and implement a coordinated approach to address cancer in Minnesota, including prevention and detection, treatment, survivorship and end of life care.
In order to coordinate and implement these efforts, MDH worked with partners in 2005 to establish The Minnesota Cancer Alliance.
Cancer Plan Minnesota
In 2016, The Minnesota Cancer Alliance together with MDH led the development of Cancer Plan Minnesota 2025 (PDF): A Framework for Action. In 2020, a Five-Year Progress Report (PDF) was published to provide an update of MCA's progress, halfway through the Cancer Plan implementation.
This framework for action invites everyone to get involved. It challenges organizations and individuals in every sector and every region of the state to step up, work together and make a difference for all Minnesotans.
Guiding goals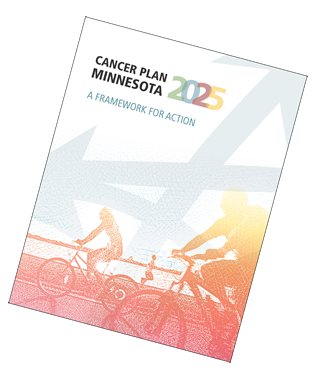 Prevention
Detection
Treatment
Survivorship
Health Equity
More than 30 statewide listening sessions along with online feedback informed six workgroups who recommended objectives and strategies for the plan. These groups looked closely for alignment, change potential and health equity when creating the objectives and strategies.
Get Involved
Cancer Plan Minnesota 2025 depends on people taking action together to achieve the identified objectives and strategies. The true measure of success will demonstrate that both traditional and non-traditional partners are taking action to address cancer in Minnesota. We hope you will join us – The Minnesota Cancer Alliance.
Join the alliance
Serve on a committee
Participate in a network
Work on a strategy
Form a new action group or network
Contact a member of the alliance
Last Updated:
10/03/2022