About Cancer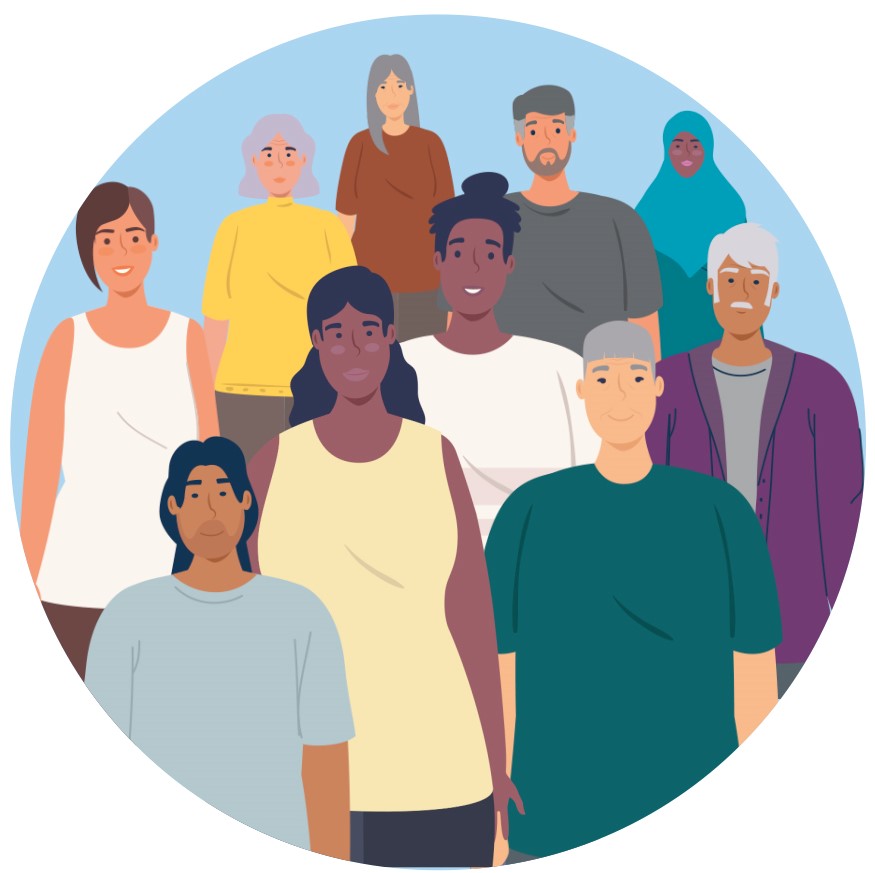 On this page
What is cancer?
How does cancer develop?
Who is affected by cancer?
Childhood cancers
What causes cancer?
Lower your risk for cancer
What can I do if I have concerns about cancer?
Resources
What is cancer?
Cancer affects thousands of people each year in Minnesota. When a person is diagnosed with cancer, it is often difficult and frightening. It is understandable that people want to find a reason for why they have cancer. Unfortunately, it is often very difficult to identify what exactly caused cancer to develop.
Cancer is not a single disease. It is a complex, large, and diverse group of diseases that usually develops over time. Cancer is an umbrella term for more than 100 different diseases that occur when cells grow uncontrolled and then may spread through the body.
Cancers differ in their causes, risk factors (something that increases the chance of developing cancer), treatment, and how likely you are to survive. Even single cancer types in the same organ may be different diseases. For example, there are many different types of breast cancer and each type has its own risks, treatments, and outcomes.
Cancers are also different in the way they act within the body. Cancerous tumors that can grow in place but can't spread to other areas are referred to as "benign." Tumors that start in one place and can spread to other areas are referred to as "malignant." Malignant tumors are more likely to cause significant disease than benign tumors.
Read more: What is Cancer? (PDF)
How does cancer develop?
Cancer is the late stage of a process that starts with small changes in the genes of some cells, followed by uncontrolled cell division and growth over time. The time from genetic change to the development of cancer, known as the "latency period," is usually decades long, often 30 years or longer.
Over time, the cells in our bodies can become damaged. This can happen by chance when cells are dividing. As we age, there is more time for the damage in our cells to build up, and a greater chance that some of this damage might lead to cancer. Many cancers diagnosed today may be from getting older or exposures causing genetic changes that occurred in cells a long time ago.
Who is affected by cancer?
Unfortunately, cancer is not rare, especially when considered in terms of lifetime risk. Fortunately, we are learning more about cancer every day, and ways to diagnose and treat cancer are getting better all the time.
On average, almost four in ten people will have a diagnosis of cancer during their lifetimes. More than 30,000 Minnesotans are diagnosed each year, and nearly 300,000 (about 5%) are currently living with cancer.
Four in ten Minnesotans will be diagnosed with some form of cancer in their lifetimes. There are 85 new cancer diagnoses in Minnesota per day.
Cancer is much more common among older versus younger people. Cancer rates increase with age. Nearly 90% of all cancers are diagnosed in adults over the age of 50. As people are living longer, we expect to see more Minnesotans diagnosed with cancer.
Learn more about who is impacted by cancer in Minnesota: Minnesota Cancer Reporting System Data.
The burden of cancer falls more heavily on certain communities, especially American Indians and communities of color. Factors such as being able to find and afford nutritious food, experiencing discrimination and violence, or having safe housing and transportation, quality education, and a trusted support system all contribute to health. These factors that impact your health are known as social determinants of health.
Systemic racism and discrimination-related stress also impacts Black, American Indian, and other marginalized communities, making it more difficult to access care and resources that support health. It may also put them at increased risk of developing a serious cancer and dying from it.
Learn more about what makes us healthy: Creating Health Equity in Minnesota.
Childhood cancers
Cancer is less common in children compared to older adults. Approximately 200 Minnesota children under the age of 15 will be diagnosed each year. The types of cancers diagnosed in children are different from those diagnosed in adults.
Childhood cancer is not well understood. Scientists have learned that certain genetic changes inside cells can cause them to become cancer cells. Factors that have been studied that play a role in childhood cancers include inherited genetic abnormalities, infectious diseases, prenatal conditions, environmental pollutants, and radiation. These factors could play a role in childhood cancer, but few studies have consistently linked these factors with childhood cancers.
The table below shows the differences in children and adults.
What causes cancer?
Since cancer is not a single disease, it does not have a single cause. The exact causes of many cancers are unknown. There are a variety of risk factors (or things that cause cancer) that affect individuals and neighborhoods. These risk factors add up over many years to increase an individual's chance of developing cancer.
Certain types of cancer can be attributed to clear exposures—like skin cancer due to sun exposure or lung cancer due to commercial tobacco use. Other types of cancer are more difficult to connect to a specific exposure. Because people's lifestyles and environments vary greatly over their lifespan, it is almost impossible to identify the specific cause of cancer in an individual.
While many cancers do not have one specific cause, some cancers do have known risk factors. The known risk factors listed below account for a significant proportion of cancer occurrence. For example, 85-90% of lung cancer is attributable to smoking and 95% of cervical cancer is due to the human papillomavirus (HPV).
Risk factors for cancer. According to the National Cancer Institute, the most studied risk factors for cancer are listed below (not in any particular order).
Age
Diet
Obesity
Alcohol use
Commercial tobacco use
Certain types of radiation
Hormones
Immunosuppression
Chronic inflammation
Excessive exposure to the sun
Certain chemicals and other substances (such as benzene, asbestos, trichloroethylene, lead, and radon)
Certain viruses and bacteria (such as hepatitis viruses and human papillomavirus [HPV])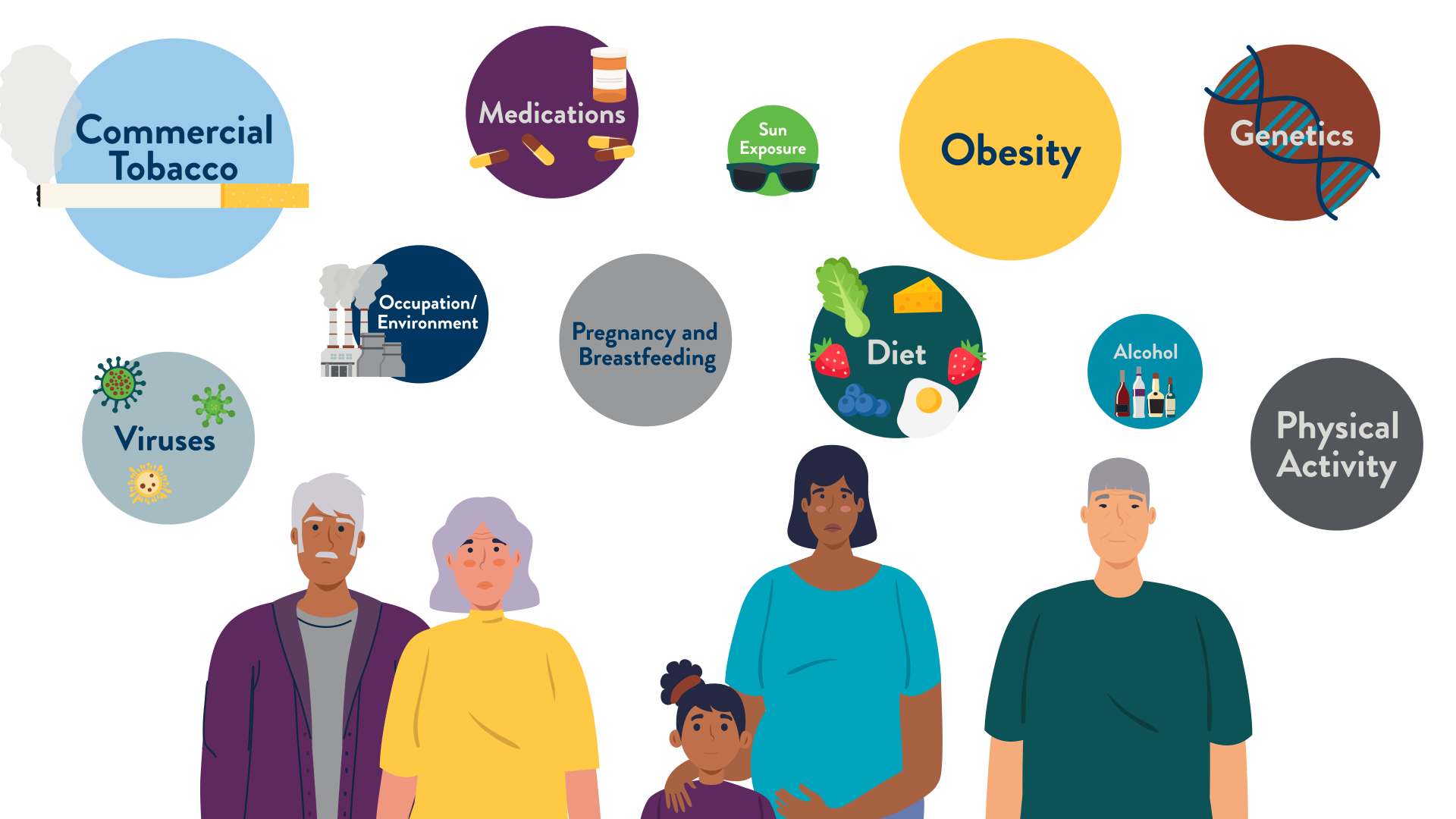 Risk factors such as age, pollution in communities, and genetics impact our risk. Family history also plays a role in cancer. This means that if your family members had a type of cancer, then you may be at higher risk for the same cancer, such as breast, melanoma, prostate, and colon cancer. It is not unusual for several cases to occur within a family.
Lower your risk for cancer
In addition to the social determinants that significantly impact our health, there are things we can do in our daily lives to decrease the chance of developing cancer. These factors are sometimes called "lifestyle factors," or modifiable risk factors (risk factors we can reduce).
It is estimated that modifiable risk factors account for three in five cancer deaths in the U.S.
Making healthy choices can lower your risk:
Screening can identify certain cancers early when they are more easily treatable and reduce the risk of death from those cancers. Effective screening programs exist for breast, cervical, colorectal, and lung cancers. Talk to a health care provider about screenings recommended for you.
The Sage Program may be able to help. Visit mnsage.com to connect with breast and cervical cancer screening services.
Read more: Lowering Your Risk for Cancer (PDF)
Cancer and the environment
Exposure to some human-made chemicals and naturally occurring substances in the environment can cause cancer, but it is almost impossible to confidently connect a single case of cancer to a specific cause, such as a chemical or other environmental exposure.
To learn more about potential cancer-causing substances and how to lower your risk, visit Cancer and the Environment.
What can I do if I have concerns about cancer?
Talk to a health care provider. If you have health concerns about cancer it is important to discuss your questions with a health care professional, such as a physician, nurse practitioner, traditional healer, community health worker, or community health representative.  
To share concerns about cancer in your community, please contact the Minnesota Cancer Reporting System at 651-201-5900 or email health.mcrs@state.mn.us.
Resources
Printable information sheets
Last Updated:
09/05/2023