Heart Safe Communities
Sudden cardiac arrest can happen anywhere, at anytime, to anyone. And it's almost always fatal. Cardiovascular events, including cardiac arrest, are the second-leading cause of death in Minnesota, responsible for almost 20% of deaths.
In 2015, about 50% of Minnesota's heart disease deaths happened before arriving at a hospital, and many of those were caused by cardiac arrest.
The Minnesota Department of Health, the American Heart Association, the Minnesota Ambulance Association, the Minnesota Resuscitation Consortium, and others have partnered to promote Heart Safe Communities, an effort to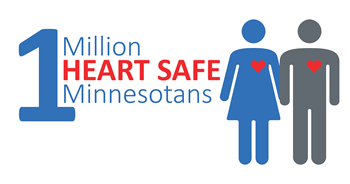 prevent death from sudden cardiac arrest by:
Increasing community and public awareness
Placing automated external defibrillators (AEDs) wherever people live, work and play
Educating the public on how to administer CPR
As of 2017, more than 1 million Minnesotans live or work in a Heart Safe Community.
Heart Safe Communities helps communities and organizations:
Educate community members about sudden cardiac arrest and improving heart health
Train people how to use AEDs and perform CPR
Heart Safe Designation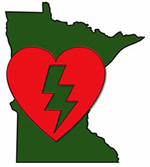 Heart Safe designation recognizes a community's efforts to prepare its staff and citizens to recognize when someone suffers a sudden cardiac arrest and how to respond. Any municipality, county or organization in Minnesota can apply for the Heart Safe designation from the Minnesota Department of Health and American Heart Association.
More than a million Minnesotans live or work in these Heart Safe communities.
Andover
Apple Valley
Baxter
Bayport
Birchwood Village
Blaine
Bloomington
Brainerd
Breezy Point
Brooklyn Center
Cambridge
Champlin
Chaska
Cokato
Columbia Heights
Coon Rapids
Delano
Eagan
East Bethel
Farmington
Fayal Township (St. Louis County)
Fosston
Fridley
Gem Lake
Golden Valley
Ham Lake
Hastings
Hugo
Isanti County
Kandiyohi County
Lake City
Lake Elmo
Lakeville
Long Lake
Mahtomedi
Maple Grove
Maple Plain
Maplewood
Marine-on-St. Croix
Mille Lacs Band of Ojibwe
Minnetonka
Minnetonka Beach
Minnetrista
Mound
Mounds View
New Brighton
New Ulm
New York Mills
Orono
Osseo
Perham
Plymouth
Ramsey
Richville
Rockford
Roseville
St. Anthony Village
Savage
Shakopee
South Metro Fire Department (South St. Paul and West St. Paul)
Spring Park
Stevens County
Stillwater
Two Harbors
Vadnais Heights
Waverly
White Bear Lake
White Bear Township (Ramsey County)
Willmar
Winsted
Woodbury
133rd Airlift Wing Minnesota National Guard (Fort Snelling)
3M (Maplewood)
Be the Match
Beckman Coulter
Bethlehem Academy (Faribault)
Brooklyn Center High School
Caribou Coffee Headquarters
Coon Rapids High School
General Mills
Gustavus Adolphus College (St. Peter)
Medtronic (Sullivan Lake Campus, Columbia Heights)
Millerbernd Manufacturing
Minnesota Vikings
Order of St. Benedict & St. John's University (Collegeville)
Sacred Heart Catholic Church & School (Robbinsdale)
St. Catherine University
St. Cloud Technical College
St. Thomas Academy (Mendota Heights)
Heart Safe Partners
Minnesota Department of Health
American Heart Association - Minnesota
Minnesota Ambulance Association
Minnesota Resuscitation Consortium
Minnesota Sudden Cardiac Arrest Survivors Network
Heart Safe Application and Materials
Are you providing bystander CPR training?
Please add your training numbers here and help train 10 percent of Minnesotans:
To learn more about Heart Safe Communities and how to receive technical assistance about implementing the program in your community, please contact:
American Heart Association - MN
2750 Blue Water Road
Suite 250
Eagan, MN 55121
952-278-7712 (phone)
952-835-5828 (fax)
heart.safe@heart.org
For more information, contact health.heart@state.mn.us.
Last Updated:
06/07/2023