Healthcare-Associated Infections
Related Topics
Contact Info
Infectious Disease Epidemiology, Prevention and Control Division
Contact Info
Infectious Disease Epidemiology, Prevention and Control Division
Healthcare-Acquired Infections and Antibiotic Resistance in Minnesota Frequently Asked Questions
On this page:
What are health care-associated infections (HAIs)?
What is antibiotic resistance?
How are HAIs and antibiotic resistance connected?
How are HAIs and antibiotic resistance measured in Minnesota?
What are health care-associated infections (HAIs)?
HAIs are infections that people get while being treated in a health care facility, including hospitals, long-term care centers, outpatient clinics, dialysis centers, and surgery centers.
HAIs are associated with a variety of causes including:

Medical devices, such as catheters and ventilators
Complications following a surgical procedure
Complications of using antibiotics

Some major HAIs in Minnesota include:

Central line-associated bloodstream infections (CLABSI)
Catheter-associated urinary tract infections (CAUTI)
Surgical site infections (SSI)
Clostridium difficile infections
Methicillin-resistant Staphylococcus aureus (MRSA) bacteremia (i.e. bloodstream infection)
What is antibiotic resistance?
Antibiotics are powerful tools for fighting and preventing infections. Antibiotics kill bacteria and have made many medical advancements possible, such as surgery, cancer treatments, and intensive care medicine.
Antibiotic resistance occurs when bacteria change in a way that reduces or eliminates the effectiveness of antibiotics. This means the antibiotic is not able to kill the bacteria. Antibiotic-resistant infections have become more common and many bacteria have become resistant to more than one antibiotic. Any use of antibiotics can lead to more resistant bacteria in a person and in a community. Antibiotics need to be used wisely to keep new resistance from developing and prevent existing resistance from spreading. For example, antibiotics are used to treat infections caused by bacteria, not viruses. Treating a virus with an antibiotic does not treat the viral infection.
Some major antibiotic-resistant infections in Minnesota include:

Carbapenem-resistant-Enterobacteriaceae (CRE)
and Carbapenem-resistant-Acinetobacter
Invasive methicillin-resistant Staphylococcus aureus (MRSA)
Streptococcus pneumoniae
Group A and B Streptococcus (GAS, GBS)
Extensively drug resistant tuberculosis (XDR-TB)
Neisseria gonorrhoeae
Campylobacter
Non-typhoidal Salmonella
How are HAIs and antibiotic resistance connected?
The issues of HAIs and antibiotic resistance overlap widely, but they are not the same. HAIs are often caused by antibiotic-resistant bacteria, but not always. Examples of HAIs caused by resistant bacteria include MRSA and CRE. Antibiotic-resistant bacteria are responsible for some HAIs but can also cause infections in the community such as resistant pneumococcal infections or community-associated MRSA. Antibiotic resistant infections can also occur in animals and resistant bacteria and their genes can be found in the environment.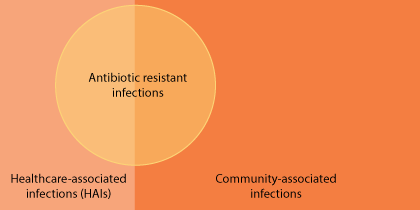 Common strategies can be used to address both HAIs and antibiotic resistance, including:

Surveillance to measure the problem and the impact of prevention and control interventions
Prevention of HAIs and slowing the emergence of antimicrobial resistance (e.g. infection control practices, vaccines to prevent infections, careful antibiotic prescribing)
Research into better diagnostics, new vaccines and new antibiotics
How are HAIs and antibiotic resistance measured in Minnesota?
Minnesota has a variety of surveillance programs used to measure HAIs and antibiotic resistance in the state.
Last Updated:
05/25/2023