Units of the Infectious Disease Laboratory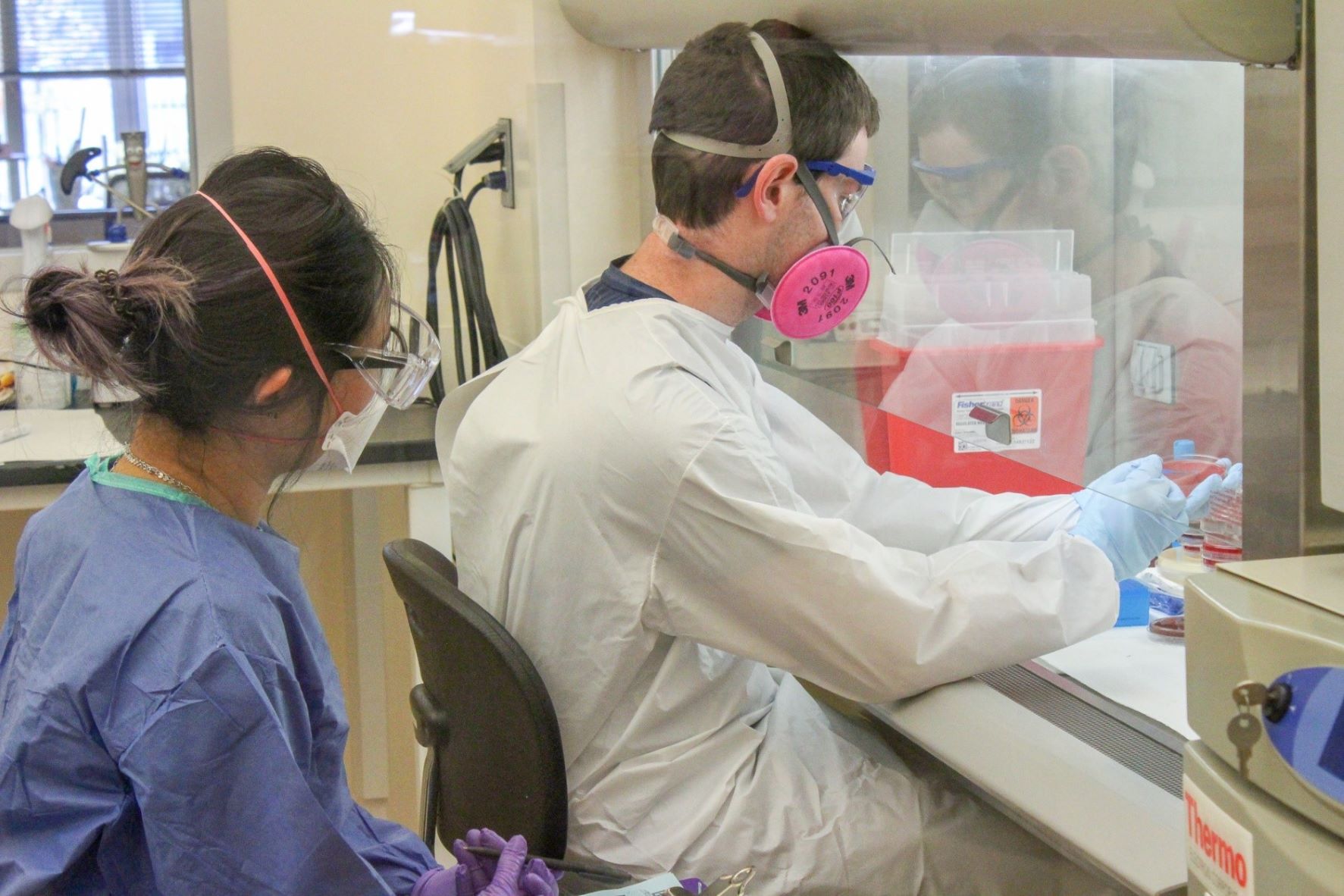 The Minnesota Department of Health's Infectious Disease Laboratory, a Clinical Laboratory Improvement Act (CLIA) certified facility, occupies approximately 10,200 square feet of laboratory space. It is composed of five laboratory units: Enterics, Microbiology, Sequencing and Bioinformatics, Virology/Serology, and Emergency Preparedness and Response. The Minnesota Laboratory System, which guides clinical laboratories throughout the state, is also considered part of the department.
Enterics
The Enterics Laboratory performs tests to identify and characterize pathogens that can cause diarrhea. These tests include nucleic acid amplification, Sanger sequencing, next-generation sequencing, and pulsed-field gel electrophoresis (PFGE) to find clusters of enteric pathogens that may be associated with an outbreak. The PFGE lab serves as the North Central Regional PulseNet Laboratory, working within the Centers for Disease Control and Prevention's (CDC) network of laboratories to connect cases of foodborne illness and detect outbreaks.
A primary task of the Enterics Laboratory is tracking and helping prevent Foodborne Illnesses, such as salmonella and norovirus. This involves monitoring Minnesota restaurants as well as working with the CDC on food products that may warrant recalls. Foodborne illnesses are underreported, as people often do not tell their doctors. We encourage people to tell us about their experiences through the Reporting Foodborne and Waterborne Illness page so that the Enterics Laboratory can prevent further spread of infections.
Microbiology
The Microbiology Laboratory provides a wide range of diagnostic, reference and surveillance testing along with consulting services in the areas of bacteriology, mycology, mycobacteriology, parasitology and antimicrobial susceptibility testing. Classical microbiologic protocols are supplemented with advanced molecular methods.
The microbiology laboratory also serves as the State Reference Laboratory for the CDC's Laboratory Response Network. Most microbiology laboratory testing is performed in collaboration with corresponding Minnesota Department of Health epidemiology programs.
Sequencing and Bioinformatics
The Sequencing and Bioinformatics Laboratory focuses on adapting cutting-edge genomic technology, including high-throughput sequencing, long-read sequencing, high-performance/cloud computing, and bioinformatics, to investigate the genomes of infectious disease-causing organisms.
In order to best serve the interests of public health, we adapt innovative research products into CLIA-validated laboratory testing assays to improve infectious disease pathogen characterization, surveillance, antimicrobial resistance identification and disease outbreak detection.
As a Centers for Disease Control and Prevention (CDC) Advanced Molecular Detection (AMD) Regional Training Laboratory, Regional Bioinformatics Resource laboratory, and co-founder of the State Public Health Laboratory Bioinformatics (StaPH-B) organization, the Public Health Laboratory is dedicated to building the bioinformatics infrastructure of the central U.S. and developing the sequencing/bioinformatics workforce at state, regional and national levels.
Virology/Serology
The Virology/Serology Laboratory performs testing to detect evidence of viral infection. This includes testing for respiratory viruses, vaccine-preventable viruses, rash and lesion viruses, and arboviruses.
Testing methodology includes viral culture, direct serologic detection of viruses by enzyme immunoassay (EIA) and immunofluorescence assays (IFA), and molecular detection.
Our laboratory performs diagnostic testing for measles, mumps, COVID-19, etc., while also monitoring respiratory illness in the state, which gives us the ability to detect changes in illness patterns. We also perform rabies testing for Minnesota, in partnership with the Veterinary Diagnostic Lab (VDL) and the Board of Animal Health.
Emergency Preparedness and Response
The Emergency Preparedness and Response Laboratory (EPR) unit serves as a Centers for Disease Control and Prevention Laboratory Response Network laboratory. Staff from this unit provide statewide diagnostic and reference testing for the agents of highest concern and participate in test development studies in collaboration with the CDC. This unit contributes to Laboratory Emergency Preparedness, a joint effort of the Infectious Disease Lab and the Environmental Laboratory.
We also provide training on the early detection and identification of biological agents of concern to sentinel-level laboratories, the clinical laboratories on the front lines of disease detection. Outreach efforts include guidance on new and emerging pathogens, on-site bioterrorism workshops, and training on biosafety and packaging and shipping.
Contact us
Please Contact the Infectious Disease Laboratory with any questions.
Last Updated:
11/22/2022