Environmental Laboratory
Instructions for environmental sample collectors and submitters
At this time, the Environmental Sample Receiving Unit and Laboratory Operations of the Minnesota Public Health Lab are open and available to receive samples following our usual Monday-Friday 8:00 a.m. to 4:30 p.m. schedule.
If samples with regulated hold times of 48 hours or less must be delivered to our laboratory after 12 p.m. on Fridays, we ask that all collectors notify our laboratory before 12 p.m. on Fridays and indicate the type of analysis and number of samples to be submitted.
Communication can either be via phone at (651) 201-5300 or email at HEALTH.Env.OperationsUnit@state.mn.us with a subject line of Friday Submission. Please follow the Sample Drop-off Instructions for instructions for Social Distancing Requirements.
More information:
Resources for submitters:
About the Environmental Laboratory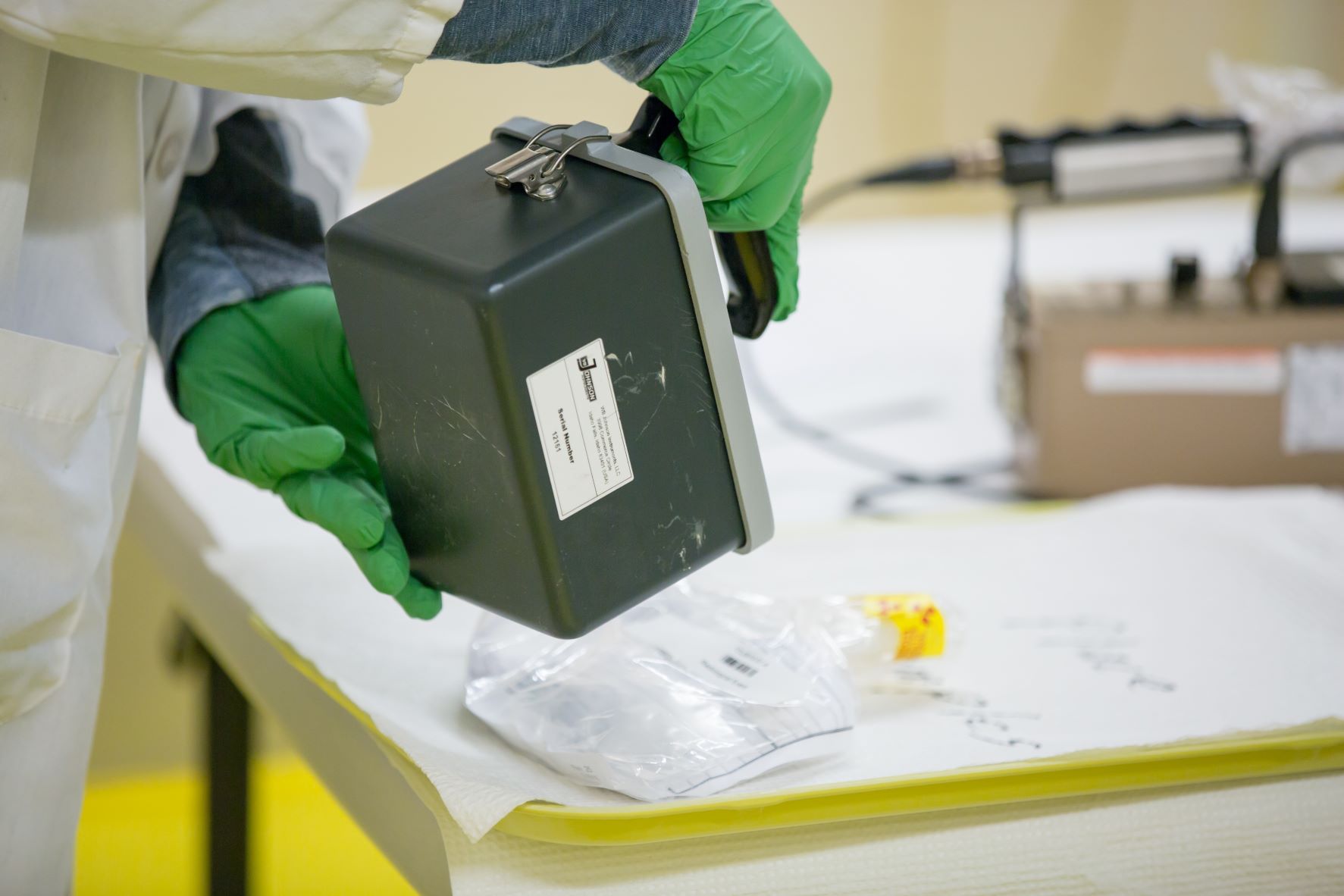 The Environmental Laboratory, a section of the Minnesota Public Health Laboratory, tests approximately 44,000 samples annually for a wide breadth of potential threats to human and environmental health, including E. coli, nitrates, sulfates, cyanobacteria, legionella, pesticides, and many more. We perform chemical, bacteriological and radiological analyses of samples of drinking water, surface water, wastewater, sediment, air, fish, food products, soil, human waste, and hazardous waste.
The Environmental Laboratory is currently leading a nationwide effort to monitor the "forever chemical" known as PFAS. Visit the Environmental Health Division's
Per- and Polyfluoroalkyl Substances (PFAS)
section and the Minnesota Pollution Control Agency's
PFAS Blueprint
for more information.
We provide these testing services for programs in the Environmental Health Division, which is also part of the Minnesota Department of Health, as well as for the Minnesota Pollution Control Agency, the Minnesota Department of Transportation, the Food Emergency Response Network (FERN), and for many other agencies of local and federal government. Additionally, we assist law enforcement by analyzing suspicious packages and other substances for dangerous chemical and biological agents.
In partnership with the Public Health Laboratory's Infectious Disease Laboratory, we also maintain a Laboratory Emergency Response program. This work sustains the capability to immediately respond to biological, chemical, and radiological emergencies. The Environmental Laboratory works with Minnesota's two nuclear power plants in this capacity.
In addition, we develop new analytical methods and provide technical training and consultation at the request of our clients. Our mission is to ensure that testing capacity is available to support the public health and environmental protection objectives of the state of Minnesota.
The Environmental Laboratory includes the technical areas of General Chemistry, Metals Chemistry, Organic Chemistry, Radiation Chemistry, and Water Microbiology.
Last Updated:
08/21/2023