Laura's Story - We Rely on the Community for Immunity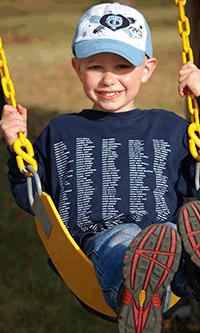 Laura's son Ben
I am writing today to share how our family is one of many impacted by the current trend of parents choosing not to vaccinate their child(ren).
Our son, Benjamin, is in treatment for Acute Lymphoblastic Leukemia—a type of cancer of the blood and bone marrow. He was just 2 years old when he was diagnosed in 2010 and is in the midst of three years (at best) of chemotherapy and steroid treatment. This means his immune system is compromised and he is susceptible to every germ from colds to bacteria that come his way. The chemotherapy suppresses his body's ability to make white blood cells (cells that fight infections).
Before diagnosis and since, Ben has received his vaccines with the exception of live vaccines such as varicella (chickenpox) and MMR (measles, mumps and rubella). He can't get the live vaccines right now because of his weak immune system. Ben received his first doses of both varicella and MMR, but his immune system did not respond to the initial varicella vaccine so he has no protection against it. We do not know about MMR. Both chickenpox and measles are life threatening to Ben because they can turn into pneumonia or bacterial infections; all would require immediate medical care.
Ben and other people like him with weakened immune systems rely on "herd immunity" to protect them from diseases such as chickenpox, whooping cough, measles, and other vaccine-preventable diseases. Unfortunately many people are choosing not to vaccinate their child(ren) which means the community surrounding Ben can't effectively protect him.
During one of Ben's routine inpatient treatments in March 2011, he was exposed to a child who was later diagnosed with measles. His exposure wasn't because they shared a room but because Ben might have breathed air the other child exhaled. We were shocked when they told us that Ben could get measles because of this.
After his potential exposure, Ben was given shots to boost his immune system. How could anyone ask him to fight more than leukemia? His life is challenging enough and now he might be asked to fight for his life against a preventable disease.

Ben couldn't be around other people for 21 days because of the risk that he could expose other innocent children who were too young to be vaccinated or children whose parents chose not to vaccinate them. It was ironic for me to think of the pain we have taken to shelter our child from sick kids and now he was the one placed in quarantine. Because of someone's conscious choice to take a risk on their child's behalf, we were forced to further alter our son's life.
On day 19 of our isolation we sent our doctor pictures of a rash on Ben's cheeks. Our doctor called and said they were concerned the rash could be measles and they needed to test him. The next day, a nurse took samples from Ben. At this point our anxiety should have peaked, but I admit I didn't have much anxiety left. I could not believe that on day 19 our son could have developed measles. Was our life about to change dramatically for a second time? About 33 hours after the test, a nurse called to share that our son tested negative. He did not have measles.
As you think about vaccinating your child, please keep in mind how an unvaccinated child can impact other children, particularly infants and those children who are already fighting for their lives. Benjamin is a statistic that I live with every day. I do not want him to become another statistic that could have and should have been avoided.
More information on immunization