Sumer's Story - Flu and Pertussis (Whooping Cough)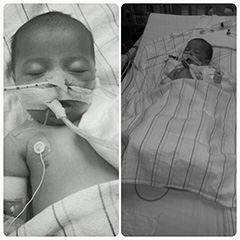 Sumer's daughter
Sumer is a busy mom with four young kids. In the fall of 2014 everyone in their house seemed to be sick. The kids started to recover, but her youngest daughter, Amalia, at just 7 weeks old had a fever. Sumer called the doctor to ask how what medicine she could give her and they said to go to the emergency room.
Feeling somewhat annoyed at having to venture out with a sick baby, Sumer headed to the ER where they ran a few tests. Everything came back negative. They headed home hoping the baby would be better soon. Two days later the hospital called and said Amalia's tested positive for Influenza A, and they prescribed an antiviral medication to treat her.
After a couple days, Sumer thought Amalia was on the mend, but then she started to have a weird cough. "I just knew something was wrong," Sumer said. They headed to the ER again, but were told it was just the flu and were sent home.

Several more days went by with the cough getting worse and Amalia wasn't eating very much. At her scheduled 2 month checkup that week, the doctor did a chest X-ray, but it didn't show anything. That night, the coughing got even worse. Sumer took Amalia to the ER again the next day. She recalls having a moment of feeling like she was being "overprotective and crazy" but just couldn't shake the feeling that something was really wrong. As soon as the doctor heard the cough, they tested for whooping cough (pertussis). It was positive.
Amalia was admitted to the hospital and spent a day and a half in the ICU progressively getting worse. Her cough got so bad that they had to put a tube in her throat to help her breathe. "It was terrible and traumatic," Sumer said. Her husband was also sick, so she was at the hospital alone. "I sat in a chair and cried."
The tube had to stay in for two weeks. Once it was taken out, they still stayed in the hospital for a couple more days. In total, Amalia spent 27 days in the hospital. "The hardest part is there's nothing you can do. As a mom, you go from doing everything for your baby to not being able to do anything."
Once the family was home, Amalia still had some healing to do. She had to slowly be taken off medications and had to learn how to eat again after having a tube in her throat for so long. It has been a slow recovery, but Amalia is doing much better.
All of Sumer's kids were immunized on time, but at 7 weeks old, Amalia was still too young to be immunized. "Before this happened, I thought it was an individual choice to immunize your kids," she noted. "Now it really is a passion for me to tell others to immunize their kids. It affects others."
Sumer doesn't want other families to endure what they went through and hopes parents see the benefits of immunizations in keeping their child and other children healthy.   
More information on flu and pertussis