Drinking Fountain Grants Help Communities Fill Up on Healthy Habits
Increasing access to healthier drinks
The residents of Blue Mound Tower in Luverne, Minn. used to frequent a nearby convenience store for soft drinks. A big glass of soda was a treat.
But thanks to a new drinking fountain, Tammy Johnson, Executive Director of Luverne Housing and Redevelopment Authority (HRA), says she doesn't see that anymore.
"Now that [residents] can bring their water bottles down to the drinking water station, they do that instead of purchasing pop," Johnson said.
Luverne HRA received a hydration station grant from the Minnesota Department of Health in 2018. Through the grant, they installed a new drinking fountain with a water bottle-filling station in Blue Mound Tower, which provides income-based, affordable apartment units for older adults and people with disabilities.
"Many of our tenants do not have vehicles or they are too frail to purchase and haul water," Johnson said.
One tenant used to walk to the store to buy jugs of water to refill her C-PAP machine, which was tiring and costly. With the new drinking fountain and its filling capabilities, clean water is just a walk down the hall. The fountains are also American-Disability Act-compliant and accessible for people of all abilities.
"Our water bottle fill station has been one of the best additions to our Housing Authority," Johnson said.
Supporting communities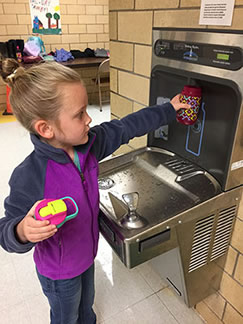 Luverne HRA was one of 16 grantees across Minnesota who received funds to install a new drinking fountain in 2018.
The fountains filter out contaminants like lead, while retaining beneficial substances like fluoride, which protects teeth from cavities. In addition, they promote healthy behaviors – like staying hydrated and choosing water over sugary beverages. The bottle-filling feature allows people to fill up to drink throughout the day, and reduce waste from plastic bottles.
"Water is a vital nutrient for our health and wellbeing," said Prasida Khanal, State Oral Health Director. "Providing access to water also offers preventive health benefits, like protecting teeth from cavities and reducing risk factors for chronic disease."
Since installing the drinking fountains, grantees have filled more than 65,000 water bottles.
"Since putting this fountain in, we have been able to remove our vending machine from which water, juice and soda were sold after school," said Constance Krocak, Principal of Holy Cross School, a grantee in Webster, Minn. "What a great change for us all!"
Read on to learn about other ways the fountains are making an impact in Minnesota.
Success Stories
Last Updated:
10/04/2022