Drinking Water Protection
Related Topics
Related Sites
Environmental Health Division
Drinking Water Protection
The Minnesota Department of Health (MDH) is the state authority for drinking water. Several programs at MDH work together to ensure safe and adequate drinking water. The Drinking Water Protection program focuses on public water systems. Public water systems serve 25 people or more in places where they live, work, gather and play.
About the Drinking Water Protection program, with links to program sites.
Information about contaminants that could be found in drinking water and sources of drinking water like groundwater, rivers, and lakes.
Questions and answers on bottled water versus tap water.
Drinking water protection annual reports by year.
WaterWorks! A Drinking Water Institute for Educators is an annual institute for teachers to learn about drinking water and how to teach it in their classrooms.
Protecting drinking water quality in schools and child cares and educating teachers, parents, and students about drinking water.
Links to laws and rules pertaining to drinking water protection in Minnesota.
Information about public drinking water supplies in Minnesota.
Drinking water protection fact sheets and advisory guidance documents.
Overview of types of devices used to treat water and considerations for purchasing.
Videos highlighting public water providers.
All things LEAD in Drinking Water - Information about the updated Lead and Copper Rule (LCRR) and its impacts to drinking water.
Information about plan review of drinking water construction projects.
Strategies and tools for communicating about drinking water.
Information about public drinking water systems in Minnesota.
Information about strategic projects and initiatives.
Exam information, training schedule, FAQs, and more.
A quarterly publication for water operators and others as well as a list of feature stories about water systems.
Contact information for Drinking Water Protection program staff.
Of Interest
Interactive Dashboard for PFAS in Drinking Water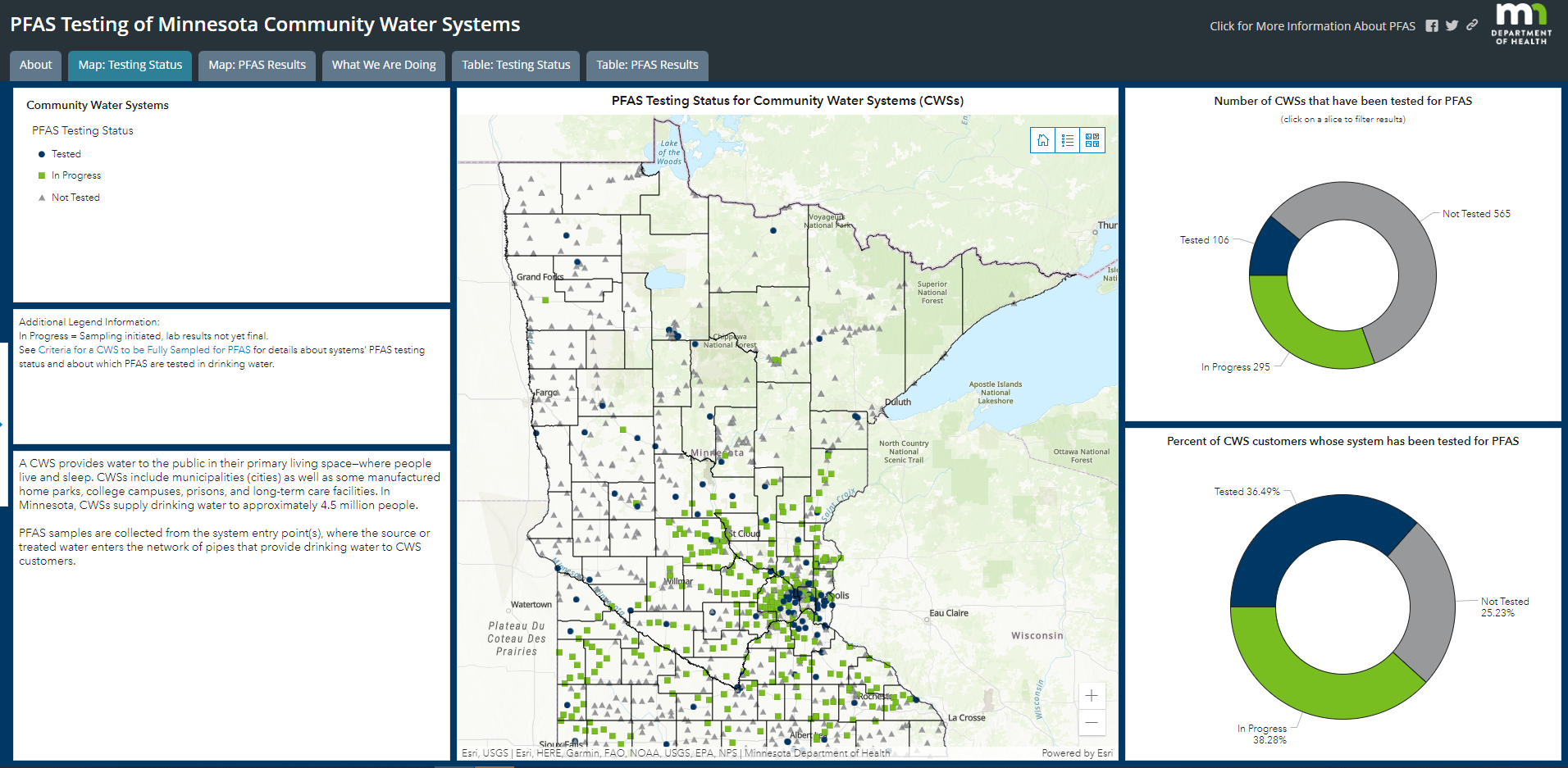 MDH sends Capacity Development Report for 2023 to Governor Walz (PDF)
Every three years, the Drinking Water Protection Section must send a report to the governor every that explains how we are ensuring that public water system owners have the technical, financial, and managerial ability to consistently and effectively provide safe water. The report describes the programs and procedures we use to accomplish this.
The Drinking Water Protection Section conducted sampling at Minnesota Correctional Facility (MCF) Stillwater at the request of the Minnesota Department of Corrections. The MCF Stillwater Sampling Report (PDF) describes the sampling process, results, and recommendations.
MDH Issues Drinking Water Annual Report for 2022 (PDF)
Governor Walz Declares May 7-13 Safe Drinking Water Week in Minnesota (PDF)
Last Updated:
11/28/2023