Hazardous Sites & Substances
Related Topics
Environmental Health Division
Contact Info
Site Assessment and Consultation Unit
651-201-4897
800-657-3908 (toll-free)
Contact Info
Site Assessment and Consultation Unit
651-201-4897
800-657-3908 (toll-free)
Arsenic in Soil in South Minneapolis
Arsenic containing pesticide was stored in large, uncovered piles at the site. State officials were concerned that some arsenic could have been carried by the wind into nearby residential yards. This concern prompted the Minnesota Department of Agriculture to invite the US Environmental Protection Agency (US EPA) to take the lead in the offsite residential soil investigation in 2004. The US EPA determined that soil with arsenic levels above 95 ppm should be removed to protect people from short term exposure to arsenic. The site was listed on the National List of Priorities ("Superfund") in September 2007. Listing the site provided additional funding which was used to clean up soil to lower levels. The clean up provided protection from exposure to arsenic in soil that could be a concern for health when people are exposed to arsenic at low levels over many years.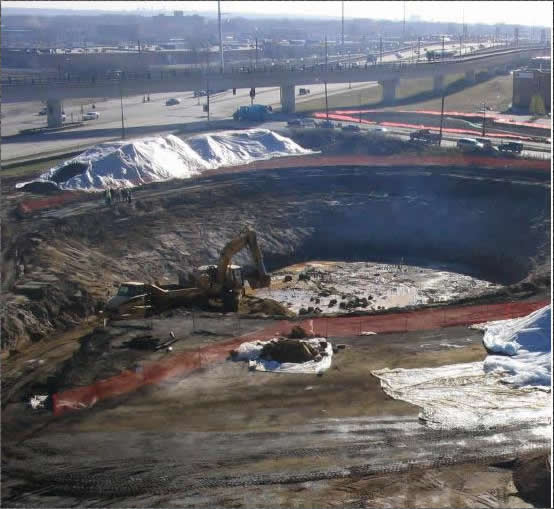 Highly contaminated soils are excavated as part of the CMC site clean up.
The former CMC Heartland Partners Lite Yard site is located in the Hiawatha industrial corridor on the eastern edge of the Phillips neighborhood in south Minneapolis. The site was used from 1938 – 1963 to produce and store arsenic-based pesticides. Contamination was discovered in 1994 during reconstruction of Hiawatha Avenue. High levels of arsenic were found in soil on the site and in the groundwater underneath the site. Clean up of the site was completed in 2005 and it has since been redeveloped as an office building.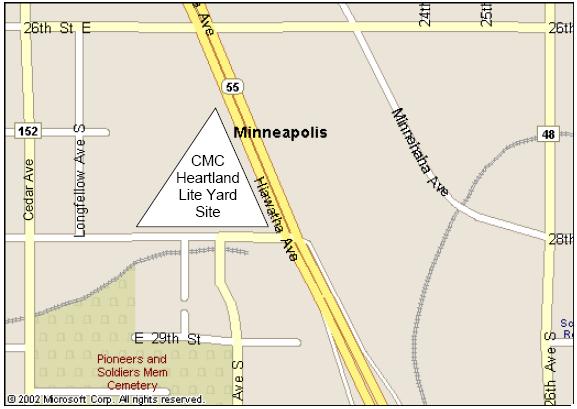 Last Updated:
10/03/2022