Community Health Awards
Community Health Conference
Certificates of Recognition
Certificates recognize individuals or groups who have demonstrated a significant commitment to public health.
Most recent recipients
About this award
Eligibility and nominations
Past honorees
2019 Certificates of Recognition
Better Together Hennepin team and partners
Better Together Hennepin provides evidence-based, prevention-focused, community-engaged work to prevent unplanned pregnancies among county teens and adolescents. Better Together Hennepin's programming is trauma-informed, LGBTQ-inclusive, and employs youth development principles. Trained sexual health educators, employed by community-based organizations rooted in the communities facing disparities, carry out the interventions. Hennepin County has been successful in reducing teen birth rates by nearly 60% in the past 10 years, outpacing both state and national declines. Emily Scribner-O'Pray accepted this award on behalf of Better Together Hennepin.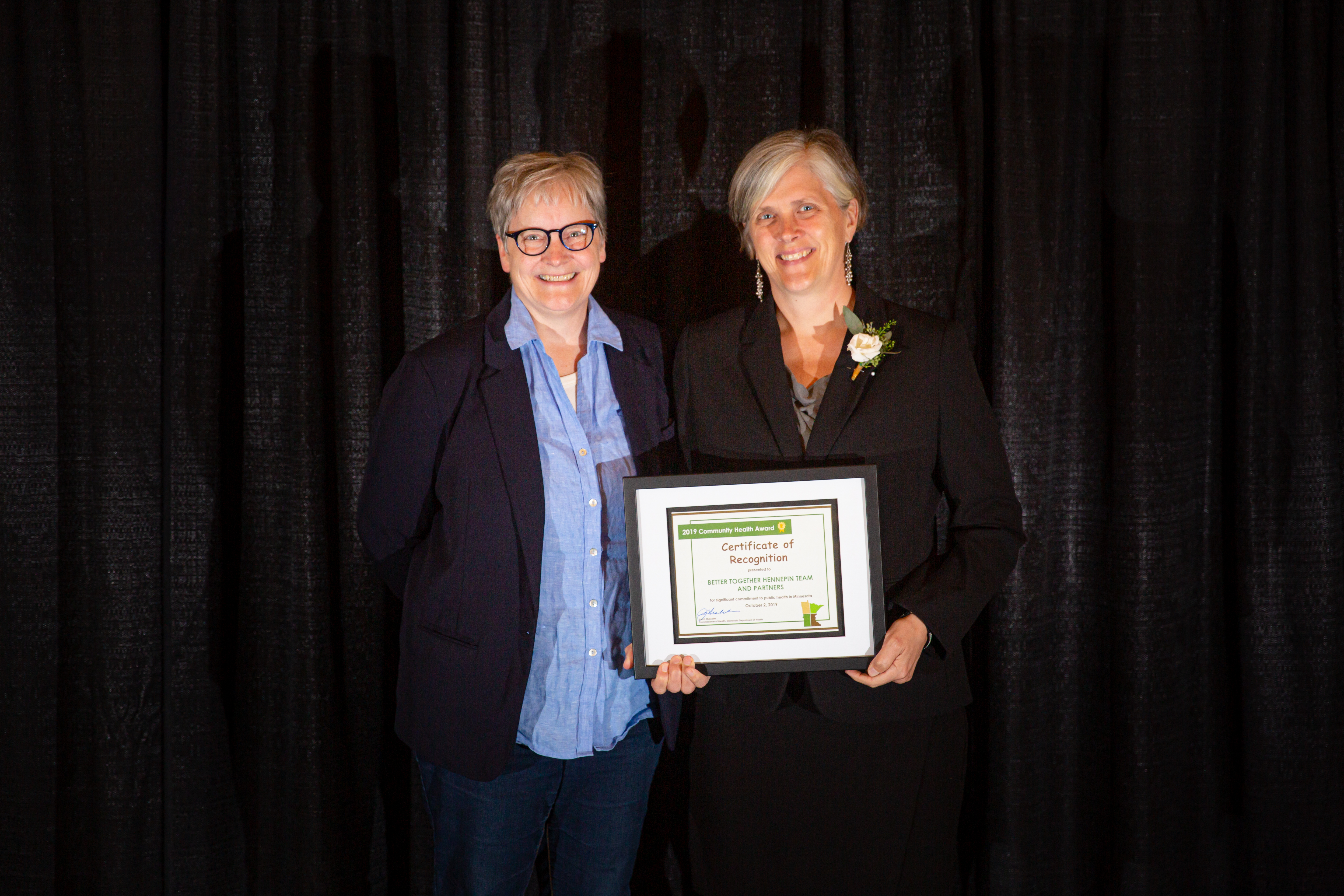 Countryside Public Health Community Leadership Team
The Countryside Community Leadership Team (CLT), active since 2009, is made up of local public health supporters including business owners, farmers, county board members, tribal partners, and representatives from community groups, schools, chambers of commerce, hospitals and health care facilities. In 2017, the Countryside CLT began focusing on farmers markets and access to healthy food in rural communities, working collaboratively across their five counties to create "Tokens for Tomatoes," a $2 farmers market token exchanged for fresh produce.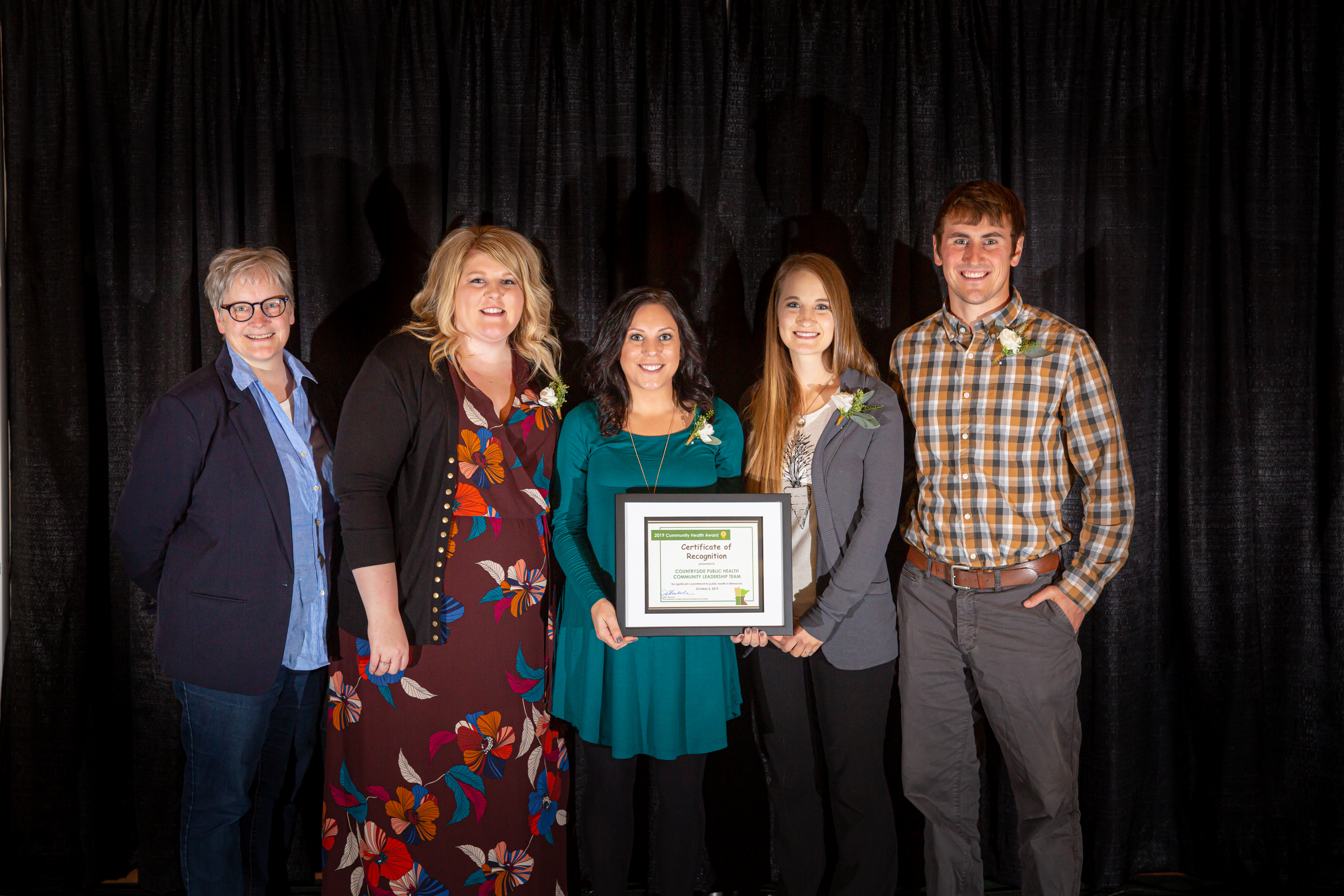 David C. Johnson, epidemiology manager, Hennepin County Public Health
In David C. Johnson's nearly 20 years in governmental public health, he has led continuous improvement efforts to expand tuberculosis contact investigation capacity, served as incident commander during the 2018 Hennepin County measles outbreak, served on the SCHSAC Infectious Disease Continuous Improvement Board, led collaborations between public health and hospital systems, and much more. He's also served as an adjunct instructor at St. Mary's University of Minnesota, is past president of the Minnesota Public Health Association, and serves on a number of local and regional public health and epidemiology workgroups.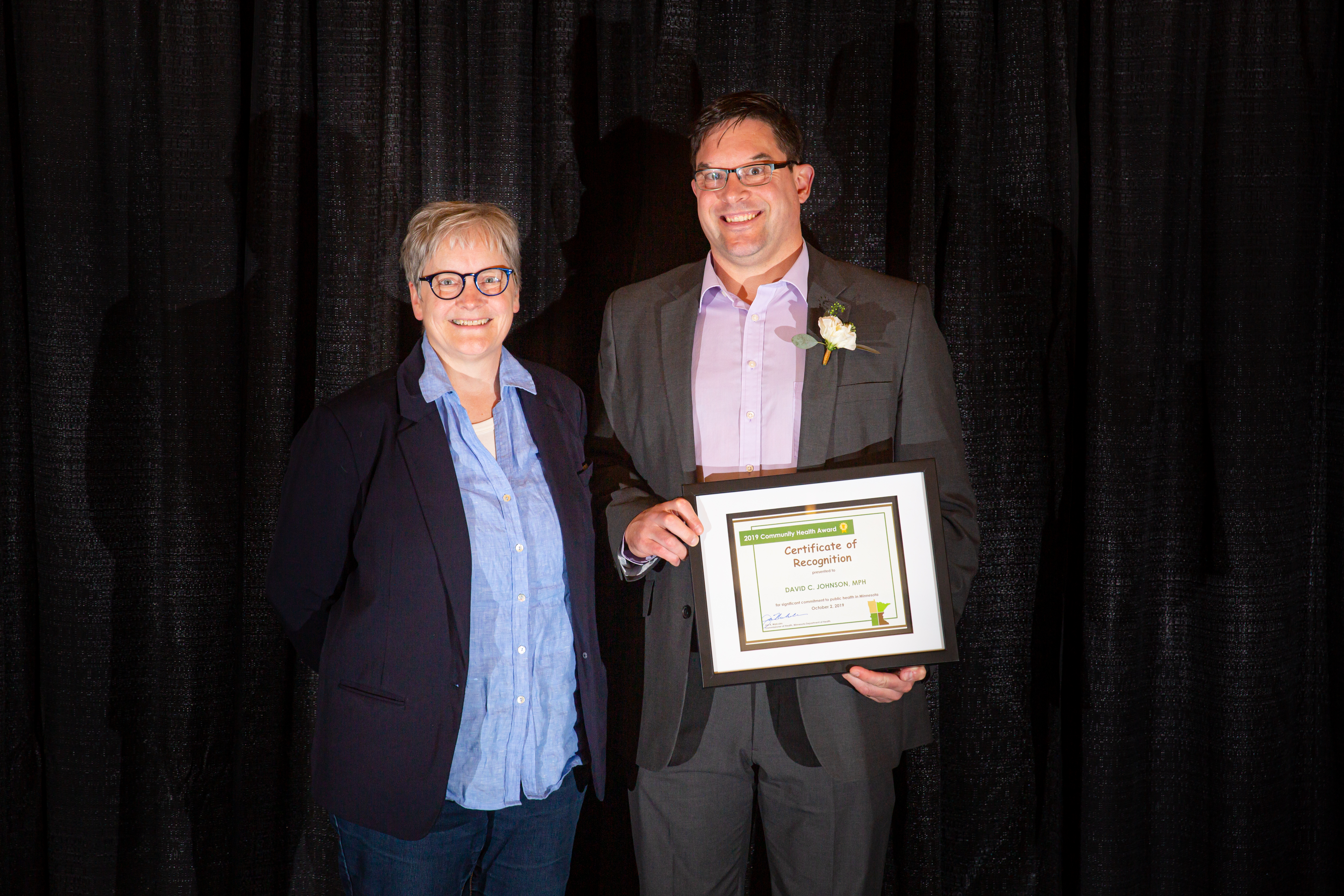 About certificates of recognition
Certificates of Recognition were created in 1985 as a way to recognize individuals as well as groups, including public health partners (such as emergency medical services, physicians, and others) for their contributions to public health.
Eligibility and nominations
Eligibility requirements include: Current SCHSAC member or alternate member, local community health services staff, Minnesota Department of Health staff, local advisory committee member, elected official, or volunteer. Nominate an individual or group for this award.
2019
Better Together Hennepin team and partners
Countryside Public Health Community Leadership Team
David C. Johnson, epidemiology manager, Hennepin County Public Health
2018
Meeker-McLeod-Sibley Healthy Communities Leadership Team
Metro area environmental health partners: Super Bowl food defense and food safety operation
Minneapolis Health Department and youth tobacco prevention community partners
2017
Marna Canturbury, Lakeview Health Foundation
C.A.R.E. Clinic Volunteers
Minneapolis Health Department Food, Pools, and Lodging Division
2016
Chris J. Johnson, Minnesota Department of Health
Stearns County Health Protection and Promotion Unit
Sara Chute, Minnesota Department of Health

2015

Patrick Hanlon & Mpls. Green Business Matching Grant Program
Carol Meissner, Horizon Public Health
Wright County Emergency Medical Services Advisory Council
2014
Wendy Kvale, Minnesota Dept. of Health
Smoke-Free Housing Collaborative, City of Minneapolis
David Stroud, ret., Minnesota Dept. of Health
2013
FATHER Project Team, St. Joseph's Area Health Services
Raise it for Health Coalition
Kathy Bystrom, Fairview Lakes Health Services
2012
Gloria Tobias, Countryside Public Health
Ann DeLa Vergne, formerly of Washington County
Henry Street Consortium
2011
HealthyLiving Minneapolis - Community Resources for Everyone
Susan Ross, Minnesota Dept. of Health
2010
Blue Earth H1N1 Vaccine Team, Blue Earth County
Project Harmony, Meeker-McLeod-Sibley Counties
Steven Simenson, Anoka County
2009
Rita Dovre, Lincoln-Lyon-Murray-Pipestone Public Health
Homegrown Minneapolis
Terry Stoltzman, Anoka County
2008
Minneapolis/Hennepin County Childhood Lead Poisoning Workgroup
2007
Doris Cogelow, Kandiyohi County Public Health
Bill Carlson, Isanti County Active Living
Rich Peter, Olmsted County Public Health Services
Lincoln-Lyon-Murray-Pipestone Emergency Preparedness Advisory Team
2006
Aitkin County Public Health Department
Carlton County Public Health Department
Cook County Public Health Department
Koochiching County Public Health Department
Lake County Public Health Department
Saint Louis County Public Health Department
Litchfield Area Rural Partners in Prevention
Jennifer Nelson, Rochester Downtown Farmers' Market
Cheryl Sapp, Clay County Public Health
Smoke Free Coalitions of Meeker and McLeod Counties
2005
Kathy Nowak, McLeod County
Craig Malm, Anoka County Community Health Advisory Committee
Gene Winstead, Mayor, City of Bloomington
Bloomington City Council, City of Bloomington
2004
Gary Thostenson, Countryside Community Health Board
Arthur van Vranken, Graceville Health Center
Minnesota Family Investment Program Public Health Nurse Home Visiting Team, Ramsey County
2003
The Minor League, Polk County
Charles Bransford, Stillwater Medical Group
Jill Bruns, Renville County
2002
Margaret Langfeld, Anoka County
Northern Minnesota Wastewater Technical Committee
Kaye Stennes, North Country
Safe Communities, Wright County
2001
Chemical Health Team, Meeker-McLeod-Sibley Counties
Wendy Thompson, Kanabec-Pine Counties
2000
Mary Ho, Rice County
Mary Tambornino, Hennepin County
1998
Northeastern Minnesota Public Health Cooperative
Otter Tail Dental Health Clinic Project Team
1997
Viola Rau, Kandiyohi County
Steve Louwagie, Countryside Public Health
Sandy Macziewski, Countryside Public Health
Gloria Tobias, Countryside Public Health
1995
Farming Healthy Coalition, Meeker-McLeod-Sibley Counties
1994
Robert Welch, Goodhue County
Jane Dietzman, Goodhue County
1993
Howard Warnberg, Morrison County
Marilyn Krueger, Saint Louis County
Gayle Hallin, City of Bloomington
1992
Paul Gunderson, Minnesota Dept. of Health
Vonna Henry, Benton-Sherburne Counties
1991
Rolleen Walgenbach, Leech Lake
Carrie Lapham, Houston County
Health Promotion Team, Nicollet County
1990
James Lehmann, Carver County
South Central Regional Counseling & Testing Site Joint Powers Board
1989
Mary Ann Blade, Cass-Todd-Wadena-Morrison Counties
1988
Diane Thorson, Otter Tail County
Lester Kachinski, Aitkin County
1987
Viola Rud, Quin County
Natalie Haas Steffen, Anoka County
1986
Yvonne Hargens, City of Bloomington
1985
Linnea Mannausau, Koochiching County
Last Updated:
10/03/2022