Community Health Awards
Community Health Conference
Commissioner's Award for Distinguished Service in Community Health Services
This award recognizes individuals or groups who have contributed to advancement in the field of public health.
Most recent recipient
About this award
Eligibility and nominations
Past honorees
2019 Commissioner's Award for Distinguished Service in Community Health Services Recipient
Dorothy Bliss, planner, Minnesota Department of Health
Dorothy has contributed new energy and ideas for public health by expanding the understanding of what creates health. During Dorothy's 30-year career, her commitment to public health and its core value of social justice has led her to expand the conversation about what creates health by focusing on and elevating the key conditions that create health and actions to improve them. Dorothy was the primary author of the 2012 and 2017 statewide health assessments, and the editor and a contributor to the 2014 report to the Legislature, Advancing Health Equity in Minnesota (PDF). The 2012 assessment led with the conditions that create health and ended with health outcomes—at the time, this was revolutionary and recognized nationally.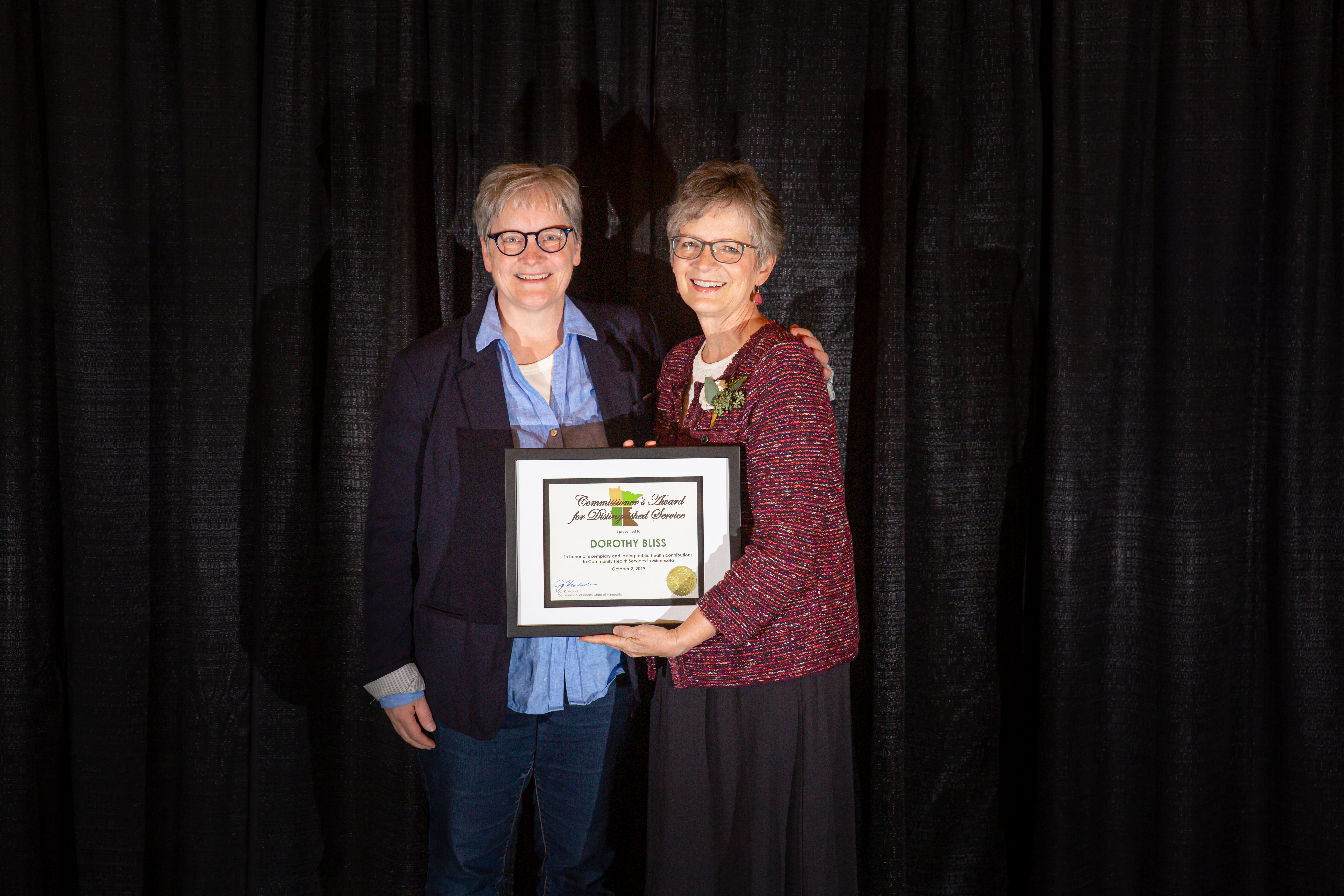 The Commissioner's Award for Distinguished Service in Community Health Services was created in 1992 to acknowledge long-term contributions, involvement, achievement and commitment to CHS. The recipients of this award have demonstrated this kind of long-term commitment, and have contributed to advancement within the public health field.
Eligibility and nominations
Eligibility requirements include: Current SCHSAC member or alternate member, local community health services staff, local advisory committee member, elected official, volunteer, or past local and state health staff. Nominate an individual or group for this award.
2019 Dorothy Bliss, Minnesota Department of Health
2018 Sandy Tubbs, Horizon Public Health
2017 Mary Heckman, Goodhue County Health & Human Services
2016 LuAnn Reif, College of St. Benedict's / St. John's University
2015 Shannon Bailey, Dakota County Public Health
2014 Ann Stehn, Kandiyohi County Health and Human Services
2013 Carol Schefers, Wright County Public Health
2012 Sue Zuidema, formerly of Hennepin County
2011 Lois Ahern, Freeborn County
2010 Marina McManus, Anoka County
2009 Del Hurt, Carver County
2008 Becky Felling, Meeker County
2007 Lt. Phil Bartusek, Albert Lea Police Department
2006 Wayne Carlson, Minnesota Dept. of Health
2005 Mary McGlothlin, Washington County
2004 Karen Zilliox, Minnesota Dept. of Health
2003 Carol Carlson, Crow Wing County
2002 Lori Wedeking, Minnesota Dept. of Health
2001 Donna Anderson, Dakota County
2000 Theresa St. Onge, Minnesota Dept. of Health
1999 Virginia Rootkie, Pine County
1998 Robert Bambrino, Stearns County
1997 Vonna Henry, Sherburne County
1996 Signe Hill, Winona County
1995 Bonnie Frederickson, Nobles-Rock Counties
1994 Michael Duffy, Carlton-Cook-Lake-Saint Louis Counties
1993 Rosemary Lamson, Cook County
1992 Ann Moorhous, Minnesota Dept. of Health
Last Updated:
10/03/2022