Community Health Awards
Community Health Conference
Jack Korlath Partnership Award
This award recognizes individuals whose work has strengthened the state-local partnership.
Most recent recipient
About this award
Eligibility and nominations
Past honorees
2019 Jack Korlath Partnership Award Recipient
DeeAnn Finley, policy analyst, Minnesota Department of Health
Dee Finley consistently brings the right people together at the right time, to benefit public health in Minnesota. She serves as a bridge between state and local systems, helping each better understand the other while moving work forward. From facilitating SCHSAC workgroups to interpreting statute to assisting governing boards, Dee can adapt to lead any number of public health practice issues. In the words of a local public health partner, Dee provides trusted, valued, and sage guidance, shares strategies and best practices across community health boards, and is a tireless advocate for local public health.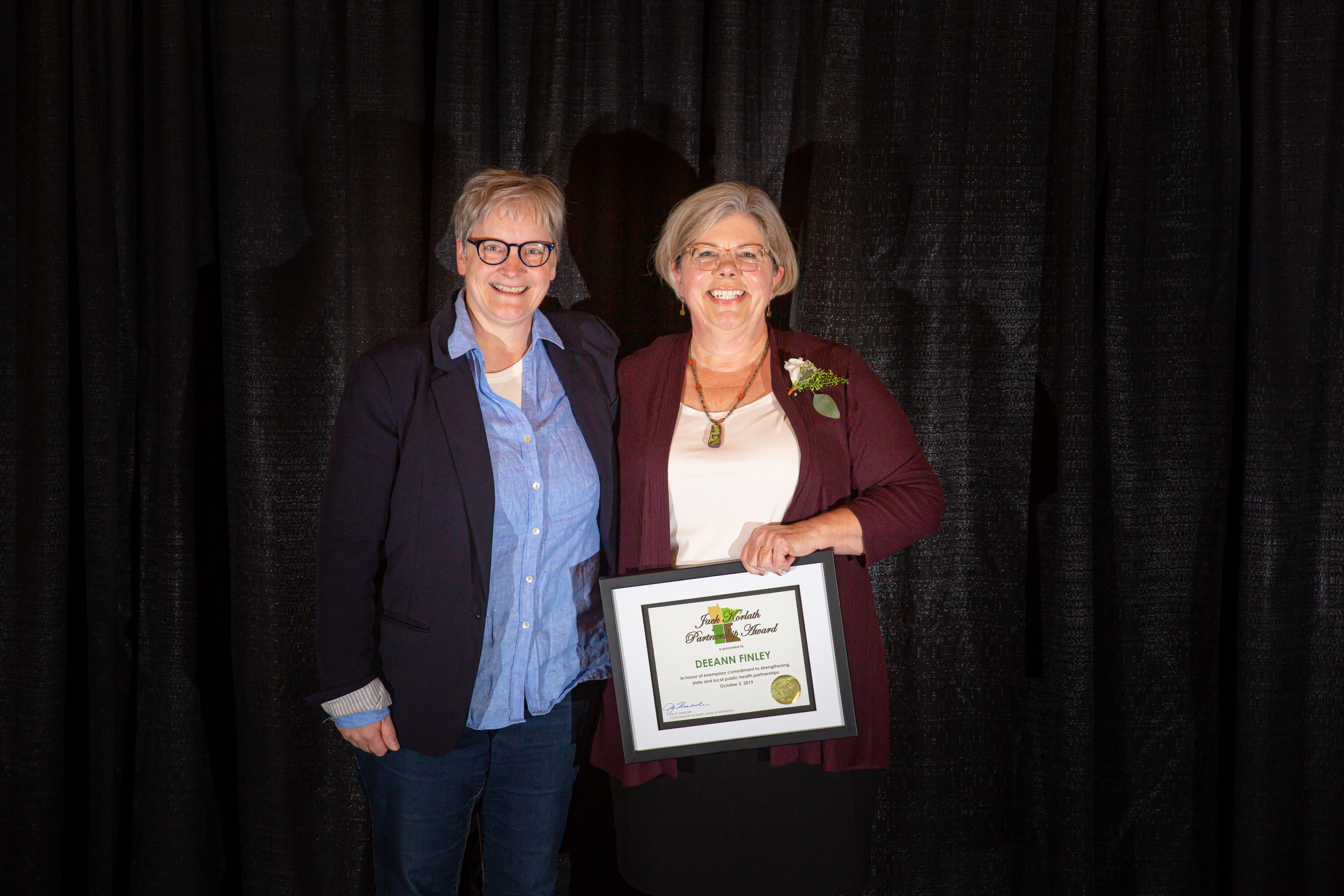 The Jack Korlath Partnership Award was created in 2001 to honor the memory of Minnesota Department of Health employee Jack Korlath. Jack Korlath was an epidemiologist who was instrumental in developing the Disease Prevention and Control Common Activities Framework, and who was a leader in bringing state and local public health professionals together to work constructively on a wide variety of issues. Jack's collaborative efforts focused on the prevention, control, and investigation of infectious disease and on public health response to natural and man-made disasters/emergencies. The Jack Korlath Partnership Award is given to those who demonstrate a commitment to developing and maintaining close collaborative relationships between state and local public health agencies in Minnesota.
Eligibility and nominations
Eligibility requirements include: Local public health staff or state health staff. Nominate an individual or group for this award.
2019 DeeAnn Finley, Minnesota Department of Health
2018 Terry Ristinen, Minnesota Dept. of Health
2017 Cynthia Hickman, Minnesota Dept. of Health
2016 Karen Swenson, Director of Brown-Nicollet Environmental Health
2015 Marty LaVenture, Minnesota Dept. of Health
2014 Pete Giesen, Olmsted County Public Health
2013 Stefan Saravia, Minnesota Dept. of Health
2012 Kim Edelman and Ann Kinney, Minnesota Dept. of Health
2011 Patricia Coldwell, Association of Minnesota Counties
2010 Kari Guida, Minnesota Dept. of Health
2009 Mary Rippke, Minnesota Dept. of Health
2008 John Clare, Minnesota Dept. of Health
2007 Sandy Macziewski, Countryside Public Health
2006 Deborah Durkin, Minnesota Dept. of Health
2005 Lee Kingsbury, Minnesota Dept. of Health
2004 Bill Brand, Minnesota Dept. of Health
2003 Fred Anderson, Washington County
2002 Jan Forfang, Minnesota Dept. of Health
Last Updated:
10/03/2022