Community Health Awards
Community Health Conference
Jim Parker Leadership Award
This award recognizes persons or groups who have demonstrated significant statewide leadership in public health.
Most recent recipient
About this award
Eligibility and nominations
Past honorees
2019 Jim Parker Leadership Award Recipients
Sue Strohschein & Marjorie Schaffer, editors, Public Health Interventions: Applications for Public Health Nursing Practice
Sue Strohschein and Marjorie Schaffer served as co-editors of this past year's update of Public health interventions: Applications for nursing practice, 2nd ed., also known as the "Wheel Manual." The first edition of the manual, published in 2001, incorporated best evidence for public health nursing interventions, and has been used by nursing schools, local health agencies, and other organizations nationwide to orient new public health nursing students and staff. Experienced public health nurses use the wheel to refresh their understanding and commitment to population-based practice. For the second edition, Marge and Sue extensively reviewed recent evidence, and updated and aligned interventions with new evidence. A very long list of local public health leaders and nursing faculty at universities throughout the state shared their support for this award, and their gratitude to Sue and Marge.
Sue Strohschein (below left) accepted this award on behalf of both women.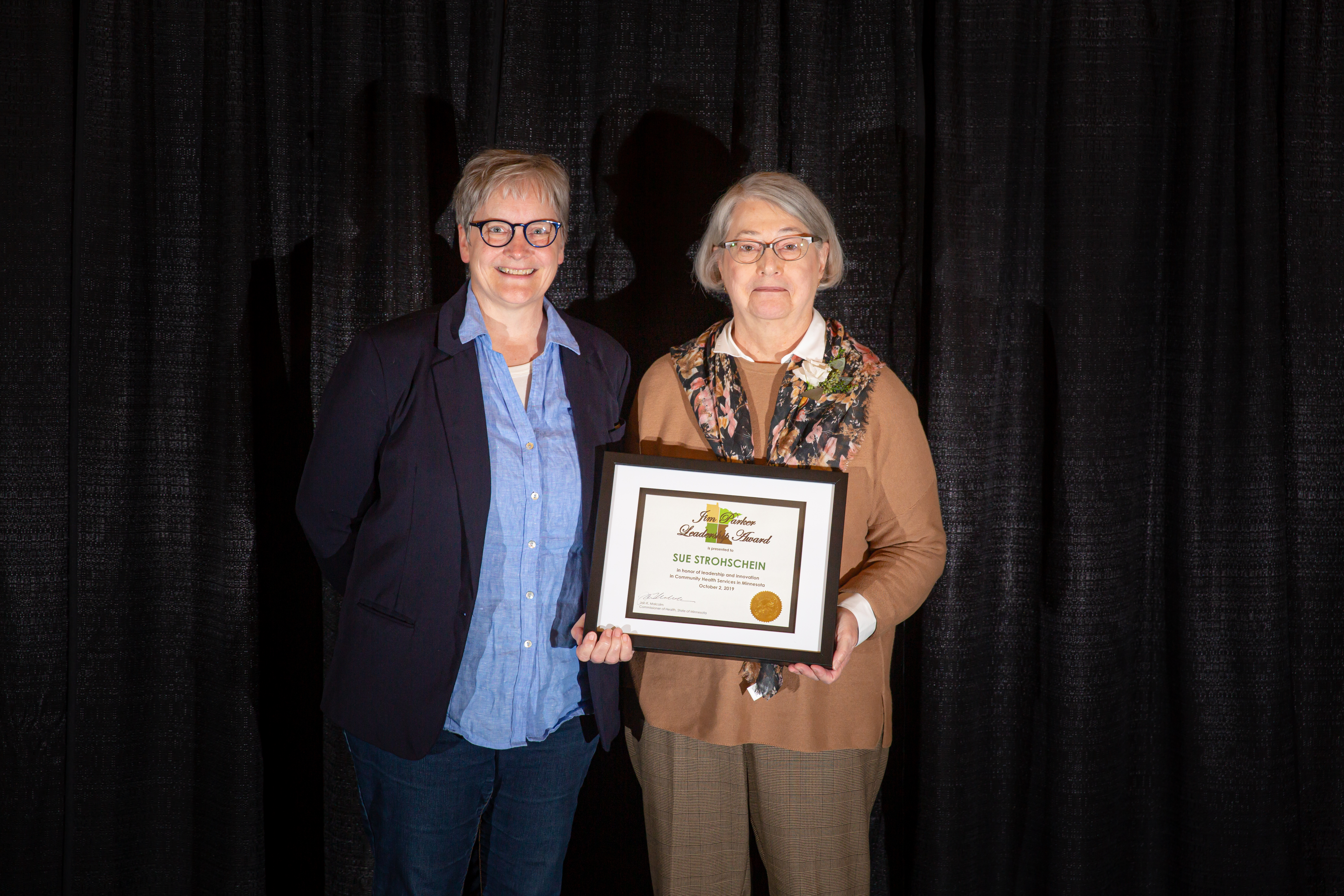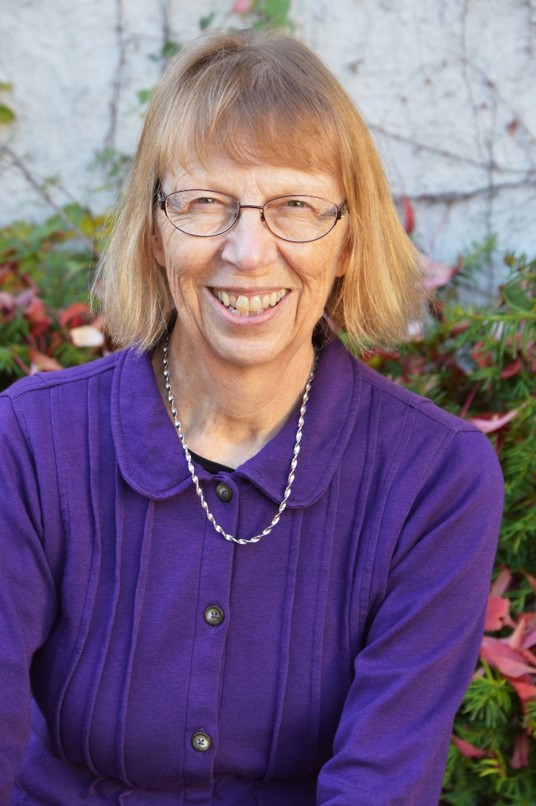 The Jim Parker Leadership Award, formerly called the Community Health Services Leadership Award, was created to recognize individuals who had made significant contributions to community health services at the state and local levels through their commitment to community health services development and their leadership in promoting the philosophy and purposes of community health services. In 1992, SCHSAC changed the name of the Community Health Services Leadership Award to the Jim Parker Leadership Award.
The award is given in memory of Jim Parker, who was the director of the Community Health Services Division at the Minnesota Department of Health from 1984 until his untimely death in 1991. Jim Parker is remembered by those who knew him as a person of vision, wit, and hope. Under his leadership, the Minnesota Department of Health and the local public health system developed a cooperative partnership exemplified by a problem-based planning process, a strong state advisory committee, and an extensive communication network. The members of SCHSAC and the Commissioner of Health honor his work and his memory by presenting this award.
Eligibility and nominations
Eligibility requirements include: Current SCHSAC member or alternate member, local community health services staff, local advisory committee member, elected official, or volunteer. Nominate an individual or group for this award.
Jim Parker Leadership Award
2019 Sue Strohschein & Marjorie Schaffer, editors, Public Health Interventions: Applications for Public Health Nursing Practice
2018 Daniel Huff, Minneapolis Department of Health
2017 Cindy Pederson, Director of Wadena County Public Health
2016 Laurel Hoff, Director of Anoka County Community Health and Environmental Services
2015 Bill Groskreutz, Faribault County Commissioner
2014 Diane Thorson, Otter Tail County Public Health
2013 Lowell Johnson, Washington County Public Health and Environment
2012 Bonnie Engen, Clearwater County Nursing Service, North Country Community Health Board
2011 Deb Smith, Fond du Lac Band of Lake Superior Chippewa
2010 Julie Myhre, Carlton-Cook-Lake-St. Louis Community Health Board
2009 Sue Hedlund, Washington County
2008 Karen Zeleznak, City of Bloomington
2007 Amy Wilde, Meeker County
2006 Paul Wilson, Olmsted County
2005 Renee Frauendienst, Stearns County
2004 Robert Stevenson, Stevens County
2003 Susan Congrave, Koochiching County
2002 Jane Norbin, Saint Paul-Ramsey Community Health Board
2001 Deb Hess, Redwood County
2000 Ann Bajari, Meeker-McLeod-Sibley Community Health Board
1999 Mary Wellik, Olmsted County
1998 Norris Anderson, Kandiyohi County
1997 Sandy Tubbs, Grant-Pope-Stevens-Traverse Counties
1996 Gary Wingrove, Emergency Medical Services Regulatory Board
1995 Karen Nelson, Wadena County
1994 Theresa Pesch, Meeker-McLeod-Sibley Community Health Board
1993 Rob Fulton, Ramsey County
1992 Randy Rehnstrand, Aitkin-Itasca-Koochiching Community Health Board
Community Health Services Leadership Award
1991 Kal Michels, Wilkin County
1990 Lynn Theurer, Winona County
1989 Arlyn Nelson, Wright County
1988 Bill Brakke, Rock County
1987 Edward Eberhardt, City of Saint Paul
1986 Lee Luebbe, Winona County; Roma Steil, Stearns County; Frank Jungas, Cottonwood-Jackson counties
1985 Lilja Snyder, Polk County
1984 Arvid Thompson, Clay County; Jane Breimhorst, Scott County; Deborah Plumb, Minnesota Dept. of Health
1983 Frances A. Decker, Minnesota Dept. of Health; Randy Rehnstrand, Aitkin-Itasca-Koochiching counties
1982 Vernon (Bob) Haglund, Goodhue-Wabasha counties; Gene Mossing, Winona County; Raymer Hoyum, Beltrami-Lake of the Woods-Clearwater-Hubbard counties
1981 Agnes Leitheiser, Wright County; Mary Rippke, Faribault-Martin-Watonwan counties; George Walter, Otter Tail County
1980 Ellen Alkon, City of Minneapolis; Calvin Condon, Waseca County; Olin Odland, Lyon County; Harold Trende, Carver County
Last Updated:
10/03/2022