Healthy Minnesota Partnership
Healthy Minnesota 2022 statewide health improvement framework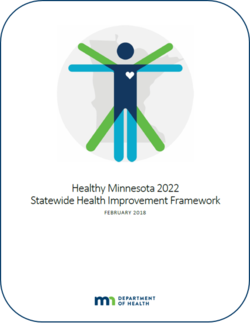 The Healthy Minnesota 2022: Statewide health improvement framework (PDF) is an approach to advancing health equity that focuses on improving the conditions that create health.
The framework includes three priorities and three strategic activities for the Healthy Minnesota Partnership:
Priorities
Assure that the opportunity to be healthy is available everywhere and for everyone
Design places and systems for health and well-being
Make it possible for all to participate in decisions that shape health and well-being
Strategic activities
Expand conversations about what creates health and well-being: Current narratives that dominate policy conversations around health emphasize clinical care and individual responsibility. The Partnership works to expand these conversations to draw attention on the conditions in the community that create and shape people's health and well-being.
Shape policies and systems around health and well-being: Policies and systems—economic, social, educational, and more—form the conditions for health. The design of these policies and systems determines both their effect on health and well-being and who does and who does not enjoy their intended benefits.
Promote and apply asset-based approaches to advance health and well-being: The Partnership hopes to encourage development of effective solutions by amplifying communities' assets and strengths in decisions affecting health and well-being.
Past frameworks
Last Updated:
10/02/2023