Previous Chapter Table of Contents Next Chapter
American Indian tribal governments
Government and tribal nation relationships
Tribal government structures
American Indian tribes, reservations, and communities in Minnesota
Key resources
As the administrator of a government agency, it is important to be aware of and informed about both the public health issues affecting American Indians and the unique nature of the government-to-government relationship between American Indian tribes and U.S. federal, state and local governments. Collaborations between government and tribal entities can be fraught with historic distrust, but local governments that have persisted in trying to establish meaningful, respectful relationships with neighboring tribal systems have found these relationships to be very rewarding and important in accomplishing mutual public health goals.
Tribes experience great diversity across and within themselves, as a result of the tribal system created in the late 1800s, historical rivalries and politics between tribes or nations, and cultures adapted to natural environments and trade influence. Many American Indians have relocated from reservations to urban areas—for example, the community of Little Earth in Minneapolis—and may be geographically invisible and multi-racial. Specific cultural customs among American Indian groups may vary significantly even within a single community, and some tribal meetings may open or close with a prayer, depending on how much the group's spirituality is integrated with its community. Elders play a significant role in tribal communities, and it is customary in many communities to allow elders to speak first, or to ask their permission or defer to them when speaking. Some community members may value nonverbal or indirect communication, preferring to address a sensitive issue more subtly or tactfully. Storytelling can also be an important tool for community members to convey a message.

Above, the Mobile Unit of the Shakopee Mdewakanton Sioux Community brings free medical, dental and vision care to communities across Minnesota. Image: Shakopee Mdewakanton Sioux Community Wacipi
Government and tribal nation relationships
Relations between tribal nations and US federal, state, and local governments are based on three fundamental principles:
Sovereignty
Treaty rights
Trust responsibility
Sovereignty
American Indian tribes have a unique political and legal status within the boundaries of the United States, which is different than any minority group or population. Tribal sovereignty allows each tribe to manage its own affairs, independent of the governing structure of state and federal government. Each tribe in Minnesota is independent and self-regulating, and has always governed itself; this right to sovereignty was retained by tribes throughout the negotiations with the US government that devastated many tribes.
Sovereignty gives tribes the power to hold elections, determine their own citizenship (enrollment), and to consult directly with the US government on policy, regulations, legislation, and funding. Tribes also carry "domestic dependent nation" status within the US, which means they are subject to the legislative power of the United States, and do not have external powers of sovereignty (such as the power to enter into treaties with foreign nations). Tribal governments can create laws that are stricter or more lenient than state laws, but they are not subservient to state law. State law cannot supersede tribal law when it affects the right of the tribe to legislate its own health and welfare, or where it would interfere with federal interest.
Sovereignty can create complex working relationships, as each nation or tribe is independent of other nations and tribes, and should be approached as an independent government entity.
Treaty rights
Sovereignty has its basis in treaties. Treaties formalized the nation-to-nation relationship between the nation's American Indian tribes and the US government. The issue of treaty rights and treaty violations is a vast and complex area of current and historical laws and actions.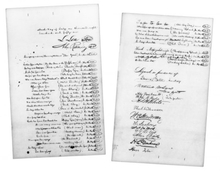 Above: The final two pages of the Treaty of Traverse des Sioux (1851), signed by U.S. government officials and American Indian leaders. Image: Minnesota Historical Society.
Minnesota's Anishinaabe reservations were originally established by treaty, considered separate and distinct nations by the United States. Six of the state's seven reservations were allotted during the General Allotment Act (also known as the Dawes Act of 1887), which authorized the US President to survey American Indian tribal lands and divide them into allotments for individuals. The Red Lake Reservation is the only Anishinaabe reservation to remain unallotted and held in common by all tribal members.
Above: Ojibwe Treaty Delegation (c. 1857-1862). Image: Minnesota Historical Society, University of Minnesota-Duluth.
Minnesota's original Dakota Community was established in 1851 by treaty, as a 10-mile portion of land surrounding the Minnesota River; this community was dissolved by Congress in the aftermath of the US-Dakota War of 1862, and the Dakota were forced from their homes in Minnesota and expelled from the state. The four current Dakota communities were reestablished in their current locations by Congress in 1886, and are small segments of the original reservation.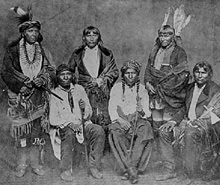 Above: 1858 Dakota Treaty Delegation. Image: Minnesota Historical Society.
"The history of Indian treaties is the history of all Minnesotans and all Americans…We cannot have a complete understanding of what it means to be Americans without knowing about these relationships, whether we are Native Americans or not."
— Kevin Gover, Director, Smithsonian National Museum of the American Indian
Trust responsibility
The US government has a moral obligation to honor commitments made through treaties with American Indian tribes, and to aspire to the best interest of tribes and their members. Trust responsibility includes the obligation to protect American Indian land and resources, and to provide the economic and social programs necessary to raise the standard of living of American Indian people to that of the non-Indian population. An important implication of this principle is that state and local governments are constitutionally required to extend services to American Indians within reservations despite their lack of jurisdiction. Beyond extending services, local and state governments must include American Indian tribal governments in assessment, planning, setting priorities, and strategic development, in order to make decisions that reflect and protect the needs and interests of all populations.
Tribal government structures
Minnesota's tribal government structures vary, due to differences in past treaties and agreements. Each tribe has a unique leadership structure, and operates by a set of laws and codes approved by the governing body. Some nations have tribal councils with a set number of members, while others include all tribal members in voting on tribal affairs. Heads of tribal government may be called Chairman, Chairperson, President, or Chief Executive.
American Indian tribes, reservations, and communities in Minnesota
Minnesota's tribal reservations and communities In Minnesota, there are two tribes: the Anishinaabe (also known as Chippewa and/or Ojibwe) and the Dakota (also known as Sioux). There are seven Anishinaabe reservations within Minnesota boundaries, and four Dakota communities. From the Minnesota Indian Affairs Council:
A reservation or community is a segment of land that belongs to one or more groups of American Indians. It is land that was retained by American Indian tribes after ceding large portions of the original homelands to the United States through treaty agreements. It is not land that was given to American Indians by the federal government. There are hundreds of state and federally recognized American Indian reservations located in 35 states. These reservations have boundary lines much like a county or state has boundary lines. The American Indian reservations were created through treaties, and after 1871, some were created by Executive Order of the President of the United States or by other agreements.
Minnesota's tribal reservations and communities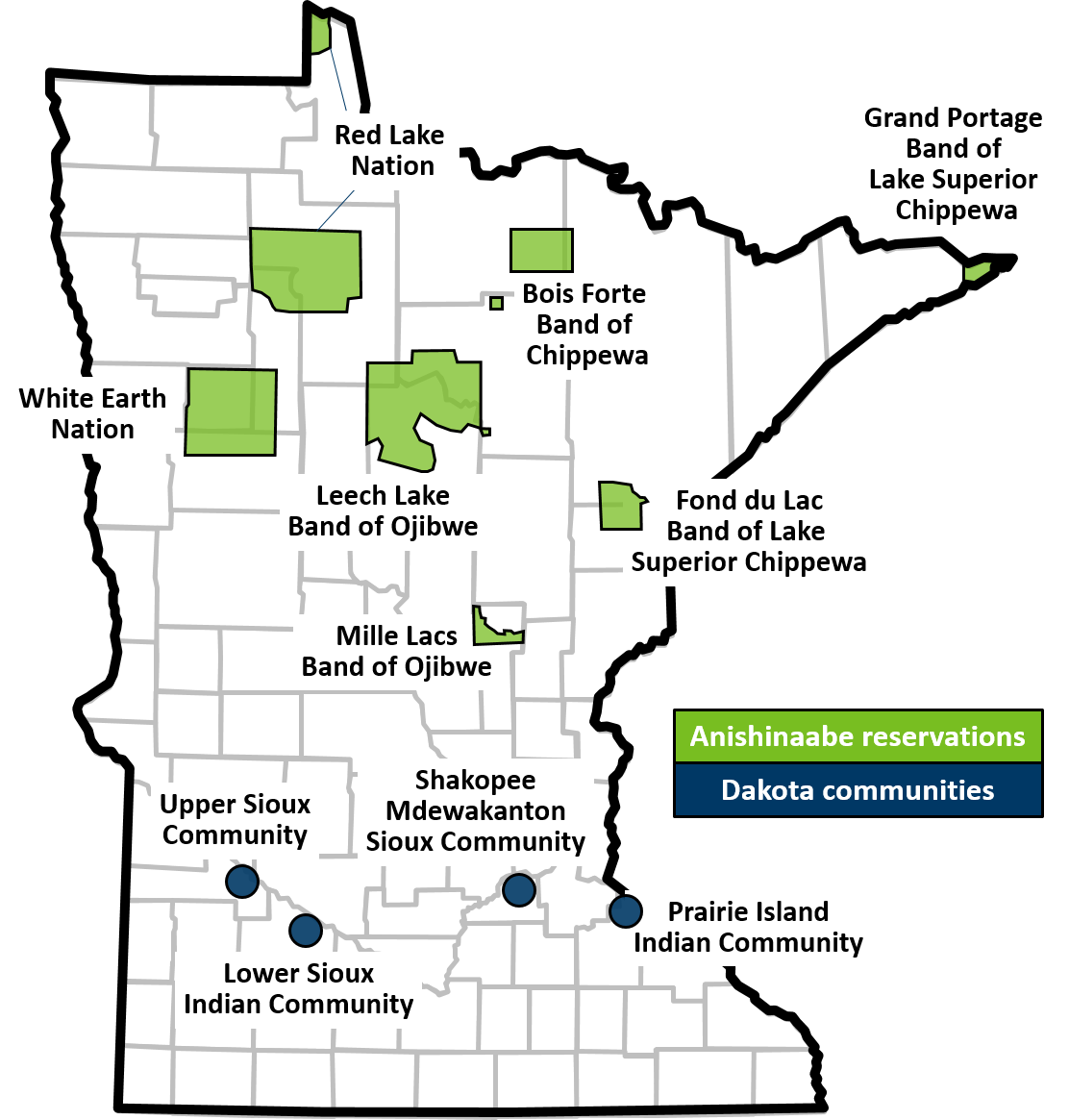 Anishinaabe reservations in Minnesota
| | | |
| --- | --- | --- |
| Tribal nation | Shares land with | Administered by |
| Zagaakwaandagowininiwag / Bois Forte Band of Chippewa | Koochiching, St. Louis counties | Executive Director, Tribal Council |
| Nah-gah-chi-wa-nong / Fond du Lac Band of Lake Superior Chippewa | Carlton, St. Louis counties | Chairperson, Business Committee |
| Gichi-Onigaming / Grand Portage Band of Lake Superior Chippewa | Cook County | Chairperson, Tribal Council |
| Gaa-zagaskwaabiganikaag / Leech Lake Band of Ojibwe | Beltrami, Cass, Hubbard, Itasca counties | Chairperson, Tribal Council |
| Misi-zaaga'iganiing / Mille Lacs Band of Ojibwe | Mille Lacs County | Chief Executive, Band Assembly, Tribal Court |
| Mis-Qua-Mi-Saga-Eh-Ganing / Red Lake Nation | Beltrami, Clearwater counties | Chairperson, Tribal Council, advised by Hereditary Chiefs |
| Gaa-waabaabiganikaag / White Earth Nation | Becker, Clearwater, Mahnomen counties | Independent executive, legislative, and judicial branches |
Dakota communities in Minnesota
For more information on the history of Minnesota's Anishinaabe reservations and Dakota communities, visit the state's Indian Affairs Council online, where a great deal of information resides on each nation.
Jackie Dionne,
MDH American Indian Health Director
Minnesota Department of Health
Phone: 651-201-3521
Email: jackie.a.dionne@state.mn.us
Next: Budgets and audits
Last Updated:
09/05/2023