Run Chart
What is a Run Chart?
How to Create a Run Chart
Using a Run Chart to Test for Special Causes
Examples of Run Charts
Further Reading
Sources
What is a Run Chart?
A run chart is used to study collected data for trends or patterns over a specific period of time. A run chart will help you:
Monitor data over time to detect trends, shifts, or cycles
Compare a measure before and after the implementation of solution to measure impact
Focus attention on vital changes, not normal variation
Track useful information for predicting trends
The run chart is a running record of a process over time:
The vertical axis represents the process being measured
The horizontal axis represents the units of time by which the measurements are made
The centerline of the chart is the mean or average
A run is defined as one or more consecutive data points on the same side of the mean line.
See Also: PH&QI Toolbox: Control Chart
How to Create a Run Chart
Choose which data you will measure and track
Gather data: Generally, collect 20-25 data points, with which you can detect meaningful patterns over time
Create a graph on which you can plot your data (y axis, or vertical line) over time (x axis, or horizontal line)
Plot the data
Interpret the chart: Focus on the vital changes or meaningful trends/patterns, rather than each and every data variation; keep reading for interpretation tips
Using a Run Chart to Test for Special Causes
Test #1: The presence of too much or too little variability
Use when there are too few or too many runs.
Test #2: The presence of a shift in the process
A special cause exists if a run contains too many data points (i.e., with 20 or more data points, a run of 8 or more data points is considered "too long"; with less than 20 data points, a run of 7 might also be considered "too long").
Test #3: The presence of a trend
A trend is defined as an unusually long series of consecutive increases or decreases in the data, (usually at least 6 or 7).
Examples of Run Charts
Isanti County, WIC No-Show Rate
This run chart from Isanti County shows the percentage of WIC appointments missed over a 1.5-year period.
Click to view larger image.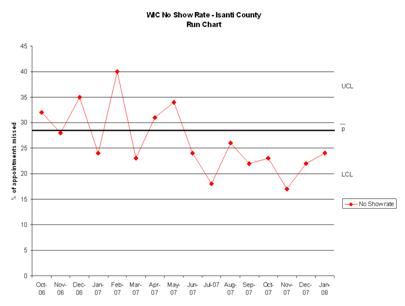 More Examples of Run Charts
The Use of Control Charts in Health-Care and Public-Health Surveillance (PDF)
Journal of Quality Technology
Plotting Basic Control Charts: Tutorial Notes for Healthcare Practitioners (PDF)
Quality and Safety in Health Care
Further Reading
Basics of the Control Chart (PDF)
MDH Office of Performance Improvement / UMN School of Public Health
Control Chart
American Society for Quality
The Control Chart: An Epidemiological Tool for Public Health Monitoring
Public Health
Finding the Right Tool for your Purpose (PDF)
MDH Office of Performance Improvement
Sources
Public Health Memory Jogger
Public Health Foundation, GOAL/QPC
Basics of the Control Chart (PDF)
MDH Office of Performance Improvement / UMN School of Public Health