Communities of practice and learning communities
Health Equity Learning Community
The MDH Health Equity Learning Community helped teams from Minnesota public health departments integrate health equity practices into their work. Read on to learn about how to replicate this approach at your own agency.
On this page
Implementation guide
Background
Approach
Meetings
Coaching
Steering committee
Evaluation
Cohorts
Acknowledgements
References
The content on this page is also available via download: Advancing practice to address health equity: A learning community approach (Implementation guide) (PDF).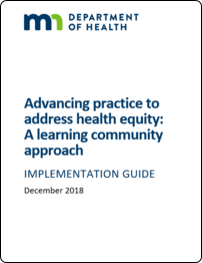 To address the root causes of health inequities, public health organizations must transform the way they do business. Health equity leaders in Minnesota and across the country have identified several areas where they need to change existing practice, including data collection, analysis, and use; community engagement; organizational operations, like policies, budgets, and hiring; and policy work.
In 2017, the Minnesota Department of Health (MDH) Center for Public Health Practice, with support from the Public Health National Center for Innovations (PHNCI), launched a learning community with teams from public health departments in six local jurisdictions, to support locally adopting health equity practices. After an in-depth evaluation, the MDH Center for Public Health Practice modified meeting content and launched a second cohort of seven local teams in October 2018.
This web page details the approach and the content of the learning community so that any organization can replicate it with others.
Minnesota's approach to changing public health practice has three primary components: (1) shared learning through virtual and in-person meetings, (2) team coaching, and (3) local action steps. This approach is grounded in two fundamental principles: first, that the most effective path to change is learning by doing; and second, an outside perspective (in this case, the coach) is necessary to challenge assumptions and the status quo. The components of our approach are described in greater detail below.
Operationally, the work involved a team of two management-level sponsors and four staff and was supported by a steering committee of internal and external partners. MDH selected local teams through an application process. Participating jurisdictions were required to create teams of three to five people and include a member of senior management.
Participating health jurisdictions in the first cohort received grants of $12,000 to support the work. With fewer resources available for replication, participating teams in the second cohort received $4,500. During evaluation, the first cohort suggested that these grants were important to local organizations because it brought visibility to the work and helped justify time spent doing the work. For example, one participant shared that "even though it was a small amount of money, we still had to process it through our system, and that elevates it to the county board… It was very helpful for them to know this work is being done." An evaluation of the second cohort will explore whether the different funding amounts affect learning community outcomes.
Scroll down to view meeting titles and materials.
The Health Equity Learning Community meetings provided an opportunity to share foundational concepts that everyone needs to advance equity and structured time for team-based learning. The foundational content included material on health equity practices, implicit bias, structural racism, using an equity lens, and community engagement. MDH facilitated three in-person meetings—one at the start, one at the mid-point, and one at the conclusion of the learning community—and facilitated all other meetings virtually via WebEx webinars. MDH facilitated meetings more frequently at the start of the cohort, and then shifted to bimonthly to provide sufficient time between meetings for teams to work within their local organizations.
MDH structured webinars around brief overview presentations, followed by team-based small group discussion, and a full group debrief. The foundational content allowed individuals and teams with various levels of understanding to learn and grow, and the group discussions provided opportunities for individuals and teams to augment each other's learning. Meetings concluded with an opportunity for participants to share resources with each other, and a brief list of next steps.
Whenever possible, MDH asked teams to participate in webinars together, rather than individually, in order to have a shared learning experience. Teams that were not able to do so connected with each other by phone during the small group discussion portion of the meeting. Teams did not use webinars for local project updates, and webinars were not specific to any particular local project or activity.
The second and third in-person meetings provided opportunities for teams to learn from each other's experiences through a series of structured roundtable conversations.
Though presented below in the order they occurred, each individual meeting is intended to be "portable;" that is, any replication of this approach would not need to follow the same sequence. Additionally, each meeting was implemented in the spirit of continuous improvement. The project team evaluated each learning community meeting with a very brief post-meeting evaluation survey, and MDH will continue to adapt and revise meeting content in current and future cohorts. In addition, as more communities adopt equity practices in Minnesota and across the United States, the resources and materials available for teaching, training, and supporting action will grow and evolve.
Individualized support for local health jurisdictions is one of the MDH Center for Public Health Practice's primary responsibilities. For most content areas, this support follows a traditional consultative model: state staff with expertise in a specific content area share tools, resources, and information with local partners and respond to specific questions.
Given the complex and emergent nature of health equity work, MDH opted for a different approach. For health equity, there are no ready solutions, no easy answers, and no straightforward pathways. Instead, support for local health jurisdictions needs to provide space for reflection, learning, and real-time course corrections as public health professionals learn new practices and approaches to their work—needs better met through coaching than consultation.
Prior to the learning community, the coaches underwent specific training that prepared them for this role. For example, coaches are well versed in the Technology of Practice Focused Conversation Method, which shares a similar emphasis on asking questions to facilitate creative thinking and elicit new ideas. In addition, consultants facilitated training in coaching methods for all staff. At the start of the learning community, staff identified as coaches for the project participated in a coaching "refresher" using internal training and development resources. Coaches also borrowed concepts and ideas from World Institute for Action Learning and Human Systems Dynamic Institute Adaptive Action to guide their approach.
The coaching process had the following characteristics:
Each coach worked with a team, rather than an individual.
Coaching meetings were most frequently held by phone, and occasionally facilitated in person. Most meetings lasted an hour in duration, but some were longer depending on local needs.
Coaches met with local teams once each month, often with additional email communication between meetings.

Coaches supported each other through regular "coaches' meetings," where they shared ideas and experiences with each other.
There was no coaching "script" [source:3]. Each coach was equipped with a set of potential questions that could be used in different circumstances, but they were also free to adapt questions and generate their own. Coaches prepared for each meeting by thinking about what questions were pertinent at the time, whether the team was just getting started, in the middle of implementing something, or having just completed an activity.

Coaches used a separate note-taker for most coaching calls. This allowed the coach to focus on active listening and asking questions.
Coaches did occasionally move into more of a "consultative" role when necessary, particularly for teams with little previous knowledge of equity concepts. In those instances, coaches had some flexibility to be more directive than is typical in a true coaching relationship.
Coaching proved to be the most valued aspect of the support provided through the learning community. Participants reported that it was helpful to "have somebody just help circle us back around, keep us on track, and walk alongside us." The coaching element provided added accountability for action as well as a more individualized experience.
Advancing health equity requires acknowledging implicit bias at the individual level and the biases that have been embedded in systems and institutions. The MDH Center for Public Health Practice created a steering committee to correct for its "blind spots" and tap into the experience and wisdom of others. The committee consisted of internal and external partners with knowledge and experience in organizational transformation and health equity. Steering committee members advised project leadership on learning community activities, shared expertise and resources, and made connections to other health equity efforts as appropriate.
The committee met quarterly. Steering committee members shared resources that were integrated into learning community meetings, and MDH relied on members' expertise to help think through and interpret its own actions and experiences. The steering committee helped MDH frame learning in a larger context and conveyed the urgency of this work. Its passion and commitment reinforced that of MDH.
MDH evaluated the learning community in order to document lessons learned; identify successes and challenges of adopting new practices; provide rapid feedback about learning community activities; and inform broader transformation of Minnesota local health jurisdictions toward health equity practice. Evaluation activities were braided into project activities from the outset. Each learning community meeting was evaluated with a brief survey following the meeting. The feedback from these surveys shaped subsequent meetings and refinements to the overall approach. Other evaluation strategies included:
Opportunities for reflection built into in-person meetings
Qualitative interviews with individual teams and a group interview with team leads.
Notes from facilitated conversations with the MDH Center for Public Health Practice's planning team
Evaluation materials are available upon request by contacting the MDH Center for Public Health Practice, including interview protocols, meeting evaluation surveys, and the broader evaluation plan.
Cohort 1 (2017-2018):
Cohort 2 (2018-2019):
Beltrami County Public Health
City of Bloomington Community Services
Carver County Public Health
Horizon Public Health
Meeker, McLeod, Sibley Community Health Services
Polk-Norman-Mahnomen Community Health Board
Wright County Human Services
We deeply appreciate the support of the Public Health National Center for Innovations (PHNCI), the Robert Wood Johnson Foundation, and the many individuals who generously shared their time, tools, and resources with us. This work would not have been possible without it.
Last Updated:
10/20/2022