Center of Excellence in Refugee Health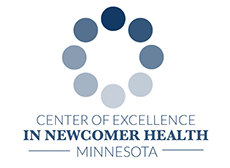 The Minnesota Department of Health Refugee and International Health Program and its principal partners received funding from the Centers for Disease Control and Prevention in 2015 to establish the Center of Excellence, a Network for Training and Epidemiology in Refugee health.
The Center of Excellence builds on existing infrastructure and its partners' extensive experience to identify and monitor refugee health issues and needs, contribute to evidence-based policies and guidelines, and ultimately improve continuity of care and health outcomes for refugees.
Working with clinicians, state refugee health coordinators and other stakeholders, the Center will promote communication among refugee health professionals and dissemination of best practices.
Webinar Series
If you need this information in a different format, please email refugeehealth@state.mn.us.
Partners
Minnesota Department of Health
Denver Health and Hospital Authority, Colorado
HealthPartners Research Institute and Center for International Health, Minnesota
Nationalities Service Center (NSC), along with Thomas Jefferson University and Children's Hospital of Philadelphia, Pennsylvania
University of Minnesota
Various Consultants
Outcomes
Write and update CDC refugee health guidelines (topics such as women's health, preventive care, pediatrics, and mental health)
Develop electronic health record tools and an interactive online guidance tool for clinicians working with refugees
Train clinicians and service providers on refugee health
Evaluate refugee health issues (both epidemiology and care/management), such as hepatitis B, mental health, tuberculosis, cancers related to infectious diseases
Develop accessible health education resources for refugees, including a mobile application
Promote communication among refugee health professionals and dissemination of best practices
As a member of Colorado's multi-site Refugee Health Surveillance Network, contribute refugee health screening data to help protect the health of refugees and the broader public