Refugee Health Program: About Us
Spotlight
Contact Info
Infectious Disease Epidemiology, Prevention and Control Division
Contact Info
Infectious Disease Epidemiology, Prevention and Control Division
Center of Excellence in Newcomer Health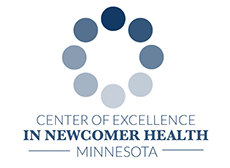 The Minnesota Department of Health Refugee and International Health Program and its principal partners received funding from the Centers for Disease Control and Prevention (CDC) in 2015 to establish the Center of Excellence, a network for training and epidemiology in refugee health.
With continued funding awarded in September 2020, the Center of Excellence will expand its work as it transitions to become a Center of Excellence in Newcomer Health.
The Center builds on existing infrastructure and its partners' extensive experience to identify and monitor newcomer health issues and needs, contribute to evidence-based policies and guidance, and ultimately improve continuity of care and health outcomes for newcomers.
Working with clinicians, state refugee health coordinators, and other stakeholders, the Center will promote communication among newcomer health professionals and disseminate of best practices.
Partners
Minnesota Department of Health
Denver Health and Hospital Authority, Colorado
HealthPartners Research Institute and Center for International Health, Minnesota
Nationalities Service Center (NSC) (2015-2021)
Thomas Jefferson University and Children's Hospital of Philadelphia, Pennsylvania
University of Minnesota
International Organization for Migration (IOM)
The Cultural Orientation Resource Exchange (CORE)
Various consultants
Clinical guidance and clinical decision tools
During the past five years, the Center assisted the CDC with the revision and integration of new content in various refugee screening guidance documents (CDC: Guidance for the U.S. Domestic Medical Examination for Newly Arriving Refugees). In addition, the Center developed and disseminated applications to improve clinician understanding of the screening guidance focused on Newcomer populations, support implementation of guidance-directed care, and provide training and quality improvement on best practices. The Center will leverage existing infrastructure and relationships with partners to enhance and disseminate electronic health record tools and an interactive online guidance tool for clinicians working with refugees.
Clinical guidance
Clinical decision tools
Trainings and presentations
Improving health care provider access to knowledge about newcomer health requires identification of gaps in health knowledge among newcomer health providers followed by development and delivery of educational resources to health care providers. The Center will:
Train clinicians and service providers on newcomer health.
Promote communication among refugee and other newcomer health professionals and dissemination of best practices.
Webinars
ECHO Colorado Newcomer Health Series
In partnership with ECHO Colorado, the Minnesota Center of Excellence will be hosting a monthly training on Newcomer health between October 25, 2022 and November 28, 2023. This series is designed to increase medical providers' knowledge of the resettlement and health issues of newcomers, including refugee, immigrant, and migrant (RIM) populations. It will review resettlement pathways, evidence-based screening recommendations, and more common diagnoses and treatment approaches for pediatric and adult populations.
Sign up for the ongoing monthly ECHO sessions held virtually:
ECHO Colorado: Newcomer Health
Last Tuesday of the month
9 a.m. ET | 8 a.m. CT | 7 a.m. MT | 6 a.m. PT
Access recorded session and resources: Newcomer Health ECHO Resource Page
Promotional flyer: ECHO Colorado: Newcomer Health (PDF)
---
2023 webinars
CME credit(s) may be available to providers (physicians, physician assistants, nurse practitioners) who view a recorded webinar and fill out the evaluation survey. Refer to CME/CEU Requests for more information.
If you need this information in a different format, please email refugeehealth@state.mn.us.
2022 webinars
2021 webinars
MMA Disclosure: Center of Excellence in Newcomer Health Webinar Series (PDF)
2020 webinars
2018 webinars
Conferences
Evaluations and quality improvement projects
The Minnesota Refugee Health Program works with its collaborating sites to perform surveillance activities focused on quantifying disease incidence and prevalence among newcomer populations using the data available at participating sites or the Colorado Center of Excellence in Newcomer Health's repository. Data from partner sites and this multi-state data repository will be analyzed to provide descriptive information about the epidemiology of both communicable and non-communicable diseases among various newcomer groups. Similarly, the Center undertakes quality improvement projects to understand the barriers to appropriate screening and follow-ups and offer practical recommendations. Learn more at Colorado Center of Excellence in Refugee Health.
These findings and recommendations are shared with clinicians caring for newcomers through a variety of dissemination strategies including publications, annual reports, integration into CareRef, maintenance of certification activities, manuscripts, and online learning.
Publications
Health education
Effective delivery of refugee orientation messages requires consistency and reinforcement from all the stakeholders who support Newcomers during resettlement. The Minnesota Refugee Health Program, in partnership with the Cultural Orientation Resource Exchange (CORE) and IOM, will bring together a diverse group of stakeholders, including Resettlement Agencies (RAs), community-based organizations, clinicians, and members of the Association of Refugee Health Coordinators, to develop, adapt, vet and disseminate refugee orientation resources. The team will work toward consistent health messaging, prioritizing ease of delivery and innovation. The Center will:
Develop accessible health education resources for refugees.
Explore the possibility of enhancing a mobile application for dissemination.
Develop and share enhanced health orientation curricula developed with feedback from new arrivals.
Last Updated:
11/21/2023