Refugee Health Program: About Us
Spotlight
Contact Info
Infectious Disease Epidemiology, Prevention and Control Division
Contact Info
Infectious Disease Epidemiology, Prevention and Control Division
Immigrant Health Matters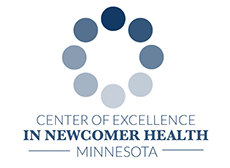 Immigrant Health Matters is a quarterly series of brief vignettes focused on immigrant health and health equity. Articles are designed to be read in three minutes and to provide an immigrant's perspective of challenges in achieving health equity.
Health equity is generally defined as a state in which every person can achieve their highest possible level of health. Each article presents a scenario, provides background on related concepts, and discusses action steps for providers and organizations caring for immigrants.
Caring for Ukrainian newcomers
Rochester, NY
September 2023
Caring for Afghan newcomers
Houston, Texas
February 2023
Caring for Congolese newcomers
Rural Ohio
November 2022
Preventing COVID-19 and caring for newcomers with COVID-19
Rural Minnesota
August 2022
Acknowledgements
Immigrant Health Matters is written by Patricia F Walker, MD, DTM&H, FASTMH, and is a publication of the Centers for Disease Control and Prevention's Center for Excellence in Newcomer Health.
---
Stories from Minnesota refugees
In honor of World Refugee Day, join us in celebrating and amplifying the voices of Minnesota's refugees.
As all refugees who got resettled in the USA, at the USCIS interview in the refugee country, the immigration agents ask all refugees if they know someone in the USA - these people are called "USTie" - so they can resettle them close to that person so that person can help the refugee to adjust to their new life once they come to USA. That is how I came to Minnesota too because my brother's lady knew someone who lives here in Minnesota when we were still in Africa.
From my home county to Minnesota has been a long journey. I lived in Uganda as a refugee for six years in a bad situation. Refugees didn't have access to the health system, education, healthy living environment. Therefore, me being in Minnesota makes Minnesota my home because I now have full access to the health system and also, I live in a clean environment which is also safe. For me health is a state in life when I am physically and mentally feeling well. This state enables me to perform my jobs and play a big role in my life otherwise I wouldn't be able to help other refugees who are coming after me.
My identity as a refugee doesn't affect me. I am able to perform my duties while working with other people from different countries or even from here in America. We are all treated the same as others with love, respect and care.
Personally, I am a leader of a small group of singers. I try to encourage others to stay healthy at home and to make sure the food they eat is healthy. Because we heard that most of the health problem here in the USA are due to nutrition or diet.
To stay emotionally health, many people from Congo who are Christian trust and believe in God. They believe that there is powerful message in the music and in reading the bible. Also, by listening to poems and stories while in distress or depression.
Minnesotans love refugees and always stand on their side, that will make me think Minnesota can be called a "home of refugees". Many refugee kids are studying in Minnesota which shows that in future many youth refugees will contribute more to Minnesota's economy than our today's contribution. I have one brother and seven nephews and nieces who are studying today in Minnesota with plans to be doctors, engineers, law enforcement agents, and case workers. It means the future of my family and I is being built here. I see myself in the future as a father of a heathy family and a great advocator for refugees. I am working hard to make this happen by staying positive in everything I do and always stick to the plan.
Number 1 life priority. My best life investments are in my health! Therefore it's very important and meaningful for me to maintain a healthy lifestyle.
Safety, community, perfect environment, support, and medical programs.
UACC creates opportunities, connections, and support. And also, our organization tries to treat people like they would be treated at home. A loving and caring environment is essential for mental and physical well-being.
Daily job, volunteering, and support.
A safe life, no wars, human kindness, respect, and a loving society.
To hear more about Iryna's story, watch Sharing Gratitude (YouTube).
Last Updated:
09/26/2023