RIHP: Our Work and Partners
Related Topics
Contact Info
Infectious Disease Epidemiology, Prevention and Control Division
Contact Info
Infectious Disease Epidemiology, Prevention and Control Division
Immigrant Health Matters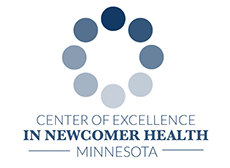 Immigrant Health Matters is a quarterly series of brief vignettes focused on immigrant health and health equity. Articles are designed to be read in three minutes and to provide an immigrant's perspective of challenges in achieving health equity.
Health equity is generally defined as a state in which every person can achieve their highest possible level of health. Each article presents a scenario, provides background on related concepts, and discusses action steps for providers and organizations caring for immigrants.
Clinical care of immigrants
November 2022
Dr. Olivia Russo looked at her schedule, and knew she was in for a busy day. After rounding at the local 20 bed hospital this morning, her afternoon was fully booked. Running her own private practice in rural Ohio, this was not unusual, often seeing 30 or more adults, children, and families in a day.
Today's schedule, however, held something different. The name Banzalina Ilunga was unfamiliar. When she asked the nursing staff, the reply came, "That is a newly arriving refugee family – a mother and her five children." Dr. Olivia felt simultaneously interested in seeing someone she had never met before and anxious about how to best care for Banzalina and her family. Realistically, she also had very little time to research the Democratic Republic of the Congo, it's history and culture, and what kinds of health challenges such patients might face. She decided to do a quick internet search for "Refugees in Ohio" to learn more.
Banzalina was also anxious about the upcoming appointment: How will we all get there? Will the provider be kind? Will they know anything about me and my history, my culture, my journey to America? And what about all the vaccinations and taking so much blood? We have been through so many health checks already; why do we need more when we feel well?
Time constraints
Many providers may view a patient with limited English proficiency as a burden in their day, perhaps requiring more time with a professional interpreter, or facing the reality of no professional interpreter being available.
A state-wide group of experts in refugee and immigrant health in Minnesota surveyed providers to ask "How long would you take to answer a clinical question which may impact your health care decisions about an immigrant patient you are seeing during a busy day of scheduled patients?" The sobering answer for the majority of clinicians: "I am able to take no more than three to five minutes."
Lack of knowledge about refugee and immigrant health issues
"Where were you born?" and "Where have you traveled?" are critical questions to ask of many patients, yet the question often is not asked, in part because the provider may not know what to do with the answer.
Lack of knowledge about available resources
Many clinicians, particularly those with few immigrants in their clinical practice, are not aware of the growing and robust body of knowledge which encompasses refugee and immigrant health. They also may not know that resources are available to guide the screening of newly arriving immigrants, as well as ongoing primary care issues more specific to immigrant groups. Such lack of knowledge may contribute to health disparities and should not be considered acceptable given the abundance of readily available resources which can be found within that three-to-five-minute reality of time available to search for answers.
Dr. Russo's quick internet search revealed a wealth of information and connection to local refugee health experts and resettlement agencies. She learned that Ohio was one of the top 10 states receiving newly arriving refugees in FY2020 and was interested to learn more.
Learn more about refugee history and cultures
Review the approach to the refugee new arrival screening exam
Connect to colleagues
Connect to other national resources
Lastly, for more in-depth learning, Global Medicine at the University of Minnesota offers a free seven-hour introductory course on refugee and immigrant health care: UMN Medical School: Introduction to Immigrant and Refugee Health Course.
Banzalina and her family were able to attend the appointment with a ride arranged by her refugee resettlement agency. The clinic had arranged an in-person Lingala interpreter, whom Banzalina had met previously, greatly reassuring her. Dr. Russo and the clinic staff seemed kind and caring, asking about her journey to America, taking time to establish rapport. Dr. Russo even spoke to Banzalina about the stress of resettlement and hopes for the future of her children. She acknowledged that this was only the first of several future visits in which they could address further concerns. Not everything must be done or addressed at the first appointment! The shots and blood tests were hard, but Banzalina and the children were strong and left the clinic feeling as though they had made a connection with a health care team in America.
COVID-19 and immigrants
August 2022
Mohamed Abdi came home from work tired, as was often the case after putting in a long day as a line worker at a turkey factory in rural Minnesota. "I am worried about what is happening at work," he told his wife. "Many people seem to be getting sick with COVID." She was also worried about the vaccine and it's potential side effects, including infertility.
Mr. Abdi hadn't decided yet whether to get the COVID-19 vaccine that many people seemed to be discussing. "I am worried about how quickly the vaccine was developed, and whether or not they worked and were safe," he said. "Plus, I wondered about severe or long-term side effects of the vaccine, and whether I would miss more wok because of them."
After outreach by the Health Department years earlier, he had learned that autism was not caused by the MMR vaccine but was still wary of how a COVID-19 vaccine might affect his children. "I don't really know if our kids will qualify for the vaccine or if they should take it."
A few weeks later, he developed symptoms, and was found to have COVID-19. Isolation and quarantine were unrealistic because of living with his large extended family, despite having a three-bedroom home. He wasn't sure if there were treatments available to him, and he worried about the loss of income related to being away from work. He wasn't sure where to turn with his many questions for his own health, and the health of his family.
Mr. Abdi's experiences, while fictional, speak to many issues facing immigrant workers. Many first-generation immigrants work in essential jobs where they are in close contact with coworkers and the general public. This includes work in factories, farming, and long-term care facilities. Fields of employment, limited access to COVID-19 vaccines and healthcare more generally, health co-morbidities and other factors may have played roles in the early disproportionate toll of COVID-19 on communities of color. Many refugee and immigrant communities don't have access to printed information and video messages in their primary language.
Of note, in the first months of the pandemic, Black people in the United States were significantly more likely to die from COVID-19 compared to white, Asian, and Latino people.1
The remarkable good news is that the uptake of vaccines in communities of color has improved dramatically, thanks to intensive, local outreach by multiple partners. Refugee, immigrant and migrant communities brought many strengths to the work, including trusted messengers such as religious leaders, as well as local refugee organizations. The ability to ask questions in their native language was one key to acceptance.
As a recent report in MMWR2 noted:
"Asian and non-Hispanic White adults had the highest COVID-19 vaccination coverage by the end of April 2021. By the end of November 2021, disparities in vaccination coverage for some racial and ethnic groups narrowed, and coverage was similar for non-Hispanic Black (78.2%), Hispanic (81.3%), Native Hawaiian and other Pacific Islander (75.7%), and non-Hispanic White (78.7%) adult."
According to recent CDC data, within the last year, the death rate for white people is 14% higher than for Black people, and 72% higher than for Latino people.3 This is a notable public health turn around.
Ultimately, Mr. Abdi fully recovered from COVID, and after encouragement from his Imam, and discussions with his primary care provider, his family has been vaccinated and boosted.
Don't forget the basic tenets of effective immigrant health work4
Help patients access health insurance; use professionally trained medical interpreters, hire providers with expertise in refugee and immigrant health; hire staff who reflect the communities they serve; provide multidisciplinary care that includes community health workers/care navigators; and establish clinics in close proximity to immigrant communities.
Connect to the community
Provide intensive outreach efforts by partnering with local community organizations, including schools and religious organizations; bring Mobile Clinics for vaccination and health outreach to areas where immigrants live and hire culturally and language- matched care navigators or other community health workers to staff these mobile clinics. Provide barrier free testing and vaccination.
National Resource Center for Refugees, Immigrants, and Migrants (NRC-RIM):
Utilize COVID-19 resources that are available in multiple language
This includes translated materials and recorded messages for those immigrants who are pre-literate:
Assure universal phone system access for non-English speaking immigrant patients
This may include, as one example, prerecorded messages in multiple languages for patients who call in to access care.
Connect to refugee and immigrant health experts
Covid and Race. David Leonhardt. New York Times June 9, 2022.
COVID-19 Vaccination Coverage by Race and Ethnicity – National Immunization Survey Adult COVID Module, United States, December 2020-November 2021, MMWR, June 10, 2022 / 71(23);757–763.
Action Steps to Improve the Health of New Americans, P. Ohmans, in Immigrant Medicine, Editors Walker, PF and Barnett, ED, Elsevier Publishing, 2007, pp.27-35.
Acknowledgements
Immigrant Health Matters is written by Patricia F Walker, MD, DTM&H, FASTMH, and is a publication of the Centers for Disease Control and Prevention's Center for Excellence in Newcomer Health.
Last Updated:
12/16/2022