Office of Rural Health and Primary Care
---
The Office of Rural Health and Primary Care promotes access to quality health care for all Minnesotans.
We work as partners with policymakers, providers, and rural and underserved urban communities to ensure a continuum of core health services throughout the state.
COVID-19
2020 Minnesota Rural Health Conference
The date for this year's conference is June 15 & 16.
We are monitoring the COVID-19 outbreak and related CDC travel and large gathering guidance (https://www.cdc.gov/coronavirus/2019-ncov/community/large-events/mass-gatherings-ready-for-covid-19.html).
If the regularly scheduled 2020 MN Rural Health Conference plans are affected by COVID-19, we will immediately send an email communication to everyone subscribed to the Minnesota Rural Health Conference email list and post a notice on the conference website (https://minnesotaruralhealthconference.org/) as well as this website.
If you have not done so already, subscribe to our conference email list (https://minnesotaruralhealthconference.org/email-updates) for updates.
In the meantime, up-to-date COVID-19 guidance for all Minnesotans can be found on the Minnesota Department of Health's Coronavirus Disease 2019 (COVID-19) (https://www.health.state.mn.us/diseases/coronavirus/index.html) website.
2020 National Rural Health Day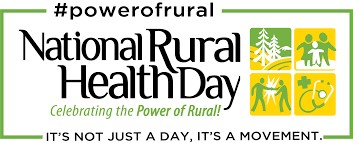 This year, National Rural Health Day is Thursday, November 19.