Children and Youth with Special Health Needs (CYSHN)
Related Topics
Information and Resources for:
Contact Info
Children and Youth with Special Health Needs
651-201-3650
1-800-728-5420 (toll-free)
Contact Info
Children and Youth with Special Health Needs
651-201-3650
1-800-728-5420 (toll-free)
Transitioning to Adult Health Care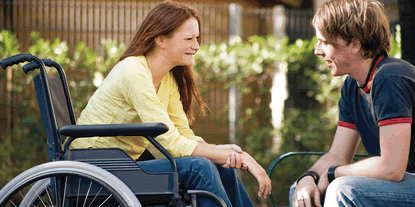 Navigating adolescence by itself can be challenging and for those with health complexities it can be especially complex. In Minnesota, this is 1 out of 4 teens. Information and support for adolescents, their families and providers can make a difference in a successful healthcare transition to adulthood. Laying the groundwork for successful, lifelong, positive health outcomes is a shared responsibility by health care systems, providers, adolescences and families.
There is an increasing awareness for the need to ensure youth with special health needs are able to make this transition successfully.
Our vision is that all youth with special health needs receive services necessary to access high quality and developmentally appropriate health care as they move from pediatric to adult care.
A newly published White Paper on the Transition from Pediatric to Adult Health Care (PDF) provides a presentation of the research and data on the status of health care transition in Minnesota and presents recommendations to improve the experience and outcomes of health care transition.
Transition-focused recommendations employing a multi-pronged approach to the planning, transferring and integration into adult care of young adults with special health needs, will optimize short and long-term health outcomes for youth with special health needs.
What is Health Care Transition?
"Health care transition is the process of changing from a child to an adult model of health care. The goal of transition is to optimize health and assist youth in reaching their full potential. To achieve this goal requires an organized transition process to support youth in acquiring independent health care skills, preparing for an adult model of care (Got Transition - Six Core Elements of Health Care Transition).
It is important for all youth to be connected to programs, services, activities, and supports that prepare them to manage their physical, mental and emotional well-being and develop life skills to make informed choices. The ability to manage one's health is a critical factor in success in school and transitioning into employment. This is especially true for youth with life-long health conditions.
The benefits of purposeful transition care include:
Provides youth with ongoing access to primary care and subspecialist care
Promotes competence of disease management
Fosters independence
Social and emotional development through teaching self-advocacy and communication skills
Allows for a sense of security for support of long-term health care planning and life goals.
2018 Updated Clinical Report on Transition Released
American Academy of Family Physicians, American Academy of Pediatrics and American College of Physicians have updated the original 2011 clinical report on health care transition. This updated clinical report, "Supporting the Health Care Transition from Adolescence to Adulthood in the Medical Home" provides guidance on key elements of transition: planning, transfer, and integration into adult care. It also includes new recommendations pertaining to infrastructure, education and training, payment, and research.
Got Transition/Center for Health Care Transition: "... is a cooperative agreement between the Maternal and Child Health Bureau and The National Alliance to Advance Adolescent Health. [Their] aim is to improve transition from pediatric to adult health care through the use of new and innovative strategies for health professionals and youth and families." This site includes a wealth of resources for all interested and involved in using evidence best practices to advance effective transitions.
Last Updated:
12/30/2022