Transitioning to Adult Health Care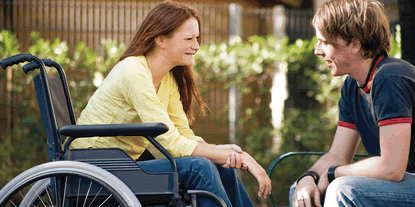 As youth get older they will need to transition from pediatric family health care to adult care. Youth with special health needs face additional challenges when making this transition that many of their peers do not have. There is an increasing awareness for the need to ensure youth with special health needs are able to make this transition successfully.
Our vision is that all youth with special health needs receive services necessary to access high quality and developmentally appropriate health care as they move from pediatric to adult care.
What is Health Care Transition?
"Health care transition is the process of changing from a pediatric to an adult model of health care. The goal of transition is to optimize health and assist youth in reaching their full potential. To achieve this goal requires an organized transition process to support youth in acquiring independent health care skills, preparing for an adult model of care, and transferring to new providers without disruption in care." (Got Transition, 2015) Find more information on the March/April 2015 issue of Pulse, a monthly newsletter from the Association of Maternal and Child Health Programs (AMCHP).
It is important for all youth to be connected to programs, services, activities, and supports that prepare them to manage their physical, mental and emotional well-being and develop life skills to make informed choices. The ability to manage one's health is a critical factor in success in school and transitioning into employment. This is especially true for youth with life-long health conditions.
According to the National Survey of Children with Special Health Care Needs only 47.1 % of Minnesota youth with special health needs receive the services necessary to make appropriate transitions to adult health care, work and independence. (NS-CSHCN 2009-2010)
The benefits of purposeful transition care include:
Provides youth with ongoing access to primary care and subspecialist care
Promotes competence of disease management
Fosters independence
Social and emotional development through teaching self-advocacy and communication skills
Allows for a sense of security for support of long-term health care planning and life goals.
Got Transition/Center for Health Care Transition: "... is a cooperative agreement between the Maternal and Child Health Bureau and The National Alliance to Advance Adolescent Health. [Their] aim is to improve transition from pediatric to adult health care through the use of new and innovative strategies for health professionals and youth and families."
Questions?
If you have questions about the information on this page, or about the Minnesota Department of Health's work on transition to adult healthcare, please contact us.