Choosing and Using Your Soap
Hand Hygiene
Related Topics
Contact Info
Infectious Disease Epidemiology, Prevention and Control Division
Contact Info
Infectious Disease Epidemiology, Prevention and Control Division
Hand Hygiene How-To Poster
This poster shows the steps for washing hands with soap and water or cleaning with alcohol-based hand sanitizers.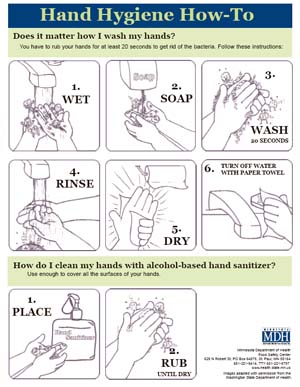 Does it matter how I wash my hands?
You have to rub your hands for at least 20 seconds to get rid of the bacteria. Follow these instructions:
Wet
Soap
Wash, 20 seconds
Rinse
Dry
Turn off water with a paper towel
How do I clean my hands with alcohol-based hand sanitizer?
Use enough to cover all the surfaces of your hands.
Place
Rub until dry
Last Updated:
10/20/2022