Newborn Screening
Related Topics
Contact Info
Newborn Screening Program
651-201-5466
800-664-7772 (toll-free)
Contact Info
Newborn Screening Program
651-201-5466
800-664-7772 (toll-free)
Newborn Screening Program Information:
State Laws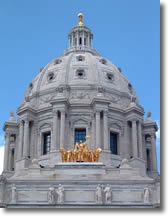 Newborn screening operates within a state-run public health system in order to ensure that all Minnesota-born infants have access to screening and diagnosis of the conditions on the screening panel. The state-run system also works to keep costs low, reduce health disparities, offer equal access to care and assistance, reduce time between screening, diagnosis, and intervention, and coordinate communication among multiple care providers.
In Minnesota, newborn blood spot screening is mandated by Minnesota Statutes 144.125-144.128, newborn hearing screening is mandated by Minnesota Statute 144.966, and critical congenital heart disease (CCHD) screening is mandated by 144.1251. The statutes govern the responsibilities of health care providers and the Minnesota Department of Health in newborn screening, specimen collection, reporting of results, and follow-up services. These statutes also govern the Newborn Screening Program's retention practices.
Minnesota law requires the Newborn Screening Program to make information and forms available to health care providers that describe the newborn screening program for use in discussions with expectant parents and parents of newborns. Before screening occurs, these discussions should also include a review of parental options. Forms are available to download from the Education Materials and Forms page.
Last Updated:
08/27/2023