Newborn Screening
Related Topics
Contact Info
Newborn Screening Program
651-201-5466
800-664-7772 (toll-free)
Contact Info
Newborn Screening Program
651-201-5466
800-664-7772 (toll-free)
Newborn Screening Information for Providers:
Hearing Screening in the Neonatal Intensive Care Unit (NICU)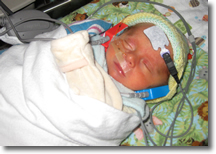 On this page:
Overview
Resources
Overview
The risk of hearing loss is reported to be 10 times greater among infants in the NICU than for infants in the well-baby nursery. Therefore, special attention must be given to screen infants in the NICU appropriately. Infants in the NICU for more than five days (who are presumed to be at increased risk for neural hearing loss), must have automated auditory brainstem response (AABR) included as part of their hearing screening.
Hearing screens may be "missed" when newborns are transferred from one hospital/unit to another. Unless a different process has been established with the facility, the transferring hospital is responsible for assigning transferred newborns to the receiving facility in MNScreen to help prevent this from happening. Once the receiving facility accepts the transfer in MNScreen, the newborn record will no longer appear in the transferring facility's MNScreen queue.
Note: It is the responsibility of the hospital staff that discharges baby to home to make sure that hearing screening is complete and that results are reported.
Resources
The Minnesota Early Hearing Detection and Intervention (EHDI) website provides many resources for primary care providers including best practice guidelines, tools for improvement, and free education materials.
Last Updated:
11/15/2022