Health Equity Initiatives and Projects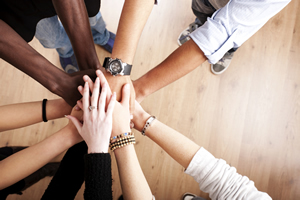 The following are some of the initiatives, projects, and councils coordinated by the Center for Health Equity. Learn more about our work within the Minnesota Department of Health and with the community through our Center for Health Equity: Living our mission handout.
Calling all sectors
CHE is one of 10 state partners participating in a national collaborative called "Calling All Sectors" (CAS), funded by the Pew Charitable Trusts and the Robert Wood Johnson Foundation. The purpose of CAS is to bring together cross-sector partners to improve maternal and infant health in each state.
Community conversations
We host community conversations throughout the state to connect with and listen to the needs, concerns and ideas of community members and leaders from Minnesota's diverse communities.
Community solutions for healthy child development grants
An appropriation from the Minnesota State Legislature funds grants to improve child development outcomes for children of color and American Indian children, from prenatal to grade three and their families.
COVID-19 community engagement and diverse media grants
The COVID-19 Community Engagement and Diverse Media Grants Program aims to increase community understanding of and engagement around COVID-19 and community recovery among Minnesota residents from communities of color, American Indian residents, LGBTQ residents, residents with disabilities, and residents with limited English proficiency.
Eliminating health disparities initiative grants
The Eliminating Health Disparities Initiative (EHDI) Grants Program allocates competitive grants aimed at improving the health status of Minnesota's populations of color and American Indians.
Health Equity Leadership Network (HELN)
We bring together health equity leaders, organizations and institutions from across the state and across sectors to strategize, share best practices, and identify common goals to advance health equity in Minnesota.
Health Equity Summit
Our annual event - co-hosted with the Health Equity Leadership Network - is designed to bring together health equity champions from across Minnesota communities to connect, strengthen, and amplify our collective efforts.
Infant Mortality Among African Americans Project
Using a community engagement model of shared leadership and decision-making, we work with community leaders and partners to develop and implement policy and systems solutions to reduce infant mortality among U.S.-born African Americans in Hennepin County.
Internal Health Equity Advisory & Leadership Team Hub (I-HEALTH)
We convene an internal team of staff from all divisions who help streamline coordination and foster greater collaboration of health equity efforts within the agency.
Public health grants to tribal nations
We oversee block grants to tribal nations that include funding for eliminating health disparities and maternal and child health activities.
Last Updated:
09/21/2023