Organizational assessment and planning cycle
Monitor and revise strategic plan
A strategic plan is a living document that a community health board routinely reviews, monitors, and updates based on progress, changing needs, and priorities. Community health boards can use performance management to monitor and revise the strategic plan over the course of the five-year Assessment and Planning cycle.
Background
MDH assistance
Monitor work plan progress
Collect, analyze, and report performance data
Engage and communicate with stakeholders
Revise and update the strategic plan
Related national public health accreditation standards
Further resources
A comprehensive implementation plan helps community health boards describe how to achieve the goals and objectives in the strategic plan.
At minimum, monitoring and revising the strategic plan means making this implementation plan operational. This typically involves (but not necessarily in this order):
Monitoring work plan progress
Collecting, analyzing, and reporting on performance data
Engaging and communicating with stakeholders
Conducting quality improvement efforts
Revising the strategic plan as appropriate
Public Health Accreditation Board Measure 5.3.3 requires community health boards show "progress toward achievement of the goals and objectives contained in the plan," via monitoring reports over a set period.
While community health boards in Minnesota are not required to submit a report to MDH each year, they may find an annual report helpful to communicate progress with stakeholders. Community health boards should report their progress within the organization, to community health advisory committees, to county boards, to community partners, and to the public.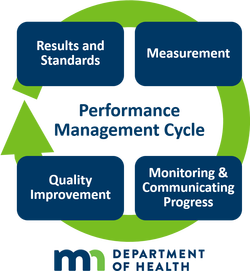 MDH has designed all assessment and planning guidance to help community health boards meet national public health standards developed by the Public Health Accreditation Board (PHAB).
Staff from the MDH Center for Public Health Practice can help you use performance management to monitor and revise your community health improvement plan, as well as meet the Performance-Related Accountability Requirement. To contact MDH, visit: Help and technical assistance.
Monitor work plan progress
Your partnership will have created a work plan (action plan, implementation plan) to outline how it will achieve the strategic plan's goals and objectives. Your community health board can monitor progress by tracking whether team members complete action steps on time, and by considering course corrections if work does not proceed as planned.
Collect, analyze, and report performance data
A strong strategic plan has several performance measures to signify progress over time. Your partnership will use the data you collect to determine whether you meet these performance measures.
Your work plan should address how you collect this data, where and how you will track data and measures, who will analyze the data and when, and who needs to be informed of progress.
Engage and communicate with stakeholders
You can increase transparency and foster buy-in from stakeholders by keeping them informed on progress. Consider how different stakeholders may have differing interests in the strategic plan, and how you should inform them of progress in different ways:
Front line staff
Managers and supervisors
County board members
County commissioners
Task forces or other public health advisory committees
Community partners
Revise and update the strategic plan
Based on the steps you have conducted above, update and revise your strategic plan to better meet your capacity, resources, and local context.
You may only need to make minor adjustments to the plan. You may add entirely new strategies. You may completely revise the plan, wholesale.
Most community health boards revise the strategic plan in conjunction with completing an annual report on progress, but it is not necessary to do so—you can revise the strategic plan at any point in time.
Related national public health accreditation standards
5.3.3. Implemented department strategic plan.
Related documentation:
Report documenting progress towards achievement of the goals and objectives contained in the plan
Last Updated:
10/20/2022