About QI and performance management
On this page
What is quality improvement?
What is performance management?
More QI resources
Need technical assistance? The MDH Center for Public Health Practice can help: Help and TA available to local and tribal public health.
What is quality improvement?
Quality improvement (QI) is the use of a deliberate and defined improvement process and the continuous and ongoing effort to achieve measurable improvements in the efficiency, effectiveness, performance, accountability, outcomes, and other indicators of quality that improve the health of the community.
What are we trying to accomplish?
How will we know the change is an improvement?

What changes can we make that will result in an improvement?
Guiding principles of QI: develop a strong customer focus, continually improve all processes, involve employees, mobilize both data and team knowledge to improve decision making.
What is performance management?
Performance management uses data for decision-making, by setting objectives, measuring and reporting progress toward those objectives, and engaging in quality improvement activities when desired progress toward those objectives is not being made.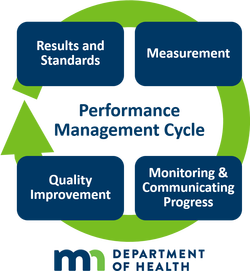 The MDH performance management cycle (above) can help you walk through using performance management to, for example, monitor and revise your community health improvement plan.
Results and standards: Where do we want to be? Strong community health improvement plans have clear goals and SMART objectives.
Measurement: How will we know? Community health improvement plans require measurement to monitor progress.
Monitoring and communicating progress: How well are we doing? Community health boards should monitor their plans, document progress, and communicate with stakeholders to monitor progress.
Quality improvement: How will we improve? Change course as needed, based on monitoring progress.
More information: Introduction to performance management (PDF)
Email lists and newsletters
Videos
Organizations
Performance management resources
Examples of performance management policies
Guidebooks
Developing QI plans
Last Updated:
10/20/2022