Community engagement assessment tool
Building the Field of Community Engagement
Community engagement assessment tool (PDF) helps organizations improve their community engagement efforts by assessing their activities on a scale from outreach to engagement.
This tool encourages organizations to indicate where they are on a scale of engagement. It poses a series of questions related to each public health activity being considered, including:
What kind of relationship do you have with community members?
Why are you engaging people?
How are you getting people involved? When?
How do ideas get generated?
How do your organizational policies and structures support engagement?
There are examples of outreach versus engagement provided for each of the assessment questions. The assessment also includes specific examples for how you could use the tool (e.g., with board members, as an individual, with partners to see how they assess your work, etc.). Questions for reflection are listed on the last page to aid in interpreting results.
When to use
Use this tool when you are interested in assessing whether you are doing community outreach or community engagement or if you want to improve your organization's community engagement activities.
Things to consider
Concrete tool that could be used in multiple contexts – for individual, program, organizational or partnership growth.
Use this resource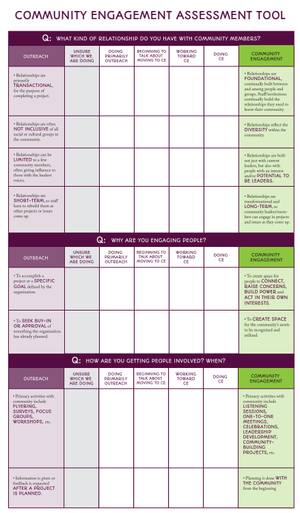 Find similar resources
Last Updated:
10/03/2022