State Community Health Services Advisory Committee
About SCHSAC
The State Community Health Services Advisory Committee, or SCHSAC, advises the health commissioner and provides guidance on the development, maintenance, financing, and evaluation of community health services in Minnesota. Membership consists of one representative from each of Minnesota's 51 community health boards. Members meet quarterly with the health commissioner to discuss public health issues of mutual interest, and in workgroups between SCHSAC meetings to address and respond to critical public health issues.
On this page
At a glance
Membership and meetings
Map of SCHSAC regions
Responsibilities of members and alternates
Contact us
The State Community Health Services Advisory Committee (SCHSAC, pronounced like "shack") was created by the Minnesota Legislature in 1976 as a component of the Local Public Health Act.
The purpose of SCHSAC, as described in the Local Public Health Act, is to advise, consult with, and make recommendations to the Commissioner of Health on matters relating to the development, funding, and evaluation of community health services in Minnesota.
SCHSAC meets four times per year; an Executive Committee meets more frequently:
Agendas and other materials are made available prior to meetings.
At this time, meetings are held virtually.
The commissioner of health and MDH Executive Office staff attend meetings whenever possible.
Members are reimbursed for travel and parking; lunches are provided at in-person meetings.
SCHSAC develops and annual work plan to focus activities; much of the work plan is accomplished through smaller workgroups.
SCHSAC workgroups engage in problem solving and policy development and submits recommendations to health commissioner. Recommendations are adopted by community health boards, implemented statewide through guidelines, used as basis for developing local and state policy.
Minnesota public health leaders support and sustain SCHSAC through commitment and active participation.
SCHSAC informs policy development, strengthens state-local relationships and communication, and builds support for public health.
Member local elected officials and public health directors and administrators embody the state's commitment to protecting, maintaining, and improving health of all Minnesotans.
SCHSAC is comprised of one representative from each community health board in Minnesota. Members are largely local elected officials and local public health directors/ administrators.
Roster: Roster of SCHSAC members, alternates, and workgroups
Map: SCHSAC regions (PDF)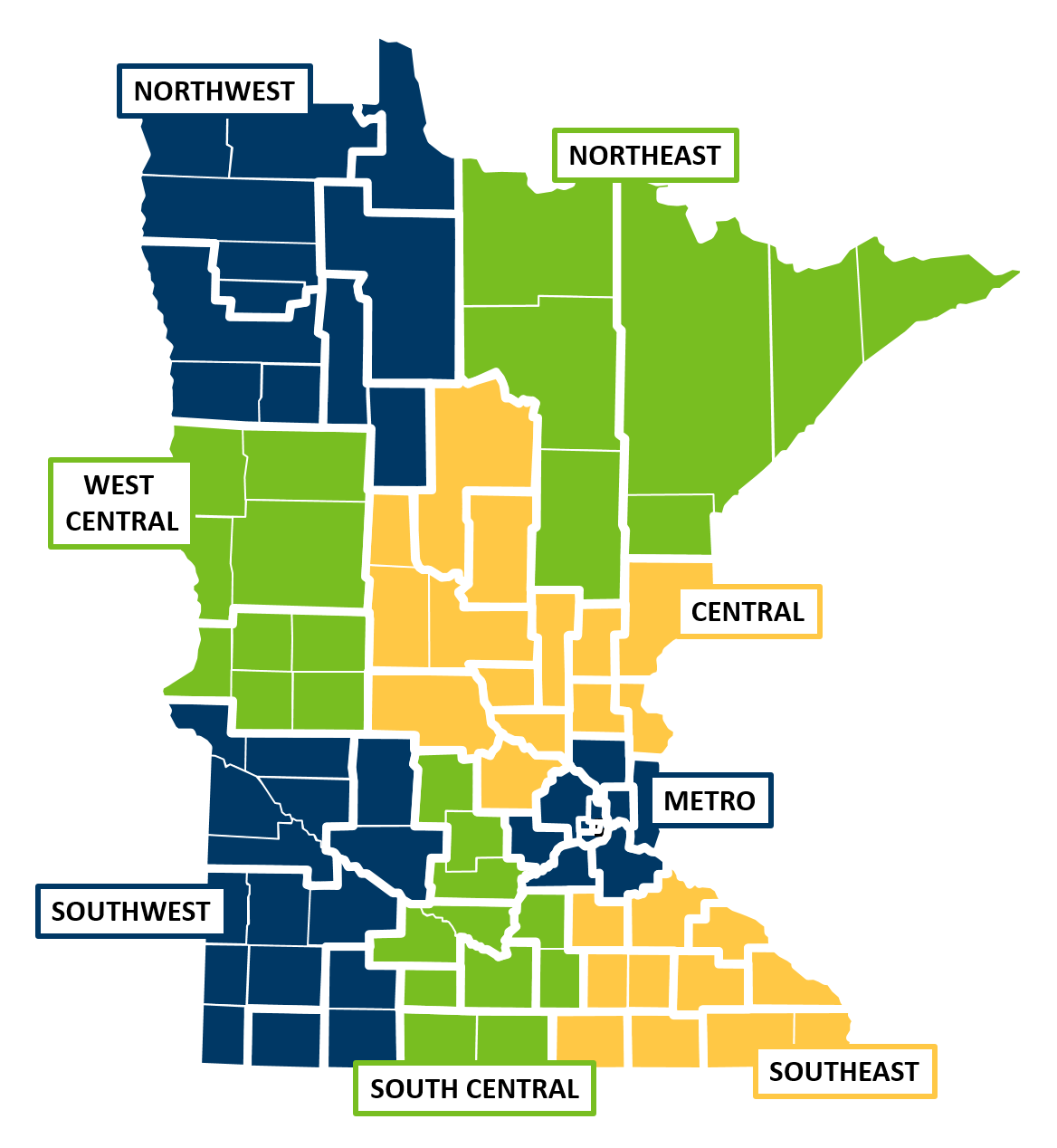 The main body of SCHSAC meets quarterly with the commissioner of health. Each community health board selects one person to represent their board on SCHSAC, and one alternate. The 11-member SCHSAC Executive Committee consists of representatives from all regions of the state.
SCHSAC conducts a majority of its work through workgroups and subcommittees, which meet between SCHSAC's main quarterly meetings. Each workgroup usually meets for one to three years, depending on its charge and duties. These workgroups identify, discuss, recommend responses to critical public health issues, and consist of SCHSAC members and other subject matter experts.
Each fall, SCHSAC sponsors the Community Health Conference for local elected officials; local and tribal public health administrators, directors, and staff; community-based organizational leadership and staff; MDH leadership and staff; other public health professionals.
Responsibilities of members and alternates
Members and alternates are expected:
To attend SCHSAC meetings and other assigned meetings
To serve on workgroups, subcommittees, and review groups as requested by the chair
To prepare for active participation in discussion and decision-making by consulting with their community health boards and community health services staff, and by reviewing meeting materials
To act as the liaison between the community health board and SCHSAC
To inform the community health board and alternate member on SCHSAC activities and actions
Tip: Share SCHSAC take-home points and SCHSAC reports with your community health board and county boards.
If you have questions or comments, or would like to know more about SCHSAC, please contact the MDH Center for Public Health Practice at health.schsac@state.mn.us.
Last Updated:
11/16/2022