Our Work
How SHIP Creates Health in Our Communities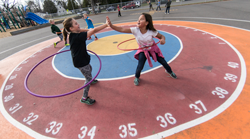 Statewide Health Improvement Partnership (SHIP) supports community-driven solutions to expand opportunities for active living, healthy eating and commercial tobacco-free living, helping all people in Minnesota prevent chronic diseases including cancer, heart disease, stroke and type 2 diabetes.
SHIP communities are thriving communities
SHIP helps build thriving communities, creating opportunities for all people in Minnesota to live longer, healthier lives. Ninety percent of the nation's health care costs are for people with chronic conditions, and the majority of those costs are preventable.
SHIP is statewide
SHIP is a comprehensive health strategy coordinated across all of Minnesota's 87 counties and 10 tribal nations. SHIP is statewide, providing $17.5 million in state funding to support critical primary prevention activities led by local public and tribal health partners.
Where SHIP works
Communities
Schools and child care
Workplaces
Health care
How SHIP works
Thanks to SHIP, Minnesota communities are:
increasing access to fresh, local fruits and vegetables at farmers markets, local corner stores, emergency food programs, mobile markets and other food retailers
serving healthier foods and increasing access to physical activity opportunities at schools and child care facilities
making biking and walking easier in Minnesota towns and cities
taking steps to make multi-unit housing sites smoke free
working with small- and mid-sized employers to improve workers' health and productivity
working with health care sites to strengthen connections to community to ensure that patients are referred to evidence-based programs in their area
supporting new moms so its easier for them to breastfeed after they return to work or school
and more.
Confronting opioids through SHIP
In the 2017 legislative session, MDH was directed by lawmakers to "confront the opioid addiction and overdose epidemic" with at least two SHIP grantees addressing the work. Learn more about two pilot projects in Confronting opioids through SHIP (PDF).
SHIP and dementia
SHIP grantees have the option of using funding to implement health improvement strategies that improve the health status, help delay the expression of dementia or slow the progression of dementia for those at risk for dementia. Learn more about this work in SHIP: Helping Minnesota's seniors live longer, healthier lives (PDF).
SHIP = local leadership, local partners and local expertise
SHIP work is directed by local community leadership teams that bring expertise and connections to the table. The complex, comprehensive nature of this work requires strong relationships, partnerships and expertise at the local level. That is the true strength and innovation of SHIP.
Learn More
Interested in partnering with SHIP in your community? Connect with your local SHIP contact to get started.