Sage Cancer Screening
Related Sites
About Sage Screening Programs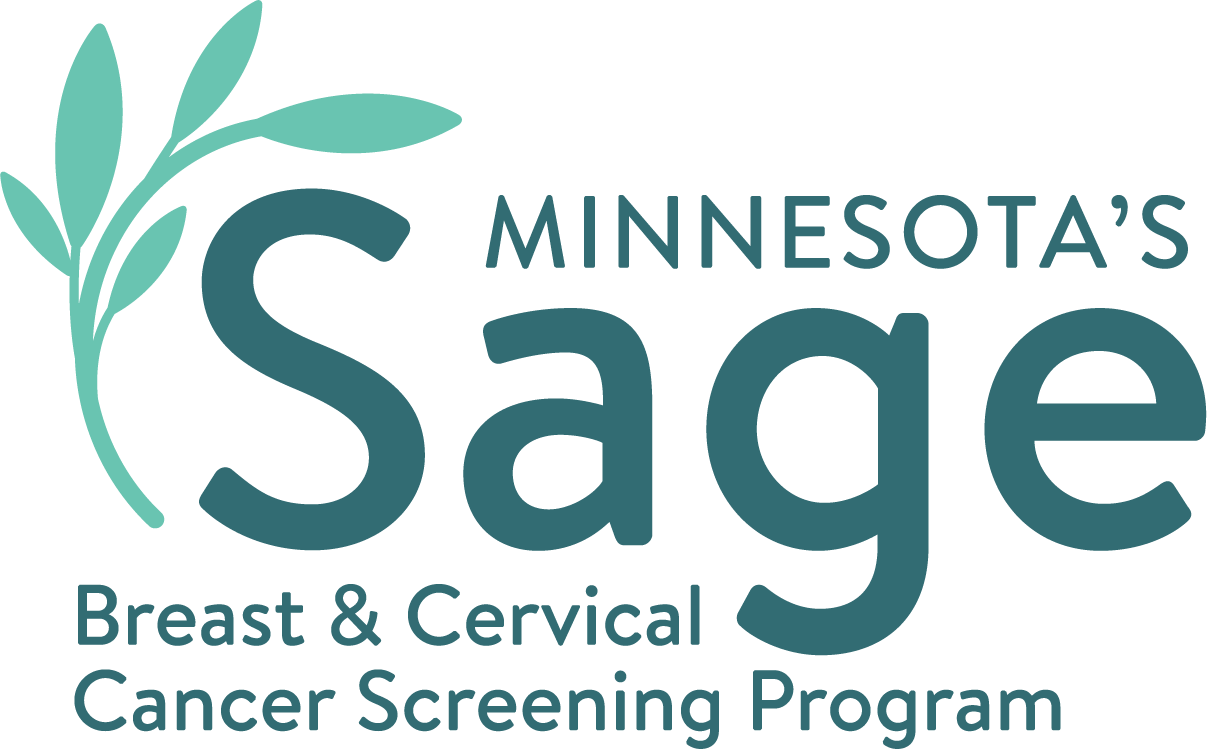 The Sage Screening Programs help keep Minnesotans healthy through screening and early detection of breast and cervical cancer. Screenings are provided at participating locations free of charge to people who qualify.
Sage hosts screening events and does targeted outreach that both work to recruit and enroll patients into the Sage Programs.
Toll free call center 1-888-643-2584
The Sage Program maintains a Call Center, staffed by patient navigators who speak several languages. The navigators answer calls Monday through Friday from 8 a.m. to 5 p.m. and assist Minnesota callers with program eligibility, identifying and addressing barriers to screening, scheduling appointments, and providing referrals to appropriate resources.
Click here if you would like to be screened
Click here if you are a Sage provider or have interest in becoming a Sage provider
Screening services
Since 1991, the Sage provider network has grown to over 450 clinic sites across Minnesota, providing breast and cervical cancer screening to more than 150,000 women. These services are part of the National Breast and Cervical Cancer Early Detection Program (NBCCEDP), which has served more than four million women since it began. Sage also receives funds from the State of Minnesota to support screening services.
Partnerships
The Sage Program has a wide network of partners that work together to reduce the burden of cancer by providing access to and promoting breast, cervical and colorectal cancer screening services for Minnesota's uninsured and underinsured.
Grants
The Sage Program has long-standing relationships with select clinics to provide funding for case management and screening services for breast, cervical and colorectal cancer. In addition, Sage has awarded grants for special projects that add to services by focusing on those people who are most in need of screening services.
Facts
Sage and Scopes Cancer Screening Facts in Minnesota
Sage Program contacts
Sage Main Line: 651-201-5600
For questions about: Program information, material ordering, and authorizations, etc.
Billing Line: 651-201-5630
Fax: 1-877-495-7545
Call Center: 1-888-643-2584
Follow-Up Coordinator
Nikki Kuechenmeister
nikki.kuechenmeister@state.mn.us.
651-201-5904
For questions about: follow-up forms and quality of care issues
Sage Screening Program Director
Melanie Peterson-Hickey
melanie.peterson-hickey@state.mn.us.
651-201-5618
For questions about: screening, eligibility, clinical/clinic training, provider training, and patient care issues
If your questions do not match those seen above, please contact Sage's main line at 651-201-5600 to be connected with Sage staff who can assist you with your needs.
Questions?
Contact Sage: health.sage@state.mn.us.
Last Updated:
06/06/2023