Children and Youth with Special Health Needs (CYSHN)
Programs
Related Sites
Information and Resources for:
Contact Info
Children and Youth with Special Health Needs
651-201-3650
1-800-728-5420 (toll-free)
Contact Info
Children and Youth with Special Health Needs
651-201-3650
1-800-728-5420 (toll-free)
Preconception Health in Minnesota Grants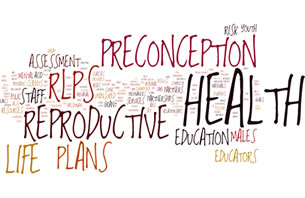 The Preconception Health (PCH) Grant projects began in 2012. The goal of these grants is to improve preconception health and care for non-pregnant, reproductive age women and their partners in Minnesota. This is achieved through support of evidence-based preconception health practices and programs that prevent and/or reduce the risk for birth defects. A priority audience for this grant is women of reproductive age experiencing racial and ethnic disparities in health status.
In 2020, MDH awarded birth defects prevention funds to support the following programs.
Healthy Communities for Healthy Futures (HC4HF): These grants support community-based organizations to develop and deliver projects that address the leading preventable birth defect risk factors along one or more of the levels of the Spectrum of Prevention. Community-led approaches are necessary to create positive, sustainable change in groups who experience a disproportionate burden of risk factors for the most common birth defects in Minnesota, such as diabetes, obesity, smoking, hypertension, substance misuse, intrauterine infections, chemical exposures, certain medications, and/or maternal stress. MDH awarded 3-year grants to myHealth for Teens & Young Adults and WellShare International, ending in June 2023.
IMPLICIT: This grant funds an organization with clinical quality improvement experience to recruit and support family practice and pediatric clinic sites to implement IMPLICIT, Interventions to Minimize Preterm and Low Birth-Weight Infants Using Continuous Quality-Improvement Techniques. The IMPLICIT model provides tools for clinics to screen mothers for smoking, depression, folic acid, and family planning during well child checks, and to follow up with coaching and referrals. The IMPLICIT Interconception Care (ICC) model is implemented using a continuous quality improvement framework to improve the care of women and babies before, during, and after pregnancy. MDH awarded this 5-year grant to ACET, Inc. Six clinics throughout Minnesota have or are currently implementing the IMPLICIT ICC quality improvement model; this grant ends in June 2025.
For information about other ways to prevent birth defects, visit the CDC Birth Defects Prevention Website.
Last Updated:
08/15/2023