School Nursing Practice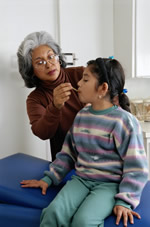 According to the American Nurses Association (ANA) and the National Association of School Nurses (NASN), "School nursing is a specialized practice of professional nursing that advances the well-being, academic success and life-long achievement and health of students. To that end, school nurses facilitate positive student responses to normal development; promote health and safety, including a healthy environment; intervene with actual and potential health problems; provide case management services; and actively collaborate with others to build student and family capacity for adaptation, self-management, self-advocacy and learning" (NASN 2010c).
Nursing licensure is a complex topic. This section is a basic resource to help with understanding. Questions about licensure should be directed to the Minnesota Board of Nursing.
Information related to nursing scope of practice for registered and practical nurses in Minnesota as well as the Minnesota Nurse Practice Act can be found on Minnesota Board of Nursing Scope of Practice web site.
In the school setting nurses often supervise and delegate to Unlicensed Assistive Personnel (UAP). Anyone designated, willing, and trained can serve as a UAP in schools (e.g., a health assistant, teacher, school administrator, or student services staff member); they are "unlicensed" in terms of providing health services. Under the delegation and supervision of an LSN/RN, UAPs can perform nursing cares based on school district policy and procedures. Anyone designated, willing, and trained can serve as a UAP in schools (e.g., a health assistant, educational assistant, teacher, school administrator, or student services staff member); they are "unlicensed" in terms of providing health services. In order to perform nursing functions, the UAP needs to have appropriate training to perform these functions, written documentation, and annual evaluation of this individual's competency; knowledge of policy and procedure; and be willing to communicate to the LSN/RN/LPN his or her own ability to perform the task, document the task, and report to the LSN/RN/LPN any inconsistencies or deviations from expected procedures. If uncomfortable with performing a delegated nursing task, a staff member has the right and responsibility to ask for education and additional supervision about the specific task.
Additional information about staff in the school health office can be found at Types of Nurses and Staff in the Health Office
School Nurse Licenses are obtained through the Minnesota Professional Educator Licensing and Standards Board, after obtaining a registered nurse license and a public health nursing certificate through the Board of Nursing.
Nurse Practice Act
The MN Nurse Practice Act (NPA) are the statutes which protect the public's health and welfare by overseeing and ensuring the safe practice of nursing. It is the responsibility of practicing nurses to understand and work within their scope of practice as defined in the NPA. The MN Board of Nursing (BON) created a NPA comparison tool that includes definitions to aid in understanding the MN NPA. Questions about the Practice Act can be directed to the MN BON at Nursing.Board@state.mn.us or (612) 317-3000.
It is important to understand that delegation, assignment, supervision and monitoring have definitions in education that are typically aligned with human resources or job duties concerns. In this section we are referencing these terms as defined in the MN NPA as it relates to the provision of nursing practice in schools. These two uses can be distinctly different and when applicable we will attempt to highlight the differences.
Delegation
Delegation is a commonly used word that has a significantly different meaning in relationship to nursing licensure. Because the word is used in a different sense in other staff structures, it is important to understand what delegation means for the Licensed School Nurse/Registered Nurse.
According to the Minnesota Board of Nursing, delegation is the "transfer of authority to another nurse or competent, unlicensed assistive person to perform a specific nursing task or activity in a specific situation."
The concept of delegation includes authoritative instruction and the acts of empowering one person to act for another. The nurse retains accountability for the delegation. Accountability is part of the scope of practice of the Minnesota Registered Nurse and the Minnesota Licensed Practical Nurse. The nurse is accountable for the quality of care delivered, recognizing the limits of knowledge and experience, addressing situations beyond their own competency, and performing to the level of education, knowledge, and skill ordinarily expected of an individual who has completed their level of approved nursing educational program as described in Minnesota Statutes § Chapter 148.221.Subd.1. Accountability (according to ANA 2005) is the state of being responsible or answerable.
It is then crucial that Licensed School Nurses read and understand the School Nursing Scope and Standards of Practice.
The Nurse Practice Act (Minnesota Statutes § Chapter sections 148.171 to 148.285 and Minnesota Rules, chapters 6301 to 633021) says that both professional (LSN/RN) and practical nursing (LPN) include, but are not limited to, the performance of acts or functions that are delegated to the nurse by another health care professional. However, only the LSN/RN has the direct statutory authority to delegate to others (see also National Association of School Nurses, 1994/2002), and the UAP may carry out only those nursing acts or functions that have been delegated by an LSN/RN or assigned by the LSN/RN/LPN.
Assignment
In relationship to the roles of LSNs/RNs/LPNs, the Minnesota Board of Nursing defines assignment as: the designation of nursing tasks or activities to be performed by another nurse or unlicensed assistive person. According to the law, the nurse retains the accountability for the assignment.
Supervision
The MN Nurse Practice Act defines supervision as the guidance by a registered nurse in the accomplishment of a nursing task or activity. Supervision consists of monitoring, as well as establishing, the initial direction, delegating, setting expectations, directing activities and courses of action, evaluating, and changing a course of action. (MN 148.171 subd. 23)
Monitoring
The MN Nurse Practice Act defines monitoring as the periodic inspection by a registered nurse or licensed practical nurse of a delegated or assigned nursing task or activity and includes: (1) watching during the performance of the task or activity; (2) periodic checking and tracking of the progress of the task or activity being performed; (3) updating a supervisor on the progress or completion of the task or activity performed; and (4) contacting a supervisor as needed for direction and consultation. (MN 148.171 subd 8a).
Licensed School Nurse/Registered Nursing Delegation Responsibilities
The LSN/RN uses professional judgment to decide what is delegated and to whom if anyone. The LSN/RN may choose to not delegate some medical functions. It is the judgment of the LSN/RN whether the delegated functions can be properly and safely performed by the person without jeopardizing the student's welfare. Some activities that require specialized nursing knowledge and skill may be delegated to LPNs, but not to UAPs. Some activities that do not require specialized nursing knowledge may be delegated to UAPs by LSNs/RNs. It is the responsibility of the LPN and/or UAP to perform the delegated activities correctly. The LSN/RN is accountable to verify that the delegatee can perform the activity and do so safely. Delegation to UAPs is determined on a case-by-case basis and is most appropriate when they are caring for students with routine, repetitive, ongoing nursing task needs. When the necessary task is not routine and the student's response to treatment is less predictable, nursing delegation should be carefully considered.
When LSNs/RNs have responsibility for nursing functions, they are the only ones who can make delegatory decisions.
The LPN may be involved in the assignment and monitoring of nursing tasks or activities. LPNs may also implement interventions that are delegated, ordered or prescribed by a licensed health care provider.
When delegating to UAPs, the LSN/RN shall assess the situation and consider the following nursing delegation principles:
Principle 1: The delegating LSN/RN must assess student needs prior to delegating.
Principle 2: The LSN/RN must provide adequate oversight of the activities.
Principle 3: The LSN/RN must keep written documentation of the UAP's initial and ongoing competency.
Principle 4: The function must be one in which:
The nursing care needs of the student are stable.
Performance of the function does not pose potential harm to the student.
The function involves little or no modification.
The function has a predictable outcome.
The function does not inherently involve ongoing assessment, interpretation, or decision making.
The UAP has appropriate skills and competency levels.
Supervision is available.
If nursing tasks are delegated, those accepting delegation cannot re-delegate those nursing functions to anyone else without the involvement of and supervision by an LSN/RN. As an essential component of delegation, appropriate training must be conducted.
When making delegation decisions, the National Nursing Delegation Guidelines are helpful.
Training for Delegation
All individuals (primary and substitute) responsible for medication administration must be trained. When planning the training for delegating nursing functions, the LSN/RN must keep the following questions in mind:
Who is being trained?
What is the content of the training?
How much time is there for training?
Where is the training location?
What are the roles and responsibilities?
Why is the training necessary?
How will competencies be evaluated and documented?
Training needs to be done before the nursing task is performed. Training should include four essential elements:
school policies and availability of resources,
available written criteria that indicate when to contact a supervising LSN/ RN, monitoring LPN, or call 911,
student-specific information, and
procedures for safe medication administration.
The first, second, and fourth are best done before students begin their school year (e.g., during workshop week) and the third before delegatee staff work with specific students.
In Minnesota, there are at present no specific training requirements for UAPs who are assisting with medical functions in the school. However, it is recommended by national and state nursing organizations that UAPs who receive training for a delegated nursing function should include:
a general medication overview that includes the purposes of medications and the various medication administration routes;
information on medication handling and administration techniques that includes cleanliness, care, storage, the six rights of medication administration, preparing medications, administration procedures, guidance for field trips, proper medical abbreviations, student plans, and emergency information;
need for authorizations and record keeping that includes legal requirements, policy and procedure review, record keeping, errors and omissions, and forms; and
rights and responsibilities that include delegation, assignment, and reporting, data privacy, and Minnesota statutes, rules, and guidelines.
recognizing the student's right to privacy
recognizing the student's skills and abilities.
facility policies and procedures regarding medication administration, control substances, facilities, requirements, storage and handling of medications, use of multi dose vials and syringes, medication expiration dates, documentation, and disposal of medication, and similar policies and procedures implemented in the facility to safeguard medication provision to students.
understanding the relationship between the LSN/RN/LPN and UAP and the importance of communication.
recognizing the limits and conditions by which a UAP may complete the task.
recognizing the student's property rights and physical boundaries.
recognizing the responsibility to report and the mechanisms for communicating such to the appropriate authorities if reasonable cause exists to believe that a child or adolescent has been subjected to maltreatment or neglect.
Documentation and evaluation of training must follow the training.