When and Why: Wash Your Hands
Hand Hygiene
Related Topics
Contact Info
Infectious Disease Epidemiology, Prevention and Control Division
Contact Info
Infectious Disease Epidemiology, Prevention and Control Division
When Should I wash My Hands?
This fun poster shows some of the important times to wash your hands.
Download a print version of this document:
When Should I Wash My Hands Poster (PDF)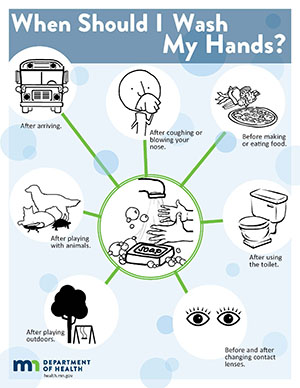 Wash your hands:
After arriving.
After coughing or blowing your nose.
Before making or eating food.
After playing with animals.
After using the toilet.
After playing outdoors.
Before and after changing contact lenses.
Last Updated:
10/04/2022