Rapid Assessments for Pharmaceuticals
Project background
Pharmaceuticals are medicines that are available in stores or by prescription and are used to treat illness in humans and animals. The presence of pharmaceuticals in water is of increasing concern to the Minnesota Department of Health (MDH) because they may cause harm to humans.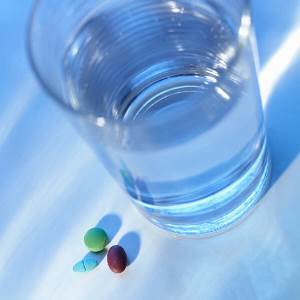 Pharmaceuticals enter rivers, lakes, and groundwater when human waste, animal waste, or discarded medications move from storm water systems, sewer systems, or septic tanks into water.
Pharmaceuticals in water may break down but can be constantly replenished. Wastewater and drinking water treatment may not completely remove pharmaceuticals. As a result, these chemicals can be found in drinking water sources for Minnesotans.
Project details
MDH developed a rapid assessment method for evaluating the health risks of pharmaceuticals found or likely to be found in drinking water sources. The method was used to assess 119 active pharmaceutical ingredients (APIs) from a list of the most commonly prescribed pharmaceuticals in the United States, as well as those commonly looked for (monitored) and found in the environment.
The main outcome was the development of water screening values. A water screening value is the amount of an API in water that can be consumed daily with no expected health risk to humans. The water screening values developed are intended to be lower (be more protective of health) than values that result from an in-depth assessment by MDH.
For more information, including the methodology and the resulting water screening values, read the Pharmaceutical Water Screening Values Report, published August 2015.
The most current pharmaceutical water screening values are located in the Excel table below. This table includes any pharmaceutical water screening values added since the completion of the report in 2015 and does not include pharmaceuticals for which MDH has derived health-based guidance values.
Project applications
The recommended uses of the results of the project are to:
Prioritize pharmaceuticals for development of new health-based values to protect human health
Guide future monitoring efforts looking for pharmaceuticals in water
Inform development or refinement of laboratory analytical techniques to measure pharmaceuticals in water
Provide context to pharmaceuticals found in drinking water sources
Sharing the science
Pharmaceuticals in water are an important issue to many in the scientific community. MDH has shared the results of its pharmaceutical screening project with other interested parties through the report linked above and at meetings of professional societies. For more information, see: Poster presentations on the pharmaceutical screening project.