Clean Water Fund: Contaminants of Emerging Concern (CEC)
MDH Legacy Initiatives
Related Topics
Environmental Health Division
Contaminants of Emerging Concern


Nominate Contaminants

The CEC team encourages you to nominate a contaminant that you think is of emerging concern. Please submit nominations for specific contaminants rather than groups of substances (such as "antibiotics" or "herbicides"). To view a list of substances that MDH has or is currently reviewing, go to our most recent Nominated Contaminants Status Table (PDF). Also, please refer to our Nomination Resources page for links that may assist you in responding to the questions listed in the form.

The name of the contaminant is the only information we require, but the more information we have the better. Please refer to an example nomination (PDF), provided for illustrative purposes only.

Please submit your nominations using this online form:
MDH Chemical Nomination Form

MDH is not able to conduct a full review and/or develop health based guidance for every contaminant that is nominated. Please Contact Us with questions or comments.

At the discretion of MDH, CEC staff will develop guidance for contaminants that are not nominated by an outside party and that are not assessed through a selection process.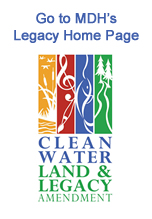 Last Updated:
10/03/2022