Clean Water Fund: Contaminants of Emerging Concern (CEC)
MDH Legacy Initiatives
Related Topics
Environmental Health Division
Contaminants of Emerging Concern
Special Projects
Why we work on special projects
Special Projects are initiated by MDH when scientific or other information is needed to address a specific question or issue. Special projects will be conducted as needed to support the goals of the program.
Current Projects
Disinfection Byproducts: Special Project


Disinfection byproducts (DBPs) are a special class of CECs. They occur in drinking water due to the required addition of disinfecting chemicals that protect against dangerous microbial and viral contaminants. Numerous DBPs were nominated to the CEC Initiative based on their occurrence and possible health risks. This project provides a mechanism for additional stakeholder input regarding both the benefits of disinfection and potential health risk associated with DBPs.

Outreach and Education Grants

The Minnesota Department of Health (MDH) partners with local governments or organizations to increase public awareness about contaminants of emerging concern (CECs). These grants can be used to interact with the public on topics such as contaminants in Minnesota waters, the health effect of contaminants, pathways of containment exposure, and contaminant sources. Organizations that receive these grants include local and regional units of government, non-profit organizations, and professional water resource organizations.

Microplastics in Minnesota

Microplastics are extremely small particles of plastics that can occur either from direct manufacture or from the breakdown of larger plastic products in the environment. In 2019, the Minnesota State Legislature tasked the Minnesota Department of Health to work in cooperation with other state agencies to evaluate occurrence of microplastics in Minnesota waters and assess potential risks to human and ecological health. Staff from the Departments of Health, Agriculture, Natural Resources, Transportation, and the Pollution Control Agency have created an interagency workgroup to coordinate efforts for investigating microplastics in Minnesota. Funding for this project was provided from the Clean Water Fund to protect, enhance, and restore water quality in lakes, rivers, and streams and to protect groundwater and drinking water from degradation. Due to the ongoing COVID response, the microplastics project has been placed on hold.

Water Reuse and Quantitative Microbial Risk Assessment

The high demand for water in Minnesota means that, in some places, we are draining our drinking water resources faster than they are refilling. Reusing water is an alternative solution for non-drinking water demands, but the possible health risks of reusing water are not well understood. This study from the University of Minnesota allows us to better understand the quality of harvested storm water and rainwater used for purposes other than drinking water.

While this project has been completed, water reuse discussions and associated research are still ongoing with MDH and our partners. Please see Quanitative Microbial Risk Assessment Projects and Water Reuse: Clean Water Fund for more information.
Completed Projects
Alternative Risk Assessment Methodology

A variety of state and federal agencies monitor for a wide range of contaminants in Minnesota waters, including chemicals from pharmaceuticals, personal care products, and household products. Currently there is no standard method for evaluating the potential health risks for contaminants that do not have toxicity information. The goal of this project is to discover methods that can create health recommendations for contaminants with little or no toxicity information. Completed in collaboration with J. B. Stevens & Associates, Eastern Research Group, Inc. (ERG).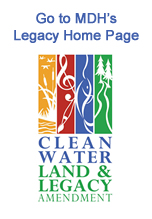 Last Updated:
10/03/2022