Tobacco NUMBRS
Tobacco and Nicotine Use in Minnesota: Briefs, Reports, and Statistics
Tobacco NUMBRS aims to increase the visibility and accessibility of data on tobacco use in Minnesota. This page features a series of data briefs, among other resources like factsheets and reports, highlighting findings from various surveys of tobacco use and other data sources.
Click to subscribe for updates. We will send you new reports, data briefs, and other resources as they are released.
Data Briefs
Teen Tobacco Use in Rural Minnesota
Rural teens start earlier, use more often, use smokeless
The tobacco use landscape in the United States and Minnesota is evolving. E-cigarettes are rapidly increasing in popularity, especially among youth. However, products like cigarettes and smokeless tobacco continue to have a stronger hold in rural areas due to decades of targeted marketing by the tobacco industry, which integrated tobacco use into rural culture.
Tobacco products contain nicotine, which is highly addictive and can harm brain development as teens grow. Rural youth are at higher risk for harm, because they tend to begin using tobacco products at a younger age and use tobacco products more frequently.
This data brief dives deeper into rural youth tobacco use in Minnesota.
Download this brief: Teen Tobacco Use in Rural Minnesota (PDF)
More Data Briefs
Statistics
Minnesota Youth Data
Download this information: Data Highlights from the 2017 Minnesota Youth Tobacco Survey (PDF)
Fact Sheets
Minnesota Adult Data
Download this information: Data Highlights from the 2018 Minnesota Adult Tobacco Survey (PDF)
Fact sheet: Tobacco Use in Minnesta: Results from the 2018 Minnesota Adult Tobacco Survey (PDF)
Tobacco Related Disparities
Tobacco Data (PDF) - Charts and data detailing tobacco-related disparities in Minnesota.
State and County Data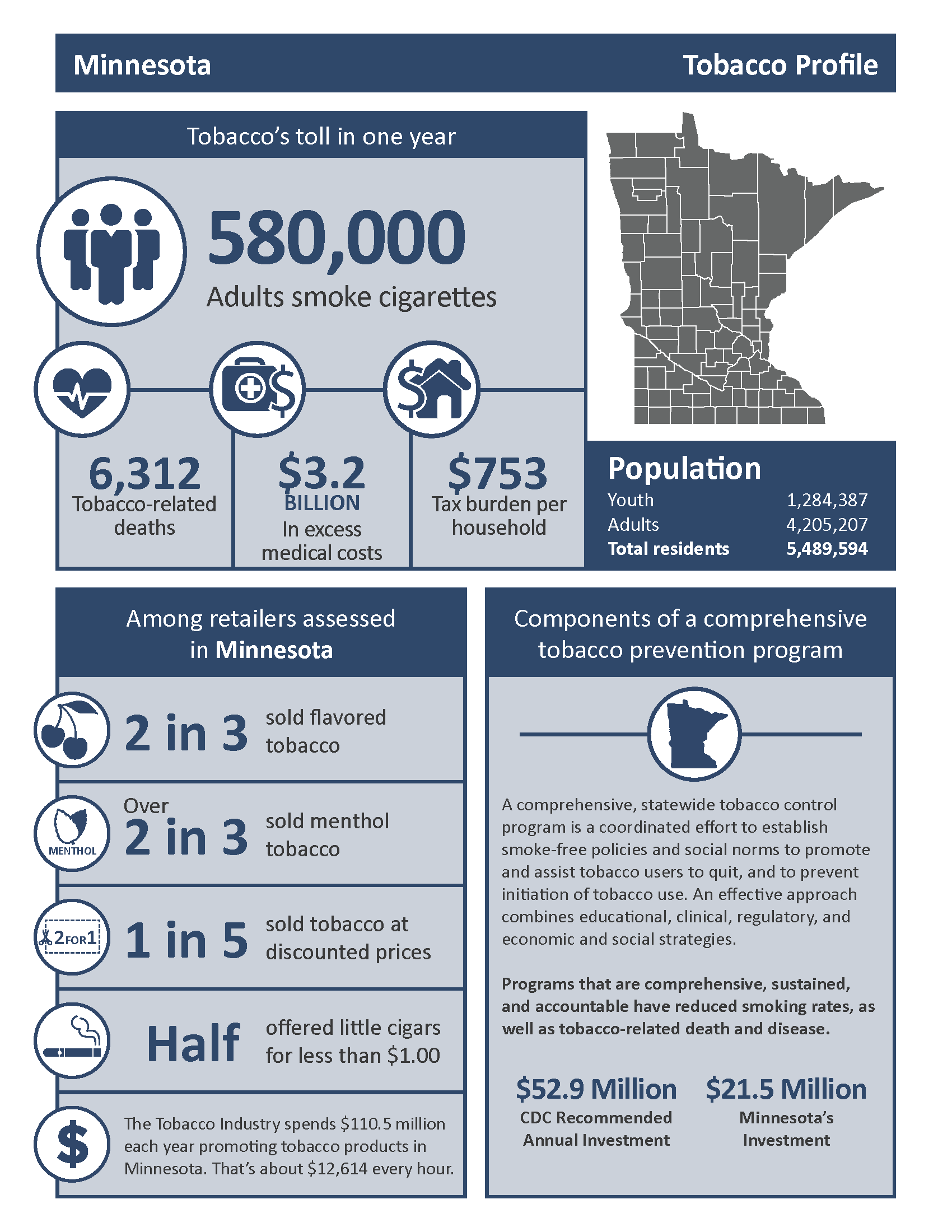 Click below to view tobacco profiles for each of Minnesota's counties. These profiles show commercial tobacco's toll in each county in one year. They also include local and statewide data on products stores sell, youth tobacco use, and tobacco use during pregnancy.
More information
Reports
Other Reports
For more information
Interested in data on other topics? Visit the Minnesota Public Health Data Access portal.
References
Watkins, S.L., S.A. Glantz, and B.W. Chaffee, Association of Noncigarette Tobacco Product Use With Future Cigarette Smoking Among Youth in the Population Assessment of Tobacco and Health (PATH) Study, 2013-2015. JAMA Pediatr, 2018.