Commercial Tobacco Prevention and Control
Tobacco Topics
Related Topics
Contact Info
Commercial Tobacco Prevention and Control
651-201-3535
866-901-8316 (toll-free)
Contact Info
Commercial Tobacco Prevention and Control
651-201-3535
866-901-8316 (toll-free)
Tobacco NUMBRS
Tobacco and Nicotine Use in Minnesota: Briefs, Reports, and Statistics
Tobacco NUMBRS aims to increase the visibility and accessibility of data on commercial tobacco use in Minnesota. This page features a series of data briefs, among other resources like factsheets and reports, highlighting findings from various surveys of tobacco use and other data sources.
Click to subscribe for updates. We will send you new reports, data briefs, and other resources as they are released.
On this page:
Data briefs
Youth data
Adult data
Tobacco-related disparities
State and county data
Data briefs
SHIP supports local Tobacco 21 policies, helping to reduce youth commercial tobacco use
November 2022
National data indicate that about 90% of adults who smoke start before age 18, and 99% start before age 26. Statewide Health Improvement Partnership (SHIP) partners across the state have worked to support the implementation of local Tobacco 21 (T21) policies that raise the tobacco purchase age from 18 to 21. Between July 2017 and January 2019, 17 Minnesota communities implemented a T21 policy, and 14 of these received SHIP support. By December 2019, 60 Minnesota communities had implemented local T21 policies prior to the federal version of the law taking effect.
Data from the Minnesota Student Survey (MSS) indicate that these policies have been successful at reducing youth commercial tobacco use. Minnesota 8th and 9th graders who were protected by T21 policies reported less commercial tobacco use than those living in communities without T21 policies.
Read more: SHIP supports local Tobacco 21 policies, helping to reduce youth commercial tobacco use (PDF)
More data briefs
Statistics
Minnesota youth data
Download this information: Data Highlights from the 2020 Minnesota Youth Tobacco Survey (PDF)
Minnesota Adult Data
Tobacco Related Disparities
A complex set of factors has led to persistent health-disparities in the use and harm of commercial tobacco products between some groups.2 Disparities exist for several outcomes including:
rates of commercial tobacco use
exposure to secondhand smoke
access to cessation support
successful quit attempts
exposure to commercial tobacco advertising and targeted marketing
Other commercial or social determinants of health also contribute to tobacco-related health disparities and can include key factors such as inequitable implementation and enforcement of tobacco control policies, social and environmental conditions that increase exposure to commercial tobacco products, structural racism and discriminatory practices, economic inequities, and access to education and job opportunities.2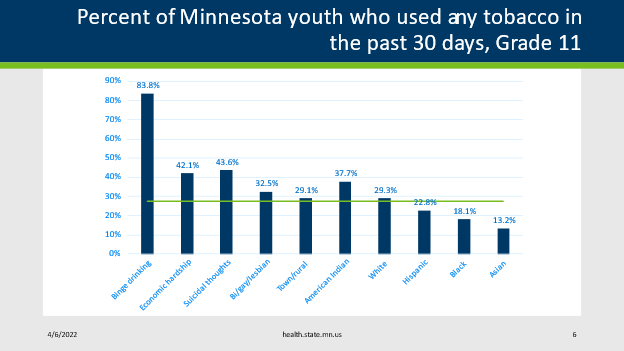 Source: Minnesota Student Survey, 2019; horizontal line represents statewide average of 27.6%.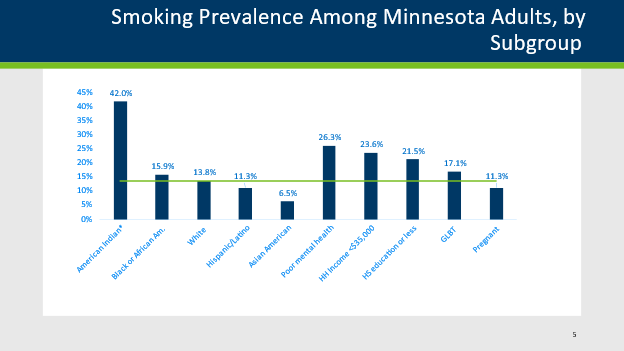 Source: BRFSS, 2020; horizontal line represents statewide average of 13.8%. *The smoking rate for American Indians obtained by BRFSS is relatively low compared to results of the Tribal Tobacco Use Project (TTUP) survey from 2013 (59.0%). TTUP is a larger, tribal-specific, statewide survey that is designed to produce a more accurate estimate for American Indians than BRFSS.
State and County Data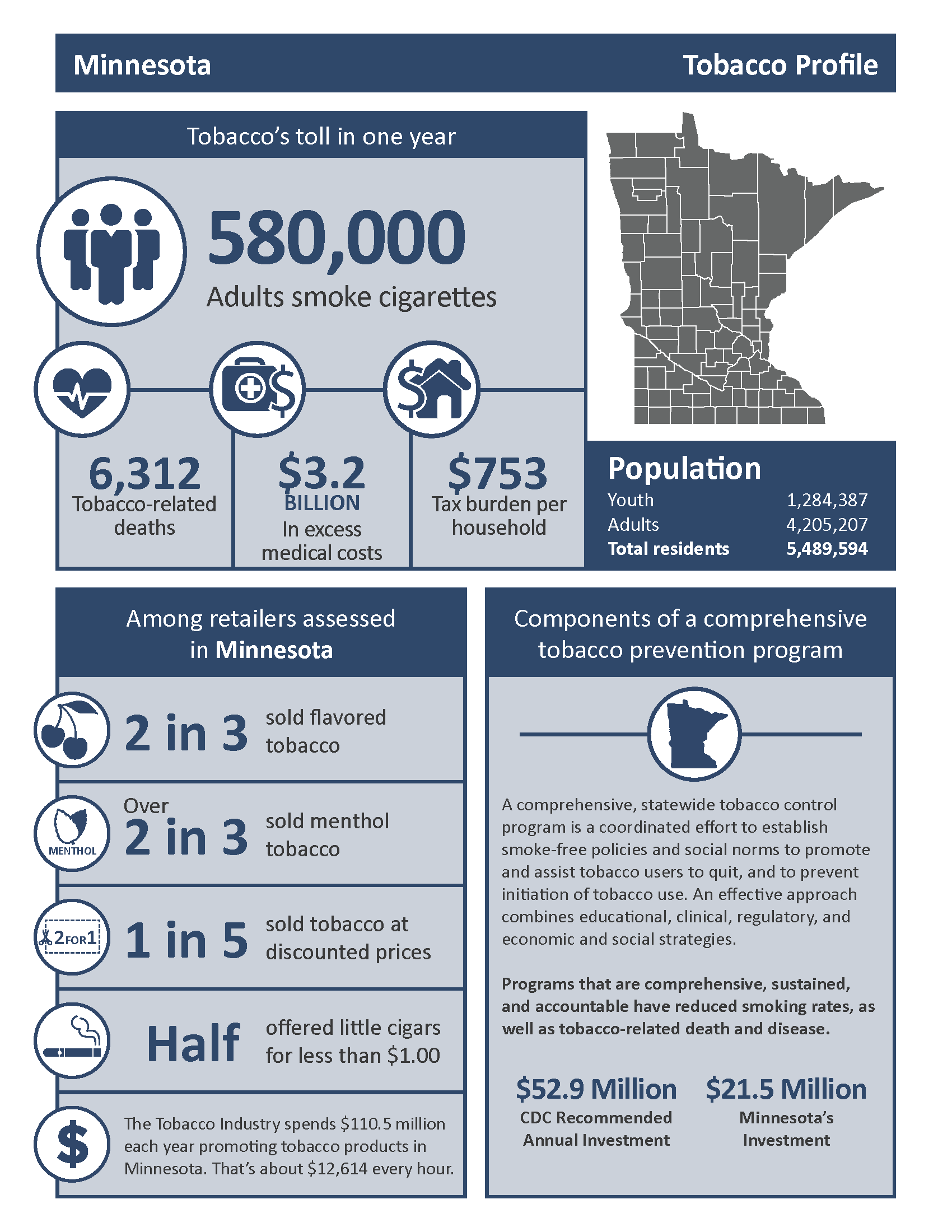 Click below to view tobacco profiles for each of Minnesota's counties. These profiles show commercial tobacco's toll in each county in one year. They also include local and statewide data on products stores sell, youth tobacco use, and tobacco use during pregnancy.
More information
Reports
Other Reports
For more information
Interested in data on other topics? Visit the Minnesota Public Health Data Access portal.
References
Watkins, S.L., S.A. Glantz, and B.W. Chaffee, Association of Noncigarette Tobacco Product Use With Future Cigarette Smoking Among Youth in the Population Assessment of Tobacco and Health (PATH) Study, 2013-2015. JAMA Pediatr, 2018.

Centers for Disease Control and Prevention.

Identifying and Eliminating Tobacco-Related Disparities: Key Outcome

Indicators for Evaluating Comprehensive Tobacco Control Programs

—2022. Atlanta, GA: Centers for

Disease Control and Prevention, National Center forChronic Disease Prevention and Health Promotion, Office on Smoking and Health; 2021.
Last Updated:
01/12/2023