Quitting Tobacco
Most people who smoke want to quit. The good news: free help is available to all Minnesotans.
Free Medications and Counseling
Medical Assistance and Minnesota Care
Medical Assistance and Minnesota Care cover counseling and the following medications:
Patches
Gum
Lozenges
Nicotine Inhaler
Nicotine Nasal Spray
Bupropion
Chantix®
Talk to your doctor about quitting smoking and get the right help you need to quit for good.
QUITPLAN® Services
QUITPLAN Services is a free program available to anyone who wants to quit tobacco and offers a wide array of tools for eligible Minnesotans.
QUITPLAN Helpline (telephone counseling) (for all ages)
Printed Quit Guide (for all ages)
Email program (for people ages 13 or older)
Use of quitplan.com (intended for people ages 14 and older)
Text program (for people ages 18 or older)
Nicotine replacement therapy (for people ages 18 or older)
Visit www.quitplan.com or call 1-888-354-PLAN (7526).
QUITPLAN Services will end enrollments in March 2020 for both the Helpline (telephone counseling plus nicotine replacement therapy (NRT)) and Individual Services (NRT Starter kits, email and text programs and printed quit guides), but anyone registered for any of the services by that time will be able to finish their quitting program and will receive their NRT, materials, emails and texts.
Tools for Youth
Smokefree Teen
Smokefree Teen helps teens stop using tobacco by providing information grounded in scientific evidence and offering free tools that meet teens where they are - on their mobile phones.
Text messaging program
quitSTART mobile app
LiveHelp online chat
Visit Teen.Smokefree.gov.
Truth Initiative® e-cigarette quit program
A free text message program created with input from teens, college students and young adults who have attempted to, or successfully, quit e-cigarettes. It's tailored by age group to give teens and young adults appropriate recommendations about quitting. The program also serves as a resource for parents looking to help their children who now vape.
To access the new e-cigarette quit program, users can text "QUIT" to (202) 804-9884. Users can also enroll in This is Quitting or BecomeAnEX®, free digital quit programs from Truth Initiative that integrate the text program.
Health plan quitlines
Health insurance companies have their own options. Youth and parents should check with their health plan. Call the number on the back of your insurance card to see what is available.
Additional Services
The American Indian Quitline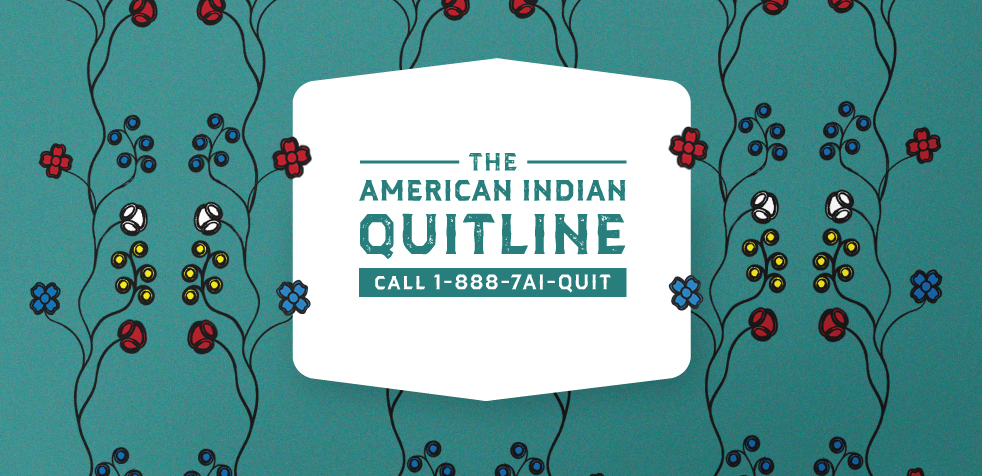 Developed with guidance from the community, the American Indian Quitline from QUITPLAN® Services offers completely free and specially designed support to help people quit commercial tobacco.
The American Indian Quitline (1-888-7AI-QUIT or 1-888-724-7848) is staffed from 9 a.m. - 9 p.m. CST (Monday - Friday). Anyone who lives in Minnesota can get the following free help to quit commercial tobacco:
A dedicated team, including American Indian coaches who understand and respect American Indian culture and traditions.
Up to seven calls with the coaches, allowing callers to get to know them.
Up to 12 weeks of free lozenges, gum or patches to help callers quit the addiction.
Learn more about the American Indian Quitline.
Asian Smokers' Quitline
This is a free program to help smokers quit. Services include self-help materials, a referral list of other programs, one-on-one counseling over the phone, and a free two-week starter kit of nicotine patches. Visit asiansmokersquitline.org.
Mille Lacs Band of Ojibwe - Tobacco Cessation Services
This program offers support services including one-on-one office visits, home visits, and phone counseling, as well as educational materials and incentives to all Mille Lacs Band Of Ojibwe community members.
Contact Becky Swansey, LPN, at 320-532-7760 or becky.swansey@HHS.millelacsband-nsn.gov for more information.
Smokefree Español
Este sitio en la red ofrece enfoques recomendados sobre cómo dejar de fumar, información sobre un amplio rango de temas relacionados con el fumar y dejar de fumar, y una fuente de recursos gratuitos en español. La información disponible en este sitio en la red puede darle apoyo con sus necesidades inmediatas y a largo plazo a medida que deja de fumar. Visita https://espanol.smokefree.gov/.
More services for adults
Learn more
Benefits of quitting
These are just a few of the many benefits to quitting.
Not only may quitting prevent bad breath, stained teeth, and premature wrinkles, it decreases the risk of many tobacco-related health consequences. What's more, the human body begins to heal within just minutes of quitting:
Within 20 minutes, heart rate and blood pressure drop.
After 1-9 months, coughing and shortness of breath decrease.
After 1 year, the risk of coronary heart disease is about half that of a smoker's.
After 5 years, stroke risk is reduced.
After 10 years, the risk of lung cancer falls to about half that of a smoker and the risk of cancer of the mouth, throat, esophagus, bladder, cervix, and pancreas decreases.
Secondhand smoke causes early death and disease in both children and adults who do not smoke. There is no safe level of exposure to secondhand smoke. Children and infants exposed to secondhand smoke may experience:
A greater risk for sudden infant death syndrome (SIDS).
Frequent and severe asthma attacks.
Respiratory infections, like pneumonia or bronchitis.
Respiratory symptoms like coughing, sneezing, wheezing, and shortness of breath.
Ear infections.
After quitting, money normally spent on tobacco products, like a pack of cigarettes, could be spent on other things, such as home repairs, new shoes or clothes, or a much-needed vacation. Additionally, quitting now may help prevent costly medical bills down the road.
How much do cigarettes cost you?
Find out using this
Quit Smoking Calculator
from QUITPLAN Services.
More resources
Tips and tools for quitting
Helping people quit