Contact Info
Commercial Tobacco Prevention and Control
651-201-3535
866-901-8316 (toll-free)
Contact Info
Commercial Tobacco Prevention and Control
651-201-3535
866-901-8316 (toll-free)
Traditional Tobacco and American Indian Communities in Minnesota
Many communities have a unique relationship with traditional, or sacred, tobacco. The tobacco plant is considered a sacred gift by many American Indian and Alaska Native communities. Traditional tobacco has been used for spiritual and medicinal purposes by these communities for generations. It is central to culture, spirituality and healing. Tribal methods and ingredients differ, but traditional tobacco, called "caŋsasa" (Dakota) or "asemaa" (Anishinaabek) by area tribes, is carefully hand-prepared and offered respectfully for prayer, healing, and ceremony.
Traditional tobacco is natural, not inhaled or addictive, and has no additives.1,2 Traditional tobacco use varies by tribe, and some tribes do not use any sacred or traditional tobacco. Traditional tobacco is different from commercial tobacco. Commercial tobacco products like cigarettes, e-cigarettes, cigars, and chew are manufactured and sold by the tobacco industry. Commercial tobacco products are highly addictive and contain cancer-causing chemicals and additives.
Watch Reclaiming Sacred Tobacco to learn more about traditional tobacco and how Minnesota's American Indian communities use traditional practices to promote a healthier lifestyle.
Federal policies stripped access to traditional tobacco and devastated American Indian communities
American Indians have faced historical trauma, forced assimilation efforts, and several forms of genocide that continue to negatively affect their health.3 Colonization and cultural genocide of Indigenous peoples in the United States devastated traditional systems that naturally fostered physical activity, healthy diet, use of traditional tobacco, and spiritual connection with the land.
The United States government has a longstanding history of policies designed to destroy American Indian culture.4 The first policy of cultural genocide was the Indian Civilization Fund Act of 1819, which was created to "… 'civilize' Indian peoples in accordance with alien cultural norms imposed on them by a conquering majority.4" This was followed by several other laws designed to "kill the Indian and save the man."
The Indian Religious Crimes Code of 1883 tried to end American Indian religion. This law "prohibited Native American ceremonial activity under pain of imprisonment."4 American Indians were not free to practice their religion until 1978, when the American Indian Religious Freedom Act was passed. For centuries, American Indians did not have access to traditional tobacco for cultural and religious purposes. American Indians only had access to highly addictive and harmful commercial tobacco. This resulted in addiction to commercial tobacco, such as smoking cigarettes. Because of these forced cultural shifts, commercial tobacco use is a driver of health inequities among American Indian populations.
Targeted marketing and policy failures have also contributed to American Indian health inequities
In addition to not having access to traditional tobacco, American Indian communities have been specifically targeted by the tobacco industry's marketing tactics for decades (for example, American Spirit tobacco labeling). As sovereign nations, American Indian tribes have self-governing abilities that are equivalent to the federal level of U.S. law. As such, tribal nations are not subject to laws or policies enacted at the state or local levels. Given this unique status, American Indian governments are often excluded from local policy change initiatives. Many state and local commercial tobacco control policies, such as clean indoor air policies and retail practice regulations, have driven the sharp decline in smoking in the general population. However, due to the lack of partnerships between local governments and tribal nations, commercial tobacco use rates in many tribal nations has remained at higher levels.
Due to all of these reasons – historical trauma, forced assimilation efforts, genocide, policy failures, and targeted commercial tobacco agendas – American Indians suffer from some of the highest rates of smoking and chronic diseases and have the lowest life expectancy of any group in the United States.
In Minnesota, 59% of American Indian adults smoke commercial tobacco,5 compared to 14.5% of Minnesota's overall adult population.6 In addition, 71% of American Indians in Minnesota reported they were exposed to secondhand smoke from commercial tobacco at community locations on a regular basis.5
Healing communities harmed by federal, state, and local policies
Mainstream public health efforts have often not been culturally tailored to address poor health outcomes in the American Indian population and as a result have been largely unsuccessful. Promising practices rooted in culture are now emerging. The infographic Sacred Traditional Tobacco for Health Native Communities (PDF) by the American Indian Cancer Foundation demonstrates what policy, systems, and environmental changes focused on restoring a balance around traditional tobacco could look like for American Indians.7
Returning to the sacred use of traditional tobacco and restoring American Indian cultural practices is a protective factor in reducing the number of American Indian youth who begin using commercial tobacco.8
Health for American Indian people needs to be focused on the whole person and include mental, spiritual, emotional, and physical health. Community health is also important. Current efforts to reclaim the language and traditions of the American Indian people are aimed at restoring the health of the community and on sharing those healthy ways of being with other people in Minnesota.
Creating an inclusive commercial tobacco prevention movement: language matters
It is important to acknowledge the traditional role tobacco plays in Indigenous culture as a way to counter the high rates of commercial tobacco use and smoking-related diseases in American Indian and Alaska Native communities.
The American Indian Cancer Foundation and University of Minnesota's School of Journalism and Mass Communication conducted a study of tobacco messaging in American Indian communities. They found that people in these communities respond more positively to culturally appropriate messages like "keep tobacco sacred," rather than generic tobacco communication or messages about health consequences like "live tobacco-free." Including cultural cues in commercial tobacco prevention and cessation messages can positively affect people's thoughts about traditional and commercial tobacco.
The Minnesota Department of Health is committed to differentiating between traditional and commercial tobacco in communications, with explanations like the following.
Commercial tobacco products are tobacco products manufactured and sold by the tobacco industry, including cigarettes, e-cigarettes, cigars, and chew. Commercial tobacco is different from the traditional or sacred tobacco, also known as Cansasa, Asemaa, or Kinnikinnick, and which are used by American Indian communities for sacred purposes.
We recognize the importance of traditional tobacco in American Indian communities and that these communities cannot be "tobacco-free." We will continue to work in partnership with American Indian communities to address the harms of commercial tobacco.
How American Indian communities are reclaiming Tribal traditions and addressing the harms of commercial tobacco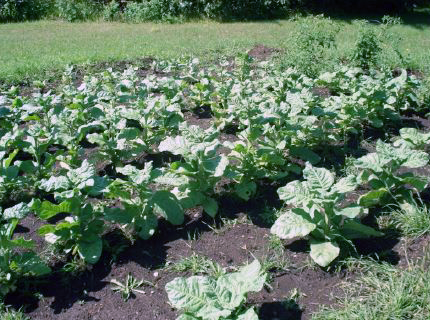 The Minnesota Department of Health has established dedicated funds for Tribal Nations' and urban American Indian communities' tobacco efforts.9,10,11They have used these funds to build strong, community-based programs to reclaim Tribal traditions, such as:
Engaging communities with knowledge of cultural practices around traditional tobacco and the harms of commercial tobacco use
Increasing access to traditional tobacco by growing and harvesting asemaa (Anishinaabek) and caŋsasa (Dakota) for ceremonial use
Telling their own history of the origins and purpose of traditional tobacco to continue the tradition among American Indians and to educate non-natives12
Participating in the development of commercial tobacco treatment and cessation programming designed for American Indians (see "The American Indian Quitline" below).
American Indian communities in Minnesota will continue to determine the focus of their commercial tobacco control efforts.
The American Indian Quitline: Free help to quit commercial tobacco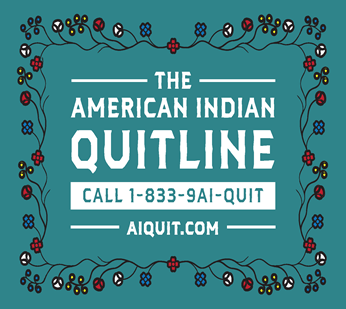 Developed with guidance from the community, the American Indian Quitline from Quit Partner™ offers completely free and specially designed support to help American Indians quit commercial tobacco. If you live in Minnesota, you can get the following free help to quit commercial tobacco:
A dedicated team of American Indian coaches who understand your culture and respect your traditions
One-on-one coaching calls with the coaches
Free lozenges, gum, or patches to help you quit the addiction
Other free, helpful tools like text messages and emails to encourage you along the way
Call 1-833-9AI-QUIT (1-833-924-7848) or visit aiquit.com to sign up or learn more.
Learn more
About traditional tobacco
About promoting health equity
Other resources
This page was produced in partnership with the American Indian Cancer Foundation.
References
National Native Network: Traditional Tobacco. http://keepitsacred.itcmi.org/tobacco-and-tradition/traditional-tobacco-use/
South Dakota Department of Health: Tribal Tobacco Policy Toolkit. https://www.findyourpowersd.com/wp-content/uploads/2020/06/Tribal-Community-Toolkit.pdf
Greenwood, M., De Leeuw, S., Lindsay, N. M., & Reading, C. (Eds.). (2015). Determinants of Indigenous Peoples' Health. Canadian Scholars' Press.
Irwin, L. (1997). Freedom, law, and prophecy: A brief history of Native American religious resistance. American Indian Quarterly, 21(1), 35-55.
American Indian Community Tobacco Projects, Tribal Tobacco Use Project Survey, Findings from Minnesota American Indian Communities, 2013.
Behavioral Risk Factor Surveillance System, 2017
AICAF, Sacred Traditional Tobacco for Healthy Native Communities: A Balanced Community for Health. https://drive.google.com/file/d/1zKA2M8Eu6r9VAiiTo3rU0pRhj2V4Sijz/view
Wisconsin American Indian Youth Tobacco Survey (2008-2009)
MDH Tribal SHIP and Tribal Tobacco Grants. https://www.health.state.mn.us/communities/tribes/index.html
BCBS Center for Prevention: Communities Eliminating Tobacco Inequities. https://www.centerforpreventionmn.com/initiatives/communities-eliminating-tobacco-inequities/
Clearway Minnesota: American Indian Projects. http://clearwaymn.org/diversity/american-indian-projects/
Reclaiming Sacred Tobacco in Minnesota's Indigenous Communities, TPT original documentary, https://www.youtube.com/watch?v=fhr9sy7ZgnY.
Last Updated:
11/28/2022