Sage Cancer Screening
Related Sites
Sage Screening Resources for Providers and Professionals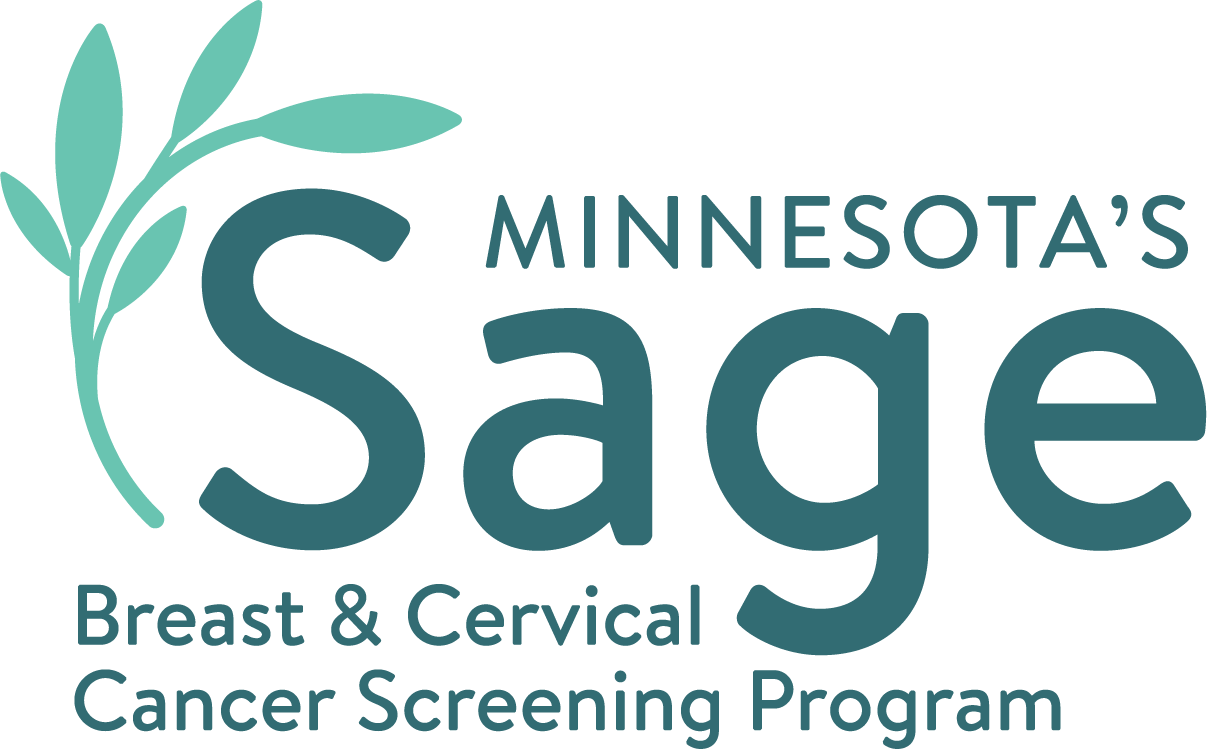 The Sage Screening Program is a partnership between public health and the private healthcare system throughout the state of Minnesota. This partnership removes the barrier of cost, so those eligible for Sage can receive quality breast and cervical cancer screening free of charge.
Becoming a Sage provider
At this time we are not expanding the Sage network and therefore not accepting new Sage providers. Please check back at a later date or email health.sage@state.mn.us with any questions.
Guidance to administering the Sage Program
Sage Program Provider Manual
The Sage Program Provider Manual contains the breast and cervical cancer screening policies and procedures you will need to guide your practice.
Sage Program Provider Manual 2022 (PDF)
Billing Sage for Services
Reimbursement rates are based on Medicare reimbursement and are subject to adjustment as Medicare adjusts rates.
Sage Screening Program Reimbursement Rates (PDF)
Sage Program Breast Diagnostics Rates (PDF)

If you'd like more information, please visit the Sage Billing webpage or contact the Sage Program Billing Line at 651-201-5630.
Patient eligibility for Sage Screening programs
Sage screenings are FREE for Minnesota residents who meet the eligibility requirements. Learn more about Covered Services & Eligibility.
Sage maintains a call center, staffed by multi-lingual patient navigators, who answer calls Monday through Friday from 8 a.m. to 5 p.m. Patient Navigators assist callers in determining program eligibility, identifying and addressing barriers to screening, scheduling appointments and providing referrals to appropriate resources. Call 1-888-643-2584.
Follow-Up Care
The Sage Program Follow-up Coordinator tracks patients enrolled into the Sage Program that require additional follow-up/testing from an abnormal screening. Sage follow-up contacts will receive a Sage Program Abnormal Follow-up Form for an abnormal screening test result. Follow-up forms are created by Sage and sent to our follow-up clinic contact at the site, the forms need to be completed with the clinical follow-up information.
To learn more about follow-up diagnostics, MA-BC, and other treatment resources, visit: Following up on Abnormal Results.
You can also contact our Sage Follow-Up Coordinator, Nikki Kuechenmeister: nikki.kuechenmeister@state.mn.us.or 651-201-5904.
Materials
Sage Forms and Encounter Labels
To download and print forms and to order encounter labels visit: Sage Forms and Encounter Labels.
Outreach and Educational Materials
To order complete the Sage Outreach/Educational Materials Order Form.
Last Updated:
06/06/2023